Interfaith Worker Justice
Jump to navigation
Jump to search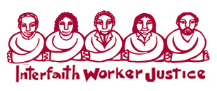 Interfaith Worker Justice
History
Interfaith Worker Justice was founded in 1996 with the mission of "engaging the religious community in low-wage worker campaigns and rebuilding partnerships with the labor movement."
Kim Bobo, IWJ Executive Director, founded the organization using her bedroom as an office and a $5,000 bequest left to her by her grandmother as the initial budget. Despite these humble origins, she had mighty helpers as part of her original Board of Directors. This founding group included Rabbi Robert Marx, Bishop Jesse DeWitt, Monsignor George Higgins, Monsignor Jack Egan, Rev. James Lawson, Rev. Joseph Lowery, Rev. Michael Rouse, Rev. Addie Wyatt, Rev. Dr. Paul Sherry, Bishop Howard J. Hubbard, Monsignor Phil Murnion, Rev. Wayne Stumme, Bishop James Malone, Sr. Nancy Sylvester, Rev. Jim Sessions, Ms. Evely Laser-Shlensky, Mr. Thomas Shellabarger and Mr. J. Chris Sanders.
In just eleven years, IWJ has organized a national network of more than 70 interfaith committees, workers' centers and student groups, making it the leading national organization working to strengthen the religious community's involvement in issues of workplace justice.[1]
References