Ibrahim Abu-Lughod
Jump to navigation
Jump to search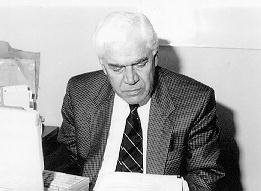 Template:TOCnestleft Dr Ibrahim Abu Lughod (1929 -2001) was a Palestinian/American scholar and campaigner, His marriage to Janet Abu-Lughod ended in divorce. He is survived by four children, Lila Abu-Lughod, Mariam Abu-Lughod, Dina Abu-Lughod and Jawwad Abu-Lughod. He was buried next to his father in the family plot, at the Ajami district cemetery in Jaffa[1].
Early life
Born in the port of Jaffa, in British Mandate Palestine, he was the son of a metal manufacturer, and graduated from his local high school. Involved in the struggle for Palestinian rights from his student days, he was a young demonstrator against the British in Palestine, and skirmished with Zionist settlers in the Jaffa area.
With the establishment of the state of Israel in 1948, he was forced to leave the region, and was on the last boat evacuating Arabs from Jaffa. As a refugee, he then went to the United States, via Beirut[2].
Education
Abu Lughod graduated from the University of Illinois with a BA in 1951, and a PhD in Middle East studies from Princeton in 1957[3].
Association of Arab American University Graduates
Founding member of the Association of Arab American University Graduates were Ibrahim Abu-Lughod, Ghada Talhami, Sofia Haddad, and Hassan Haddad, and Elaine Hagopian, [4]
UNESCO
After three years as a field expert in Egypt for the United Nations educational, social and cultural organisation Unesco, he returned to the US[5].
Academic career
Abu-Lughod began his academic career at Smith College, in Northampton, Massachusetts, before moving to McGill University, Montreal, and then spending 34 years at Northwestern University, in Evanston, Illinois, where he founded the Institute of African Studies and was professor of political science.
After completing his grad-uate education, he quickly established himself as the leading Arab academic activist in north America. After the 1967 war between Israel and Egypt, Jordan and Syria, which led to the Israeli occupation of the West Bank, Gaza, and the Golan Heights, he founded the Association of Arab-American University Graduates in 1968[6].
He maintained a heavy schedule of speaking engagements about the Palestinian cause, made frequent visits to the Arab world, and, because of his interest in liberation movements, traveled equally widely in Asia and Africa. He never lost his sense of intellectual honesty and scrupulous scholarship.
Abu-Lughod brought to bear an encyclopaedic knowledge - of the third world, Arab culture, history and language, and the western tradition of rationalism and humane understanding - to issues of education, political organisation and cultural de- velopment. He had no peers in this work, and won recognition throughout the world.
UN work
Abu Lughod held several UN con- sultancies. In 1977, he was elected a member of the Palestine National Council, and began work on the establishment, under the auspices of Unesco, of a Palestine national open university, to be headquartered in Beirut. This was forestalled in June 1982 by the Israeli invasion of Lebanon. He then returned to Northwestern[7].
The Palestine National Council is the legislative body and the most important institution of the Palestinian Liberation Organization and elects the Executive Committee of the PLO.[8].
Black Press Institute
In 1987 Ibrahim Abu Lughod was on the Board of Directors of the Black Press Institute[9].
Palestinian advocacy
In April 1988, Abu-Lughod and Edward Said, both of the Palestinian National Council met the then U.S. secretary of state George Shultz.
We told him that the Palestinian people were prepared to coexist with Israel if their self-determination was insured by a Middle East peace plan. What was needed was a mode of sharing and coexistence between two national communities in historic Palestine.
In 1991, Abu-Lughod resigned from the Palestinian National Council, as did Edward Said. He was thus able, as a naturalised American, to return to Palestine and Israel in 1992, for the first time since 1948. He decided to settle in the land of his birth, and took the job at Bir Zeit, near Ramallah[10].
Later activism
During the last decade of his life, he was a founder of, and active in, the Independent Commission for Citizens Rights, the Centre for Curricular Reform, and most recently, the Qattan Cultural Centre in Ramallah[11].
Writing
A voracious and critical reader, he was also an author and editor. The Arab-Israeli Confrontation of 1967: An Arab Perspective (1970) and The Transformation Of Palestine (1972) were two of his most important books. His first book, The Arab Rediscovery Of Europe (1963), pioneered the study of Arab views and experiences of Europe during the reign of Egypt's Mohammad Ali in the early to mid-19th century.
Abu-Lughod wrote and co-wrote innumerable articles, monographs and learned studies in both English and Arabic, mostly on politics, history and education in Palestine and the Arab world. His fame and influence by the time of his death were worldwide, unique for an intellectual whose distance from power and worldly prosperity was so rigorously maintained[12].
References