Hugh DeLacy
From KeyWiki
Hon. Hugh DeLacy was a Democratic Congressman and secret member of the Communist Party USA from Washington State.
Early life
Hugh DeLacy was born May 9, 1910, in Seattle. His parents, John Byron DeLacy and Abigail Greene, were both teachers. Raised in Seattle, he attended public schools. He attended Queen Anne High School and was valedictorian of his graduating class in 1926. He graduated from the University of Washington in 1932 with an MA degree in English. Upon graduation, he married Betty Marie Jorgensen.
Early activism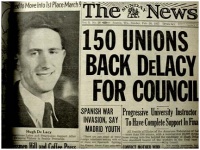 While teaching English at the University of Washington from 1933 to 1937, DeLacy helped organize Local 410 of the American Federation of Teachers and served as its delegate to the Seattle Central Labor Council.
In 1937, DeLacy ran for a seat on the Seattle City Council. Denied a leave of absence from the university, DeLacy resigned in order to pursue a political career. Delacy received labor movement and Communist Party USA backing for his campaign. He won the election and served until 1940.
Washington Commonwealth Federation
In the 1940's, DeLacy was active in the Democratic Party and the Washington Commonwealth Federation, a coalition of left-wing political organizations[1], which included the Communist Party USA. Though initially excluded the communists insinuated themselves into the Federation, eventually coming to dominate[2]the organization.
In 1935 the Commonwealth Builders enlarged its reach by renaming itself the Commonwealth Federation. The new Federation aimed to broaden its base through affiliation with other progressive groups, with one exception: it continued to exclude Communists. Despite their formal exclusion, CP activists demanded admission. They envisioned the WCF as a crucial component of what might evolve at some point in the future into a genuinely revolutionary movement. In 1936, members of the Communist Party went to the WCF convention as uninvited guests. Over time, individual Communists won acceptance by volunteering time and services to advance WCF causes. Communists frequently chaired committees, ran for office, and eventually even assumed WCF leadership positions.
Congressman DeLacy
After World War II was declared, DeLacy went to work as a machinist in the Todd shipyards.
In 1944 DeLacy ran successfully as a New Deal Democrat for the First District Congressional seat vacated by Warren Magnuson. During the 79th Congress (January 3, 1945 to January 3, 1947), DeLacy was an outspoken and active member of the left wing of the Democratic Party. He was a member of the Naval Affairs committee and took an interest in labor legislation, public housing, and U.S. foreign policy, particularly in regard to China. His activity was allegedly instrumental in the resignation of the China Ambassador Patrick J Hurley.
DeLacy campaigned against the elimination of price controls and the formation of the House Committee on Un-American Activities. He supported the development of the aluminum and light metals industry in Washington state.
DeLacy ran for re-election in 1946 against stiff opposition from business and the Republican Party. Accused of being anti-American and a communist, DeLacy was defeated in an electoral backlash that swept most of the Democrats from the state's delegation. Prior to his divorce from Betty in 1948, he was employed as editor of the monthly Bulletin of the Machinists' Union in Seattle.
Communist Party membership
The accusations that DeLacy was a communist were well founded and are now generally acknowledged by party historians,
"Other techniques of public-health education were employed by WCF leader and secret Party member Hugh DeLacy, who organized meetings around public-health issues while a member of the Seattle City Council."[3]
DeLacy was still contributing to the Communist Party USA's West Coast paper, People's World as late as 1967.[4]
Hugh DeLacy was identified as a member of the CPUSA by Barbara Hartle during the HCUA hearings on Communism in the Northwest (Seattle) series [5]. She said that DeLacy was one "of "a number of persons known to her as Communist Party members, who helped establish the Northwest Committee for Protection of Foreign Born".[6].
The Northwest Committee for Protection of Foreign Born was an affiliate of the congressional identified CPUSA front, the American Committee for Protection of Foreign Born (ACPFB, one of the CPUSA's most active fronts
A footnote referring to DeLacy (on the list of people she identified as Party members) said that "(1) Appeared as a witness before the President's Commission on Immigration and Naturalization at its hearings in San Francisco, Calif., on October 14, 1952.
Progressive Party activism, more marriages
After his defeat, DeLacy worked as the State Director for the Progressive Party in Ohio (1948 - 1950). DeLacy subsequently made an unsuccessful run for the Ohio state legislature as an independent candidate. From 1951 to 1958, he worked as a carpenter in Cleveland, Ohio, except during the 1952 presidential campaign for the Progressive Party when he was employed by the party. In 1952 the Progressive Party was supporting Vincent Hallinan and Charlotta Bass for U.S. President and Vice-President. While traveling to New York, he met and soon married Hester Sondergaard. During this time, DeLacy worked as a carpenter and contractor and continued in this profession after he moved to Los Angeles in 1959. In 1960, DeLacy and Hester Sondergaard divorced and he married Dorothy Baskin Forest.
Herbert Aptheker Testimonial Dinner
On April 28, 1966 Hugh DeLacy was a sponsor of the Herbert Aptheker Testimonial Dinner. The dinner was held on the occasion of Herbert Aptheker's 50th birthday, the publication of his 20th book, and the 2nd anniversary of the American Institute for Marxist Studies. It was held in the Sutton Ballroom, The New York Hilton, Avenue of the Americas, 53rd to 54th Street, New York City. Most speakers, organizers and sponsors were known members or supporters of the Communist Party USA.[7]
L A Committee for Defense of the Bill of Rights and Protection of Foreign Born
In 1966, the officers of the Los Angeles Committee for Defense of the Bill of Rights and Protection of Foreign Born were[8];
Rt Rev Walter Mitchell, Charlotta Bass, Reuben Borough, Jacquelin Clack, Hugh DeLacy, Judge Stanley Moffatt, Rev Stephen Fritchman, Hon Robert W. Kenny, Mrs Dorothy Marshall
In the late 1960s Hugh DeLacy was listed as a Sponsor of American Committee for Protection of Foreign Born[9].
Supporting Cesar Chavez
In 1967, Delacy was involved in supporting Cesar Chavez. In a letter of gratitude to Hugh DeLacy, Chavez wrote "Jack Berman told me of all the hard work done by the committee members to insure the success of the party...your generosity on behalf of the delano strikers will further the cause of social justice..."[10].
American-Korean Friendship and Information Center
On Feb. 27, 1971, Hugh DeLacy, Former Congressmen California, was listed as an initiating sponsor of the American-Korean Friendship and Information Center. The Center, a front for the Communist Party USA, was established to promote the withdrawal of US troops from South Korea and Vietnam.[11]
Retirement activism
Following his retirement in 1967, DeLacy began to study philosophy and was admitted to the graduate program in philosophy in San Fernando Valley State College in 1969. He joined the Society for the Philosophical Study of Dialectical Materialism in order to further his study of Marxist and communist theories.
In 1971 Hugh and Dorothy DeLacy relocated to the town of Soquel in Santa Cruz County on the central coast of California, where he lived the last 17 years of his life.
Contacting Jack Service
In February 1972, John S. Service, while at the Center for Chinese Studies at Berkeley wrote a letter to Hugh DeLacy, who he had last met briefly "during the the summer of 1945". Service was replying to earlier contact by DeLacy, who he invited to visit[12]
China trip
In 1975 Hugh and Dorothy DeLacy were invited by the government of the People's Republic of China to visit that nation, which had interested DeLacy since his first visit as a young merchant seaman. .
In April 1974 Hugh DeLacy wrote to Mme. Wu, Peoples Republic of China representative in Ottawa, requesting that a party be allowed to visit the PRC. Those requested to visit were[13];
In December 1974 DeLacy received a reply from Hu Hung-fan of The Chinese Peoples Association For Friendship With Foreign Countries, Peking, China, inviting the DeLacy's but declining the rest.
The Association invited the DeLacy's to China for three weeks in the latter part of March or April 1975 and offered to pay all their expenses in China[14].
Meeting old spies in China
During his trip to China, Hugh DeLacy met with Solomon Adler and Pat Adler, John S. Service and Frank Coe and Ruth Coe.[15]
Solomon Adler, John S. Service and Frank Coe had all been involved with espionage in the past.
In The Times Founding sponsors
In 1976 founding sponsors of the Institute for Policy Studies/New American Movement linked socialist journal were;
Relationship with Leon Panetta

In 1983 Leon Panetta placed a tribute to life long communists Hugh DeLacy and his wife Dorothy DeLacy in the Congressional Record celebrating them as "lifelong activists for social justice". It read in part "the causes to which they have dedicated their lives - peace, jobs, an end to race and sex discrimination, a halt to the costly and dangerous arms race, are causes for which we are still working today..."[17]
Supporting Santa Cruz "progressives"
Hugh DeLacy worked on the campaigns of several Santa Cruz 'progressive" candidates, including those of County Supervisors Gary Patton and Rodley Levy and City council members John Laird and Mardi Wormhoudt[18].
Nicaragua trip
In 1985 DeLacy visited Nicaragua and was there when the newly elected President, Daniel Ortega, was sworn in.
Death and legacy
On August 19, 1986, DeLacy died of prostate cancer.
The Santa Cruz County Board of Supervisors, recognizing DeLacy's considerable impact on local community affairs as well as his history of advocating peace and justice nationally and internationally, dedicated a memorial garden in his name on the county courthouse grounds. Because DeLacy was extremely supportive and involved with the Nicaraguan people's struggle for independence, his large collection of wood working tools was shipped to a vocational training school in Nicaragua after his death.
Remembering Hugh DeLacy
On September 6 1986 a memorial for Hugh DeLacy was held at the Louden Nelson Center, Santa Cruz, California.
Mardi Wormhoudt was the presenter, speakers included Margaret DeLacy, Jack Berman, Hon. Leon Panetta, John McTernan, Gary Patton, songs by Mike Rotkin, readings by Leon Papernow and Linda Bergholdt, a letter from Dorothy...by Greta Davis and songs by Steve Turner and Terry Turner[19].
DeLacy had known Jack Berman for 37 years, when they had organized the Progressive Party together in the 1940s[20].
References