Horace Small
Jump to navigation
Jump to search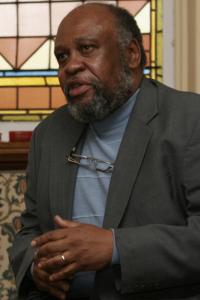 Template:TOCnestleft Horace F. X. Small is a Boston based socialist activist. He is Executive Director at Union of Minority Neighborhoods.
Early activism
Hoace Small is a life long activist[1], from his high school days with Students Against the War and later with the Philadelphia Unemployment Project.
For me social change is not a job, it's a lifestyle, and I've been doing it since I was 14 when I co-founded Students Against the War, a Philadelphia high-school group and one of the biggest high school anti-war organizations in the nation. My whole adult life since then has been devoted to organizing — issues organizing, community organizing, labor organizing. I've won campaigns: beat the NRA with an assault weapons ban in Philadelphia, and I was a leader in the campaign for the first mortgage assistance bill in this country. I know what it takes to get people fired up and mobilized. I know how to bring diverse communities together. I know how to make things happen.
As Organizing Director for the Philadelphia Unemployment Project (PUP) from the late 70's to mid-80's many of the campaigns we focused on always tried to move legislation, to make real lasting change. It doesn't take long to sit in public meetings with corporate heads and find out that they have no soul and no compassion for working-class people, for poor people, when all we're trying to do is fight for decency and simple human justice.
Democratic Socialists of America
Small became interested in Democratic Socialists of America through Philadelphia DSAer Stan Shapiro.
What always appealed to me about DSA was the fact that they talked about an egalitarian society, giving people ownership, workers' control, and a sense of democracy. I jumped into that like a fish into water. One of my dearest friends has been for the better part of 20 years Stan Shapiro [of Greater Philadelphia DSA]. Stan would always give me info on DSA when I was frustrated with general politics, or material on Mike Harrington, or give me some position papers that had been written. I came to DSA from a very deep sense of right and wrong, and Stan Shapiro helped educate me.
DSA National Director
Horace Small became DSA national Director in June 1999.
Detroit DSA training
In 2000, Greater Detroit Democratic Socialists of America hosted National Director Horace Small, YDS organizer Daraka Larimore-Hall, and development expert Sue Karant at an organizing weekend, coinciding with the Black Radical Congress national meetings.
The goal of this workshop was to train local DSA members in the rudiments of organizing local campaigns and fundraising so that we may expand our efforts on Living Wage, Universal Health Care, and Globalization campaigns.[2]
Boston DSA celebration
On January 20, 2001, Boston DSA's annual "Victor Berger bash", was hosted by Rich Rosen and Ellen Rosen.
The occasion celebrated Frank I. Smizik's victorious campaign for Brookline State Representative and welcomed DSA National Director Horace Small's move to the Boston area.[3]
Anti-racism work
Circa 2000, DSA's National Director Horace Small moved on to become Executive Director of the National Organization of Community Organizations.
According to Duane Campbell, the Anti Racism work within DSA benefited greatly from the leadership of Horace Small. As a result of his prior organizing, Small was in touch with the major African American leadership in the nation, including Gus Newport, the NAACP, Bill Fletcher, Jr., Manning Marable, and others[4].
Socialist Party 100 years old
The Socialist Party USA celebrated its 100th Anniversary on Saturday July 28 2001, with a conference in Milwaukee, WI. One of the main speakers was Frank Zeidler, the party's Chairman Emeritus who served three terms as Milwaukee's openly Socialist mayor during the Cold War years of 1948 through 1960.
The other speakers at the conference were SP-USA Co-Chair Susan Dorazio, a child care activist from Massachusetts; former National Director of Democratic Socialists of America and organizer for the April 2000 anti-IMF rally in Washington D.C., Horace Small; and three-term Iowa City Councilwoman, Karen Kubby. The forum will be moderated by Erin Lares,18, Vice Chair of the Young People's Socialist League.[5]
Paul Wellstone tribute
As the 2004 Democratic National Convention was poised to open in Boston , Jobs with Justice, , hosted a living tribute to the late Senator Paul Wellstone on July 25. Hundreds filled the historic Old West Church to tackle the question, "What must the Democratic Party do to live up to the progressive vision of Paul Wellstone?"
"Paul had the courage to stand the pain that comes with standing for something and not fall for anything," said United Steelworkers of America union International President Leo Gerard. "That's what the Democratic Party needs right now. He gave people a reason to fight, to hope."
Rep. Barbara Lee (D-Calif.), another panel member, called for "Wellstone Democratic Clubs" to mobilize neighborhoods into the political process to re-order national resources.
Many in the audience were students at Camp Wellstone, a workshop conducted in Boston for prospective candidates and campaign workers conducted by Wellstone's campaign manager, Jeff Blodgett, also on the panel.
Rep. Major Owens (D-N.Y.) pointed out that too many liberals, including himself, voted for "welfare reform" in 1996. He praised Wellstone as the lone voice defending welfare at the time.
Boston City Councilor Chuck Turner quickly jumped in, igniting the audience with a clarion call for popular direct action to ensure accountability from a Kerry administration. "We need Kerry there and we need to be there to purge the cancer (of the Bush administration) from the soul of the body politic," he said.
When Horace Small, the moderator, pooh-poohed the importance of trade in this election, Jim Hightower, author and radio personality, nearly jumped out of his seat.
"Tell that to Texas farmers who are losing their farms or workers who have lost their jobs to NAFTA (North American Free Trade Agreement)," Hightower said. "Who the hell elected the WTO (World Trade Organization)? Right now, in Washington, there are too many 5-watt bulbs sitting in 100-watt sockets. The people are revolting – in the best sense. I think we are going to get George."
Confessing to once being a Republican, columnist Arianna Huffington reminded the assembly of all the dirty tricks and disgusting tactics that are on the horizon as November nears. Saying that "Mobilization is the key," she proposed reaching out to the 50 percent of the eligible electorate that stayed home in 2000. "If we are able to just energize 10 percent of those voters, we win."
The program included the presentation of awards to two attorneys, Julie Patino and Nadine Cohen, both of whom have fought difficult battles to protect affirmative action and voting rights of Massachusetts residents and immigrants. Other panelists included Al Franken, media personality, noted Columbia professor Frances Fox Piven and Anna Burger, vice president of the Service Employees International Union.[6]
Now What? Defying Trump and the Left's Way Forward
Now What? Defying Trump and the Left's Way Forward was a phone in webinar organized by Freedom Road Socialist Organization in the wake of the 2016 election.
Now what? We're all asking ourselves that question in the wake of Trump's victory. We've got urgent strategizing and work to do, together. Join Ash-Lee Woodard Henderson of the Movement for Black Lives and Freedom Road, Calvin Cheung-Miaw, Jodeen Olguin-Taylor of Mijente and WFP, Joe Schwartz of the Democratic Socialists of America, and Sendolo Diaminah of Freedom Road for a discussion of what happened, and what we should be doing to build mass defiance. And above all, how do we build the Left in this, which we know is the only solution to the crises we face?
This event will take place Tuesday November 15, 2016 at 9pm Eastern/8pm Central/6pm Pacific.
Those invited, on Facebook included Horace Small.[7]
References