Henry Tamarin
From KeyWiki
Henry J. Tamarin is President of UNITE HERE Local 1, Chicago.
IVI-IPO Awardee
Independent Voters of Illinois-Independent Precinct Organization 60th Anniversary Dinner was held Monday, July 19, 2004 6 pm—8 pm The Hot House 31 E. Balbo Chicago;[1]
DSA honoree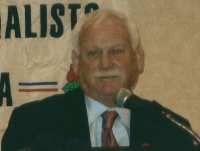 The Chicago Democratic Socialists of America 48th Annual Eugene V. Debs - Norman Thomas - Michael Harrington Dinner was held on Friday evening, April 28, at the Holiday Inn Mart Plaza, just across the Chicago River from the Loop[2].
It was held on the eve of a major anti-war demonstration in New York City that drew some 350,000 participants. A few days later, on May 1st, there were demonstrations across the nation in support of immigrant rights. The march and rally in Chicago was estimated to have drawn nearly a half-million participants.
The honorees at the 2006 Dinner were particularly appropriate. Henry Tamarin was the President of UNITE HERE Local 1. Representing workers in the hospitality industry, particularly hotels, immigrants made up much of his membership, and in fact Local 1 had a sizable delegation in the May 1st march.
Supporting Obama
In late 2007 several Illinois labor union officials-Tom Balanoff, Henry Bayer, Margaret Blackshere, Dennis Gannon and Henry Tamarin.
From PolitickerNV.com December 3rd 2007[3];
Ill. Sen. Barack Obama's presidential campaign held a conference call for Nevada reporters today to highlight Obama's record of support both by and for organized labor. On the call were Tom Balanoff, president of the Illinois SEIU State Council and Local 1, Henry Bayer, executive director of the AFSCME Council 31, Margaret Blackshere, former president of the Illinois AFL-CIO, Dennis Gannon, president of the Chicago Federation of Labor, AFL-CIO and Henry Tamarin, president of UNITE HERE Local 1.
"He comes from us," said Balanoff on Obama. "He understands our problems. We could count on Barack on all issues important to working families. Healthcare, general economic justice, jobs… Barack was there, not only there but oftentimes leading."
The conference call came at a difficult time for Obama's campaign in his effort to court organized labor in the state..."
References