Helen Kim
From KeyWiki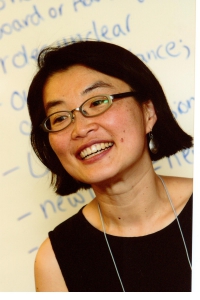 Helen S. Kim lives in Oakland, CA.
Background
"When I was twelve, our family emigrated from Korea and landed in the suburbs of Chicago. As the oldest daughter, I became the translator for my parents and advocate for my family. Later, I organized immigrant women workers, who in sweatshops and electronics assembly lines faced similar conditions my mom had endured. Now, I am blessed to be able to work with leaders and organizations that are committed to base-building and transformative change."
Helen is an organizational development consultant, leadership trainer and coach with twenty years of experience in working with social change organizations and leaders in the US and internationally. She is a co-author of Working Across Generations: Defining the Future of Nonprofit Leadership (Jossey-Bass, 2008) and has facilitated many regional, national, and international convenings on social justice movement building strategies and supporting the next generation of nonprofit leaders.
In addition to being a part of RoadMap, Helen is a team member of Building Movement Project, trainer and coach for Rockwood Leadership Institute, and the Evelyn & Walter Haas Jr. Fund Flexible Leadership Investment Program.
Helen served as International Planning Committee member for Association for Women's Rights in Development (AWID) 2008 Forum in Cape Town, South Africa and was an advisory member of its Building Feminist Movements and Organizations Initiative. She also served as a trainer for Women's Funding Network's Voices on the Horizon and Bridge Builders Leadership Cohort and Women of Color Policy Network's Lead the Way Fellowship.
Prior to her consultant work, Helen was an adjunct faculty at the San Francisco State University School of Social Work and worked as a community organizer for Asian Immigrant Women Advocates, where she focused on immigrant and worker rights and environmental justice issues. She emigrated from Korea when she was twelve years old and attended Carleton College and the University of Minnesota Law School. A 2009 Gerbode Fellow, Helen aspires to live and work with generosity of spirit and passion for justice.[1]
DataCenter Donor
In 2007 Helen Kim was listed on the DataCenter's annual report as a donor to the organization. The Oakland, California based DataCenter is widely regarded as the intellegence wing of the United States Left and has close ties to Cuba.[2]
Rockwood Leadership Institute
Rockwood Leadership Institute May 30, 2013 ·
Rockwood alumni leaders standing tall in Austin, TX - at the close of a 4-day retreat to envision possibilities for US human rights advocacy and progressive national security reform. Together. We congratulate these leaders on their commitment to ongoing connection across the field, and living the Rockwood practices! — with Sharon Price, Linda Sarsour, Maya Berry, Shah Boo, Zeke Johnson, Helen S. Kim, Nus Choudhury, Fahd Ahmed and Leslie Sholl Jaffe.
CPA 40th anniversary
On August 4th 2012 to celebrate Chinese Progressive Association (San Francisco)'s 40th Anniversary. CPA was proud to honor the National Guestworkers Alliance and New Orleans Workers Center for Racial Justice, the Free MUNI for Youth Coalition, and Jobs with Justice San Francisco.
Host Committee:
Rolland Lowe and Kathy Lowe • Grace Lee Boggs • Josue Arguelles • Supervisor John Avalos • Angelica Cabande • Supervisor David Campos • Mike Casey • Supervisor David Chiu • Antonio Diaz • Reverend Norman Fong • Conny Ford • Maria Guillen • Alicia Garza • Roger Kim • Supervisor Jane Kim • Helen Kim • Jee Kim • Mario Lugay • Supervisor Eric Mar • Gordon Mar • Alisa Messer • Luke Newton • Supervisor Christina Olague • Vincent Pan • Tim Paulson • Ai-jen Poo • Raquel Redondiez • Peggy Saika • Shiree Teng • Makani Themba-Nixon • Helena Wong • Miya Yoshitani[3]
Host Committee
The Chinese Progressive Association (San Francisco) Celebrates 45 years of Resilience and Resistance.
On Saturday, October 7, 2017, the Chinese Progressive Association (San Francisco) will celebrate our 45th anniversary with the theme, "Harnessing the Strength of a Thousand Rivers.
Host committee members were:
Fahd Ahmed, Alysabeth Alexander, Mike Casey, Myra Chow,Cathy Dang, Antonio Diaz, Supervisor Sandy Lee Fewer, Norman Fong, Conny Ford, Alicia Garza,George Goehl, Rudy Gonzales, Corinna Gould, Sherry Hirota, Dana Kawaoka-Chen, Helen Kim, Supervisor Jane Kim, Aarti Kohli, Laura Livoti, Gordon Mar, Xavier Morales, Vanessa Moses, Tim Paulson, Supervisor Aaron Peskin, Ai-jen Poo, and Mu Ping Poo, Supervisor Hillary Ronen, Saket Soni, Sarath Suong, Mabel Teng, Shiree Teng, Supervisor Norman Yee, Haeyoung Yoon, Miya Yoshitani, Anand Singh.[4]
RoadMap
Helen Kim is a consultant with RoadMap, a Freedom Road Socialist Organization affiliated consultancy group .[5]
Deep Democracy Lab
Movement Strategy Center May 19, 2017;
The beloved community of this week's Deep Democracy lab! #connection #courage #commitment <3 <3 <3 — with Jodeen Olguin-Tayler, Ana Cecilia Perez, Tammy Johnson, Nwamaka Agbo, Alexis Flanagan, Rosie Abriam, Michael Scott Nine, Vanessa Nisperos, Tomas Garduno, Yalini Dream, Gerardo Marin, Calvin Williams, Miya Yoshitani, Judith LeBlanc, Anthony Giancatarino, Taj James, Byron Gudiel, Julie Quiroz, Victoria Benson, Kristen Zimmerman, Beth Glenn, Ariel Jacobson, Rosa Esperanza Gonzalez, Rachel Humphrey, Nanci Lee, Mimi Ho, Supriya Lopez Pillai, Dana Ginn Paredes, Kelly Miller, Marc Mascarenhas-Swan, Helen S. Kim, Jovida Ross, Aparna Shah, Aisha Shillingford, Sarah Quiroga and Jacqui Patterson.
Stanford connection
"When I went to Stanford," said 2006 grad Helen Kim, "there were three scholars in the Political Science Department who studied race and ethnicity in the U.S. that I could look to for scholarly direction: Carolyn Wong, Claudine Gay and Luis Fraga."[6]
References