Heidi Sloan
From KeyWiki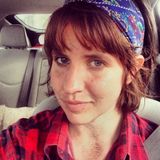 Heidi Sloan is a Genesis Gardens Program Director at Mobile Loaves & Fishes, Austin Texas.
Education
Baylor University Bachelor of Arts (B.A.) Philosophy 2003 – 2011.
Standing for Congress
Austin Democratic Socialists of America July 18 ·
Austin DSA is proud to endorse Heidi Sloan for US Congressional District 25! 🌹🌹🌹
Heidi has been a leader on our Medicare For All, Paid Sick Days, and Homes Not Handcuffs campaigns and organizes relentlessly to build a world that serves the many rather than the wealthy few.
Want to join us & Heidi in the fight to transform our society?
Comrade volunteers
Heidi Sloan for TX-25 August 11 2019·
My very hard-working (and very tired) volunteer campaign staff with me at the end of tonight. What it takes to win is very simple, and this is it - people, and work. We've got the people. Lets do the work y'all. #OneFightAllIn Marina Roberts, Tan-dra Louie, Michael Nachbar.
Left Up To US Closed Facebook group
Members of the Left Up To US closed Facebook group, as of August 11, 2017 included Heidi Sloan,[1]
References