Haskell Wexler
From KeyWiki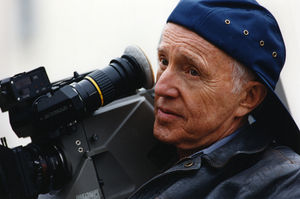 Haskell Wexler is the brother of Yale Wexler and the uncle of Daryl Hannah.
Institute for Policy Studies
In 1993 Haskell Wexler was listed as a among "former Visiting Fellows and Visiting Scholars and current TransNational Institute Fellows" on the Institute for Policy Studies 30th Anniversary brochure.
Letter to Presidents Clinton and Samper
In 1994 a letter was sent to US President Bill Clinton, and Colombian President Samper, apparently from the Colombian Support Network.
It called on the US to "cut off all aid to Colombia until the violence has ended", and called for the appointment of a UN Rapporteur on human rights in Colombia.
Endorsers
Open Letter to the Colombian People, Press and Government, Aug. 1996
"Stop the Bloodshed in Uraba, Due Process for Jose Antonio Lopez, Nelson Campo and others, and an End to Faceless Justice and Political Repression".
We, the undersigned, are North Americans and others who are deeply disturbed by the human rights situation in Colombia.
Massacres, disappearances and torture happen continually in the anguished region of Uraba. We can not understand how paramilitary groups operate so freely in this militarized region where the Colombian army is present in massive numbers, and which does not perform its constitutional function of defending the civilian population. And we can not understand why the regional paramilitary leader is not apprehended and brought to justice for his crimes against humanity.
We call upon all armed parties -- paramilitary units, guerrillas, army, police, urban militias and commandos -- to immediately cease all attacks upon both the civilian population and upon each other. Justice, peace and a fruitful life is never found through murder, torture, kidnapping and intimidation.
Haskell Wexler signed the letter, from the Colombia Support Network .[1]
Rosenberg Fund for Children
In 2003 Haskell Wexler was on the Advisory Board of the Rosenberg Fund for Children[2].
Endorsed Marcy Winograd
In 2006 Haskell Wexler a Cinematograhper was a National and State endorser of Marcy Winograd of the Los Angeles Progressive Democrats of America in her unsuccessful primary bid for the Democratic Party nomination 26th Congressional District in California[3]
Liberty Hill Foundation
As at 2009, Haskell Wexler was a member of the Advisory Board of the Liberty Hill Foundation, a Los Angeles based organization seeking to advance movements for social change through a combination of grants, leadership training and alliance-building.[4]
"Free the Cuban 5"
From an April 8,2011 letter.
"Dear President Carter:
We, Actors and Artists United for the Freedom of the Cuban 5, want to extend our deepest gratitude for your recent visit to Cuba, as well as our support for your statements promoting improved relations between our countries.
Your call for the release of Gerardo Hernandez Nordelo, Antonio Guerrero Rodriguez, Fernando Gonzalez Llort, Ramon Labanino Salazar, and Rene Gonzalez Sehwerert, known as the Cuban 5, and your willingness to visit with their family members in Cuba mean a great deal to all involved. We strongly agree that there is no reason to keep these men, who were simply trying to protect their country from terrorism, imprisoned any longer...
Further, we enthusiastically support you in having subsequent discussions with President Obama and Secretary of State Hillary Clinton and hope you will call for urgent action on their part to make right this unjust situation.
Again, we thank you and look forward to the possibility of improved relations and future visits to Cuba.
With respect,
Ed Asner, Co-Chair
, Danny Glover, Co-Chair, Jackson Browne
, James Cromwell, Mike Farrell, Richard Foos, Elliott Gould, Chrissie Hand
, Francisco Letelier, Esai Morales, Graham Nash
, Bonnie Raitt, Susan Sarandon, Pete Seeger, Martin Sheen
, Betty Sheinbaum, Stanley Sheinbaum, Andy Spahn, Oliver Stone
,Haskell Wexler[5]
References