Harvard Living Wage Campaign
From KeyWiki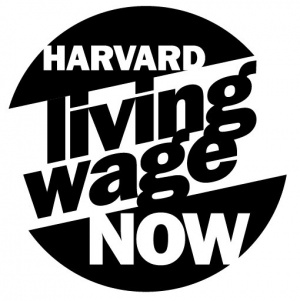 The Harvard Living Wage Campaign
About
History
Around September 1998, students in Harvard's Progressive Student Labor Movement planned a living wage campaign. In February 1999, the Harvard Living Wage Campaign held its first rally, attracting a crowd of approximately 200 and featuring students, faculty, representatives from local unions, and Howard Zinn. In Summer of that year, approximately 200 community members attend a rally that featured a speech by Julian Bond, Chairman of the Board of the NAACP. In October the Campaign began working with SEIU Local 254, the union which represents Harvard's janitors.
At an April 2000 rally in Harvard Yard, City Councillors Marjorie Decker and Jim Braude announced that they would refuse to approve building permits for Harvard until the university implemented a living wage.
On May 6, 2000, Matt Damon, Ben Affleck and Howard Zinn spoke at Harvard Workers First: Rally for a Living Wage. The rally was organized by the Harvard Living Wage Campaign.
In June 2002, HERE Local 26, the union representing dining hall workers signed a contract with the university ensuring that wages for many workers in the union was set at $10.85 per hour. However Campaign members were disappointed that this was still less than the Cambridge Living Wage level, currently at $11.11.[1]
Leaders
The following have been leaders of the Campaign:[2]
Endorsements
As at Jan. 15, 2002, the following had endorsed the Harvard Living Wage Campaign:[3]
Student Group Endorsements
Individual Endorsements
State Rep. Jarrett Barrios (D-Cambridge)
Derrick Bell, Professor of Law, NYU
Julian Bond, Chair of the national Board of Directors, NAACP
Donna Brazile, Campaign Manager for Al Gore
Senator John Kerry (D-MA)
Noam Chomsky, Professor, MIT
William Chrisman, Harvard alumnus and sponsor of the Living Wage Campaign
Matt Damon '96 and Ben Affleck
Francis Duehay, former Mayor of Cambridge
Senator Russ Feingold (D-WI)
Anthony Galluccio, Mayor of Cambridge
John Hiatt, General Counsel of AFL-CIO
Jim Hightower, former Texas Secretary of Agriculture
Rev. Jesse Jackson
Jesse Jackson, Jr. (D-IL)
State Rep. Pat Jehlen (D-Somerville)
Senator Edward Kennedy '54-'56, (D-MA)
Winona LaDuke '81
Terry McAuliffe, Chairman of the Democratic National Committee
Rep. George Miller (D-CA), Minority Leader of the House Committee on Education and the Workforce
Michael Moore, performer and activist
Tom Morello '86, guitarist, Rage Against the Machine
Ralph Nader, HLS '58
Martin L. Perl, 1995 Nobel Laureate in Physics
Robert Reich, former Secretary of Labor, Professor, Brandeis University
Damon Silvers, '86, HLS '96, HBS '96, Associate General Counsel, AFL-CIO
John Sweeney, President of AFL-CIO
Senator Paul Wellstone (D-MN)
State Rep. Alice Wolf (D-Cambridge)
Howard Zinn, Professor Emeritus, Boston University
Members, Carr Center for Human Rights Policy of the KSG
Ministry Endorsements
Community Group Endorsements
Union Endorsements
Faculty Endorsements
Harvard University Art Museums
Faculty Endorsements from Other Universities
Supporters
The following individuals and organizations expressed their support for the Campaign:[4]
Bob Reilly, IWW, Galveston, TX
David Goodman, Class of '82
David Wilkins, Kirkland & Ellis Professor of Law
Kathy A. Reddick, President NAACP, Cambridge Branch
Lanny Smith, HSPH Class Marshal 2000, President, Doctors for Global Health
Lauren Gofney, Webster University, St. Louis
Donnie Morgan, Peace studies intern, Manchester College
Cathy Cuthbertson, Sarasota, Florida
Sarah Knipper, George Warren Brown School of Social Work
Lisa Laskin, Graduate Student Council
Liz Albiston, Alliance for Hope, University of Tennessee, Knoxville
Kieran Roberts, Socialist Students National Office and Socialist Party Students, (UK) Committee for a Workers' International
Sarah Robinson '03
Dr. Priscilla Smith
Representative Jessica Curtin, Michigan Student Assembly
Zayed Yasin '02, President, Harvard Islamic Society
Bryony Horrocks, Secretary of UWA Student Guild
Rabbi Sue Fendrick, Newton, MA
Doug Giebel, Big Sandy, MT
Rev. Robert Francis Murphy, Secretary-Treasurer, Unitarian Universalist Migrant Ministry
Jason Schulman, Democratic Socialists of America, National Political Committee
Bob Buzzanco (Robert), Associate Professor of History, University of Houston
Albert B. West Esq., Barrington, RI
Matthew O'Connor, Baylor College of Medicine
Pete Micek (Peter), Northwestern Students Against Sweatshops
Desireé, Northwestern Students Against Sweatshops
Greg Ruiz, senior at Jesuit High School in Sacramento, CA
Jeanne DeGange, Connecticut College 1956, Superior, Montana
Ashley Mattison, University of North Carolina at Chapel Hill
Suzanne Belongia, Minnesota
Scott Cutler Shershow (PhD '83), Associate Professor of English, Miami University
Rev. Theodore M. Hesburgh, C.S.C., President Emeritus (via Gregory R. Wagner)
Stuart Fox, University of Chicago
Michael Kaplan, Knoxville Progressive Radio
Cynthia Brooke (Marianna)
Randall Collura, Harvard anthropology graduate student
Sadik Kassim, Tulane University, New Orleans
Neil Nugent, UMASS Radical Student Union
Heather Woodruff, Political Director, Harvard Republican Club
Laura Seaton, Secretary, Harvard Republican Club
Rich Halvorson, Membership Director, Harvard Republican Club
Andrew McGrath, Cincinnati Refuse and Resist
Lee Sergent, Co-Chair, Steering Committee, Campaign for Free Education
Helen Aspell, Co-Chair, Steering Committee, Campaign for Free Education
Michael Kaplan, Professor of Architecture, Emeritus, University of Tennessee/Knoxville
Frances Kunreuther, Hauser Center for Nonprofit Organizations, Harvard University
Andrew Tripp, UE Organizer
Benjamin Davis, Voiced Organized In Democracy, at Trinity College in Hartford
Lola, Bill Travis and Maggie Stanton
Marcelo M. Suarez-Orozco, Ph. D., Professor, Harvard University
Professor Harvey Cox - "I recall speaking at one of the early rallies, along with Richard Parker and Cornel West."
Jake Kushner, MD, Harvard Medical School
Mat Coakley, President, Cambridge University Students' Union (UK)
David Tannenbaum '01
Minh-Chau Nguyen Le '01, Lowell House
Tony Smith - "go get 'em we did in 1969!!"
Eric C. Lynch, Indianapolis, IN
Studnets Organizing for Labor and Economic Equality, University of Michigan
David Brooks Arnold, Director, International Relations: American Red Cross
Georgia Young, Emerson College
The members of No Sweat, Indiana University
Sherry Baron, M.D., M.P.H., National Institute for Occupational Safety and Health
Frances Kunreuther, Hauser Center for Nonprofit Organizations, Harvard University
Sara Turnbull, Education officer, Sussex University Students Union
Naomi Klein, author "No Logo"
Shirley Novak, 2nd Vice President, Doctors for Global Health
Sally Hirsch, GSE
Mark Brenner, University of Massachusetts, Amherst
Sandy Brown, Santa Cruz County Coalition for a Living Wage
Ann Walsh, Boston
Erin Seaton, Ed.D. '06, Harvard University Graduate School of Education
Paula Chakravartty, Assistant Professor, Department of Communication, UCSD
Gay W. Seidman '78 (Member of Harvard University's Board of Overseers 1986-1992)
Victoria Kent, Staff Assistant in the Department of Sociology
Frank Borgers, Assistant Professor, Labor Center
Brother Minster ]]Ahmad M. Abduliabd]], Founder of Sons of Afrika, Boston
Jason Rubenstein '04
Michelle Leyva, Harvard University Graduate School of Education
Dan La Botz, Visiting Professor of U.S. History, University of Cincinnati
Robert Pollin, Univesity of Massachusetts-Amherst
Nancy Folbre, University of Massachusetts Amherst, MA 01003
Ayelet Ruppin, UCSD
Eva Gumprecht, Senior Program Director, Harvard Hillel
Stephanie Luce, U-Mass Amherst Labor Center
Ann Conry, Staff
Joshua Jackson, for the Hampshire College Workstudy Union at Hampshire College, Amherst, MA
David Cohen, Deputy Director of Education, AFL-CIO
Liz Vladeck, P.S.L.M. '99
James Kloppenberg, Professor of History
Ben Smilowitz '03, Washington University
Chris Brooke, Fellow and Tutor in Politics, Magdalen College, Oxford.
Dahron Johnson, University of North Carolina-Greensboro
Andree Pages '77
Peggy Powell Dobbins, PhD, Atlanta, GA
Nancy Alach, longtime Cambridge resident
Adair Dammann H-R '79, KSG '00
Ian Christopher Fletcher, '79, National Writers Union, UAW Local 1981 AFL-CIO, Altanta Labor Solidarity Network
Bill Fletcher, Jr., Assistant to the President, AFL-CIO, Harvard Class of '76
Lane Windham, AFL-CIO Media Outreach
Bill Henning, CWA Local 1180 Vice President
Dorothee Benz, CWA Local 1180 Communications Director, AB '87
Bill Shakalis, Chair, Socialist Party USA Boston Local - "The Socialist Party USA/Boston Local endorses the Harvard Living Wage Campaign and is worlking in support of the April 21 rally at Harvard Yard."
John Woodford '63, '67 MA
Astraea Kelly, Laney College, Oakland, CA
Joe Pattaphongse, Adams House '00
Brad Cohen, AB '98
Damon A. Silvers, '86, HLS '96, HBS '96., Associate General Counsel, AFL-CIO
Jonathan Butler, American University, Washington College of Law
Dan Hennefeld, ex-PSLMer
Oeindrila
David Lyons, Professor of Law and of Philosophy, Boston University
The Swarthmore Living Wage and Democracy Campaign
Rebecca Sadun, Brown University
Terry O'Day, Vice President of Planning and Operations, EV Rental Cars, LLC
Bob Richmond '59
Professor Jon Hanson, from the Law School
Bill & the Working Families Party crew
Liz Maier, UW madison
Steve Askin, Johns Hopkins University
Bisexual Gay Lesbian Transgender and Supporters Alliance:
Graduate School of Arts and Sciences Graduate Student Council:
Social Anthropology Wing Faculty:
Alliance for Workers' Liberty Student Committee:
Rice Students for Global Justice at Rice University, Houston, TX:
References