Harry Bridges
Jump to navigation
Jump to search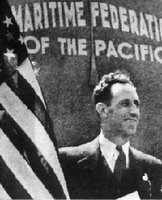 Template:TOCnestleft Harry Bridges was a San Francisco based labor leader.
He was survived by wife Nikki Bridges Flynn, son Robert Bridges, and grand daughter Marie Shell and her husband Eric Lenchner.
Communist Party leader
Australian born Harry Bridges was a long time leader of the ILWU. The U.S. government fought for years to deport Bridges for his ties to the Communist Party USA-which Bridges would never admit to. He was also a member of the Australian Communist Party as well as of the CPUSA, which was well established in various sworn congressional testimonies over the years. He also lied to the Immigration Board in his appeals to stop his deportation back to Australia, as well as lying to various U.S. courts. In other words, he was the perfect Communist, doing what Communists were allowed to do by doctrine, i.e. to lie to their enemies in order to protect the cover of their true ideological (and often illegal) identities and allegiances to foreign governments.
The Communist Party front Committee for Protection of Foreign Born spent considerable time and money keeping Bridges in the US.
Years later it was revealed that Bridges was not only a party member but served on the Communist Party USA Central Committee.[1].
National Committee to Abolish the House Un-American Activities Committee
As of May 1964, Harry Bridges, President, ILWU, was listed as a sponsor of the Communist Party USA front, National Committee to Abolish the House Un-American Activities Committee.
PLP connection
Progressive Labor Party's LP's original concept of participation in the trade-union movement was exactly borrowed from the Communist Party USA. This meant slow clandestine work in union committees and in alliance with supposedly progressive union leaders like Harry Bridges of the ILWU, Leon Davis of the 1199 and David Livingston of District 65 in New York. All of the PLM's trade-union cadre were ex-CP'ers, white and mostly middle aged, in their forties and older. They were not inclined to any bold moves, were not in basic industry and were generally not together in a concentration. The one exception was a small group of New York City railroad workers, led by Wally Linder. However, when he was laid off in 1963 the base and membership of PL in railroads dried up and Linder became a full-time PL functionary, "the trade-union organizer." Generally this not impressive trade union base (Considering he was N.Y. State trade union organizer for the CP, Rosen did not take much with him into PLM.) was either dying out (literally) or quitting by 1965. When Clayton Van Lydegraf and Coe quit in late 1966 they took better than one-third of the trade-union cadre with them.[2]
U.S. Peace Council sponsor
In 1979 Harry Bridges, President Emeritus, International Longshoremen's and Warehousemen's Union , was listed as a founding sponsor of the Communist Party USA front, the U.S. Peace Council.[3]
References