Harriet Applegate
Jump to navigation
Jump to search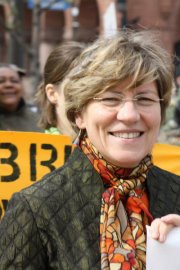 Harriet Applegate is a Ohio activist.
Harriet Applegate is the Executive Secretary of the North Shore Federation of Labor, which represents the needs of workers in Northeast Ohio. :Harriet brings to her job a passion for educating rank-and-file members on common sense economics and for involving working people in politics and policy. She is committed to advocating for fairer trade, a renewable jobs economy, and high standards for Ohio's workers. She is working on strengthening the labor movement's political infrastructure, involving union members in the policy process, and continuing to build a vibrant, diverse labor movement. Harriet Applegate lives in Cleveland Heights. [1]
Dining with Occupy
In October 2011, at the instigation of John Gallo of Senior Voice and the AFL-CIO Retirees Council, John Gallo, Wynne Antonio, Harriet Applegate and others hosted Occupy Cleveland for a meal, to share experiences across the generations.[2]
Communist connection
The first weekend of May, the convention of the Ohio district of the Communist Party USA attracted about 30 people to the Euclid Avenue union hall of Laborers International Local 310.
The closest approximation of fist pounding happened when economic researcher George Zeller blasted "academics and elites" for perpetuating a myth of economic recovery, when hundreds of thousands of Ohio jobs have vanished:
"These people are not just liars, they are damn liars who should rot in hell!"
The convention included a bus driver, an ironworker, a farmer, a retired teacher and a lawyer. Their issues were Voter rights, worker rights, and reproductive rights. Green energy and immigration reform. Electing Ed FitzGerald and Nina Turner.
Politically well-connected, Nagin brought to the convention some well-known figures, including State Representative Mike Foley, local AFL-CIO leader Harriet Applegate, and the respected and often-quoted Zeller. Foley is serving his last term as a progressive Democrat in Columbus.
"Over the last three and a half years under Governor Kasich, I've called it the disaster of the week, or the atrocity of the week," Foley told the audience. "One, two or three and four bills in a given week that are just awful."
Michael Kilbane, the president of Fairview Park City Council, is one politician who did show up. Kilbane said he's a lifelong tradesman, an ironworker. He said he's not a member of the party, but stands with the communists because they stand for workers' rights.
A few years ago, Kilbane pushed through a resolution through his council opposing Senate Bill 5, which sought to limit collective bargaining rights of public employees. More recently, he fought for pro-labor legislation regarding requirements for city contractors.
"I was met with a wave of manufactured opposition. The mayor vetoed the legislation," he said in an interview. "I'm a voice of the working people. This (convention) is about protecting democracy. That's it in a nutshell."
On the subject of county executive Ed FitzGerald, Applegate, who heads the North Shore AFL-CIO Federation of Labor, told the gathering the left is warming up to him. FitzGerald has embraced the progressive agenda in his gubernatorial run against Republican incumbent John Kasich. It hasn't been easy mobilizing union members behind FitzGerald, she said. Though organized labor has donated generously to the Democrat's campaign, his job-cutting county reform agenda and his management style alienated many party stalwart. In general, union folks don't see mainstream Democrats doing much for them.
Applegate said FitzGerald did galvanize the base last month when he beat back state Republicans who tried to block him from mailing out absentee ballots.
She asked the communists to not just defend FitzGerald, but to "start saying he's our man."
"He brings a lot to this race. He's got courage, he's smart, he's pretty damn liberal."[3]
Communist memorial
In August 2012, about 20 people spoke at Ohio Communist Party USA member Judy Gallo's memorial. They included her surviving husband and their two sons, Jesse Gallo and Nick Gallo . Others were labor and community leaders including Harriet Applegate, executive secretary of the Cleveland AFL-CIO, representatives of Reps. Dennis Kucinich and Betty Sutton, State Rep. Nickie Antonio and East Cleveland Councilwoman Barbara Thomas, the former president of AFSCME Local 3360 at MetroHealth.[4]
2015 Vietnam Tour
Statement by the US peace activist delegation to Vietnam for the 40th anniversary of the end of the war (April 19-30, 2015)
Visiting Vietnam today, it is sometimes hard to remember the long and terrible US war that ended 40 years ago. Today's Vietnam is a proud socialist nation growing its economy toward prosperity and responsible integration into the global community.
Vietnam and the US are today building a warm multidimensional relationship. Since normalization of relations in 1995, there have been substantial US investments and bilateral trade as well as significant cultural and educational exchanges ,tourism and family visits by Vietnamese Americans.
This historical development makes us wonder even more about the terrible US policy decisions that led to such widespread destruction and the loss of millions of lives--Vietnamese, Lao and Cambodians as well as Americans and by allies.
The legacy of the war is the darker side of today's Vietnam. Unexploded ordnance--land mines, shells and bombs--continue to injure or kill thousands of people every year. Dioxin laden herbicides, such as Agent Orange, are now affecting a third generation with birth defects and severe developmental disabilities.
We call upon our government to increase aid to Vietnam for the clean up of unexploded ordnance and Agent Orange as well as to treat the victims of both.
It is clear to us that the situation today in the region is of great concern to the Vietnamese. Officials of the Vietnamese government and friendship organizations in the north, center and south expressed great concern about China's recent aggressive behavior in the East Sea (South China Sea) and welcomed support from the international community for stability and the peaceful resolution of regional conflicts.
We worry about how the US in future administrations will exert its role in this complicated situation. We call upon US policy makers to help resolve issues through multilateral regional and global diplomatic efforts, including close cooperation with the ASEAN nations.
Our Vietnamese hosts were very clear that the role of the anti-war movement was a critical element in the successfully liberation and reunification of their country.
Our struggle continues, both to teach our own history and to help Vietnam continue to recover from the damage inflicted by our government. It is critical that generations born since 1975 learn the truth about this war so they can ensure it never happens again.
Harriet Applegate, Steven Ault, Sally Benson, Ross Canton, Kenton Clymer, Frances Early, Janet Gardner, Anne Hill, John McAuliff, Rick Nagin, Ann Pallotta, Danis Regal, Mike Rubicz, Pari Sabety, Mark Shanahan, Larry Wittner[5]
The 12-day visit to Vietnam in April 2015 consisted of former anti-Vietnam-War activists organized by the Fund for Reconciliation and Development in coordination with the Vietnam Union of Friendship Organizations on the occasion of the 40th anniversary of the end of the war. [6]
JWJ Executive Committee
The leadership body of Cleveland Jobs with Justice is the Executive Committee which consists of two co-chairs;
References