Hannah Allison
From KeyWiki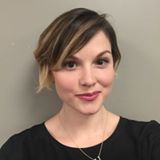 Hannah Allison is a Graduate Teaching Assistant at The University of Kansas. Formerly an organizer at Democratic Socialists of America.
She is married to Sam Natale.
Career
Hannah Allison start working for a small environmental organization called Appalachian Voices. They brought community members together to fight mountaintop removal coal mining.
Since then, I've been a student and community organizer in places like Saint Louis, Missouri and Raleigh, North Carolina. As an organizer for Missourians Organizing for Reform and Empowerment, I organized neighbors and community members to save families' homes from foreclosure. I also helped fi ght to increase the minimum wage in Missouri and to stop tuition hikes at state schools in North Carolina. [1]
Activist history
"I joined DSA because an organizer I trusted told me it was our best chance to build a movement of the working class. I still think that's true. Shortly after my first meeting, I was hired for a job as an organizer at DSA–first as a traveling organizer, and then as the organizer for the Midwest region. I worked for DSA from 2017-2019. In helping to develop chapters across the country and supporting the day-to-day operation of the national organization, I learned a tremendous amount about what makes DSA strong. This experience informs my DSA organizing in my local chapter (Lawrence, Kansas) and my vision for DSA nationally.
I've witnessed and supported many of our major victories over the last few years, but the work I'm most proud of has been my own work as a member of my local chapter. Using the skills from the organizing trainings developed by our national staff, we've quintupled our chapter membership, established relationships with union members and unorganized workers, developed a deep canvassing method (which led to our housing working group), endorsed our first local candidate (who is a DSA member!), and recently had a win in our campaign against a local landlord. I serve as the chair of the labor committee in my chapter and we're organizing a broad group of rank-and-file union members who are fighting to make their unions more militant and democratic (run by us, the workers!). I also helped start our socialist feminist and racial justice group.
For the last 11 years, I've fought to build a better world as a community organizer and a labor organizer. As a housing organizer, I led a series of occupations of banks during the foreclosure crisis. I worked for a post-ACORN org to organize working class people on education issues, federal climate legislation and a ballot initiative to raise Missouri's minimum wage. I'm also a social worker and an adjunct in a social work department. In 2018, I was on the organizing committee to win our adjunct union (we won by over 400 votes!).
Today, I work as a paraeducator in Lawrence public schools where we are organizing to win our paraeducator union. I'm also a graduate worker at the University of Kansas and a member of the American Federation of Teachers, Local 6403 where I serve as our organizing chair. Through my union and through DSA, we are working to organize public school teachers and paras around our wages and working conditions but also on issues that affect our communities, like the school to prison pipeline and disproportionate policing of students of color. A few lessons I've learned from this work: there are no shortcuts in organizing, relationships matter, and you've got to pick up the phone and meet people where they are!
We must build a mass movement capable of overthrowing capitalism. Inside DSA and in the broader movement. I've helped to do this by supporting others to develop their organizing skills, broaden their political horizons, and become leaders in their communities and workplaces. I'm excited to help lead our organization by focusing on win-or-lose campaigns against the capitalist class, political education, and transforming DSA into a mass multi-racial organization of the working class. I'm also eager to develop my own capacity and the capacity of other future NPC members to work in coalition with the broader Left and progressive ecosystem."[2]
Comrades for Hentzler
Lawrence Democratic Socialists of America September 12 2019·
We went out talking to folks about standing up against landlords and bosses, and voting for Joey Hentzler and Bernie Sanders. Our movement keeps growing!
Come join us this Saturday (10 AM), or next Wednesday (6 PM) at the Lawrence Public Library. — with Hannah Allison, Sam Natale, April E. Matthews, Leo Niehorster-Cook, Joey Hentzler and Mandy Frank.
DSA 2019 National Political Committee Candidates
Democratic Socialists of America 2019 National Political Committee Candidates
• Austin Gonzalez • Sauce • Theresa Alt • Sean Estelle • Daniel Merrill • Darby Thomas • Russell Weiss-Irwin • Michelle Bruder Miller • Zac Echola • Jen Snyder • Jennifer Bolen • Blanca Estevez • Marsha Niemeijer • Marianela D'Aprile • Tawny Tidwell • Lloyd Goldsmith • Erika Paschold • Emily Cameron • Dan Quayle • Valerie Sinclair • Natalie Midiri • Ravi Ahmad Haque • Jose G. Perez • Tim Zhu • Rachel Zibrat • Abdullah Younus • Megan Svoboda • Maikiko James • Kristian Hernandez • David Pinkham • Hannah Allison • Jen McKinney • Austin Smith[3]
Socialist Majority Caucus
DSA's Socialist Majority Caucus signatories list as of April 25 2019 included Hannah Allison of Lawrence Democratic Socialists of America.
DSA Ella Baker & Lucy Parsons Training Closed FB Group
DSA Ella Baker & Lucy Parsons Training Closed FB Group, as of August 20, 2017;[4]
Admins
New member phone bank
New member phone bank Public · Hosted by Communist Party USA.
Saturday, April 15, 2017 at 11 AM - 4 PM EDT
Your living room
We're organizing a phonebank to our new members on Saturday and we need your help. The callfire service allow you to make the calls from home, using your smartphone, laptop or deskstop. You'll get a real charge from talking to them! Aint' nuthin like it!! Please click "going" if you can make calls! Thanks!
Those invited to participate on on Facebook included Hannah Allison.
National Party Building Conference
National Party Building Conference Hosted by Communist Party USA and People's World.
Saturday, November 11, 2017 at 12 PM – 6 PM EST
Join Communist Party activists and members in a national conference. You can register here https://tinyurl.com/ycdouk3y
The conference will take place November 11th to 12th to plan our work in the fight against the Trump Administration and its white supremacist ruling class backers. Find information here about how to participate. http://www.cpusa.org/2017-national-party-building-conference-resist-organize-vote-grow/
The conference will be streamed from Chicago to regional meetings in New Haven, Los Angeles, and Orlando. Whether you're on the East Coast, West Coast, in the MIdwest or the South, you'll be able to participate.[5]
Those invited on Facebook included Hannah Allison.
DSA Disability Caucus/Working Group
Members of the DSA Disability Caucus/Working Group, closed Facebook group. as of July 16, 2017 included Hannah Allison .[6]
DSA Women's Caucus Facebook group
DSA Women's Caucus closed Facebook group, as of August 25, 2017;[7]
Admins
Upper Manhattan/Bronx DSA Closed Facebook Group
Members of the Upper Manhattan/Bronx Democratic Socialists of America, closed Facebook group, as of May 28, 2017 included Hannah Allison .[8]
Moving to Kansas
Hannah Allison will be leaving Democratic Socialists of America staff at the end of December 2018 to be a PhD student and teacher in American Studies at the University of Kansas. There she will organize in her American Federation of Teachers Local and fight the racist/sexist/capitalist university overlords. She'll keep organizing as a member of her (soon-to-be) DSA chapter and get more involved with the Democratic Socialist Labor Commission.[9]
DSA Regional Training
Hannah Allison December 2 2018:
Feeling inspired after this weekend's DSA Regional Training in Salt Lake City! We had Democratic Socialists of America chapters from Utah, Montana, Colorado and South Dakota. Grateful to have these amazing organizers out west!
Y'all tag yourselves as you wish! — with Josh Schleining, Randy Heinz, Laura Gabby, Marshall Mayer, Zeth Stone and Issac Hann in Salt Lake City, Utah.
Striking teachers
Hannah Allison January 14 2019.
Teachers and school staff in Lawrence, Kansas in solidarity with UTLA teachers on strike!
UTLAStrong #Strike4Ed #WeAreLA #StandwithTeachers — with Jordan Swartzendruber, Andy Nussbaum and Grace MacMillan in Lawrence, Kansas.
Kansas Socialists
Brendan Davison January 15 2019:
Kansas Socialists had a great showing today at the Kansas People's Agenda Rally! — with Hannah Allison, Grant Owens and Matthew Bland.
Student Power Union
NC Student Power Union March 20, 2013 ·
Hannah Allison from NC State and the student power union MC not in her shoes rally.
References