Gregory Williams
From KeyWiki
Gregory Williams is a Florida activist. He is an Owner-operator at SuperShuttle.
Education
Studied Geology at University of Louisiana at Lafayette.
"Durham Beyond Policing Town Hall"
1104 Broad St, Durham, Tuesday 9 February 2016 "Durham Beyond Policing Town Hall" organized by Jade Brooks.
We are calling all freedom-fighters, all justice-lovers, all truth-tellers, all who can't wait to please join Southerners On New Ground and the #SayHerName crew for a community forum and visioning session. Let's speak our truths and sow the seeds of a new way forward for all our people, with those most impacted, most criminalized, at the center: black and brown people, queer, trans and gender non-conforming folks, working class and poor people, undocumented people ... Let's dream and scheme together and find out ways to throw down for campaigns and direct action that holds the cops accountable
Those indicating attendance on Wherevent included Jillian Johnson, Dante Strobino, James Cersonsky, Nikhil Umesh, Ben Wilkins, Jade Brooks, Marcus R. Bass, Joe Stapleton, Kristen Cox, Hannah Spector, Jose Romero, Nancy Caamano, China Medel, Scott Michael, Alex Biggers, Destiny Hemphill, Cat Crowe, Monique Laborde, Tobi Lippin, Amy Wang, Mitch Xia, Xander Stewart, Smiley Boyd, Mina Ezikpe, Ethan Tyler, Jess Dilday, Jonathan Henderson, Alex Chassanoff, Jacky Chan, Margaret A. Brunson, Alissa Ellis, Magdalene Slerlisk, Saba Taj, Le'Andre Demond Blakeney, Doneatha Green, Kaylan Baxter, Destiny Hemphill, D'atra Jackson, Amy Glaser, Eliza Meredith, Gregory Williams, Victoria Bouloubasis, Umar Salute Muhammad, Patricia Bass, Gen Na, Regan Downey Buchanan, Chanelle Croxton, Ben Carroll, Patrick Snipes, Jess Issacharoff, Mariah Monsanto, Alex Biggers, Jojo Moto, Zachary Faircloth, Sarah Pederson, Stef Bernal-Martinez, Bro Beasley, Ben Wilkins, Jessica Pierce, Isa Bee, Jessica Jude, Tony Hood, Mindy Isser, Rachel Alexis Storer, Moses Ochola, Ade Oh, Lisa Sorg, Blanche Amelia S. Brown, Shilpi Misra, Scott Michael, Afi Apefa Bello, Mary Alta, Anastasia Karkliņa, Lizzie Lindsey, Holly Hardin, Matilda Wormwood, Eli Viszk, Wutang McDougal, Andrew Heil, Fern Hickey, Philip Marschall, Catherine Berman, Bex Kolins, Jen Przewoznik, Equashia Mumin, Eva Panjwani, India Pierce, Sandra Korn, Risa Foster, Ngọc Loan Tran, Eli Meyerhoff, Shanna Ochola, Serena Sebring, Ajamu Dillahunt, Jr., Nagwa Nukuna, Jina Valentine.[1]
"We Demand Access to the Durham Jail! Rally & Press Conference"
Thursday 10 December 2015, Zaina Alsous organized a "We Demand Access to the Durham Jail! Rally & Press Conference " outside the Durham County Jail.
Join us as we announce our newly formed Jail Investigation Team and our plans to hold the Durham County Jail accountable.
Since November 2012, Inside-Outside Alliance, a Durham based organization that organizes against the prison system, has published letters from inmates and their families detailing the inhumane conditions many experience at the Durham County Detention Facility.
Those indicating their intention to attend on Wherevent included Jillian Johnson, Cat Crowe, Maiz Criollo, Alex Biggers, Mitch Xia, Sendolo Diaminah, Mindy Isser, Sarah Pederson, Eli Meyerhoff, Liz Rose, Molly Hastings, Alice Sievers, Justine Lam, Elisa Benitez, Nikhil Umesh, Patricia Bass, Phillip Marschall, Matt Whitt, Xander Collins, Leah Block, Joe Stapleton, Holden Cession, James Cersonsky, D'atra Jackson, Arbor Quist, Stanley Yuan, Blanche Amelia S. Brown, Michael Becker, Sydney Roberts, Archer Wang, Eli Viszk, Danielle Roachie, Amy Godfrey, Ryan Stokes, Michael Dennis, Gregory Williams, Jade Brooks, Jojo Moto, Abby Hylton, Chanelle Croxton, David Theurer, Ben Carroll, Dante Strobino, Destiny Hemphill, Shilpi Misra, Nikki Mintz, Heeva Kadivar, Sandra Korn, Naomi Baumann. [2]
African American Equality Commission
In July 2015, Members of African American Equality Commission CP USA FaceBook group included Gregory Williams.[3]
2016 election gathering
How likely is a Trump win? What would a Trump presidency look like? What's at stake for working people across America if an extreme right-winger like him is allowed to take the highest office in the land? These questions and more were discussed in a meeting of Florida activists at a retreat hosted by the Communist Party USA from May 13 through May 15.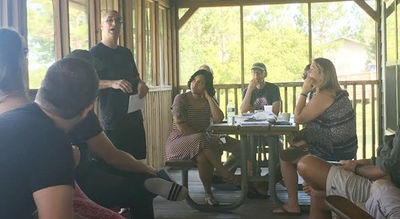 A wide range of people participated in the meeting. They work in a variety of jobs and are active on various issues ranging from mental health advocacy to women's reproductive rights. The retreat was led by Communist Party national chair John Bachtell, who opened the discussion with a survey of the group. He asked for people to answer, by show of hands, what they would do if Clinton was to become the Democratic presidential nominee.
Retired school teacher and Tampa resident John Streater pointed out the issue of racism when it comes to Donald Trump. Participant Jesse Napier, a mental health advocate and member of the band Whiskey Faithful (which describes its music as "proletarian punk rock"), labeled Trump a "fascist."
Participant Yennifer Mateo spoke about Trump's deportation threats aimed at undocumented people. "As an immigrant woman, I fear for the safety of myself, my family, and other immigrants," Mateo said.
One person argued that, given her political past, it would be hard to trust Clinton, let alone convince others to believe she would be any better than a Republican president. Participant Jessi Dover's response to this sentiment was that, "She [Hillary] is a Democrat and she's not Trump. If you don't vote for Clinton, you're voting for Trump."
Also in attendance were Eugene Charles Blum IV of Orlando, and Gregory Williams of Miami.[4]
CPUSA Florida District Forum
CPUSA Florida District Forum Closed Facebook Group, as of June 29, 2017;[5]
This is the OFFICIAL discussion forum for members of the Communist Party USA (CPUSA), District of Florida.
Members included Gregory Williams.
References