Green For All
From KeyWiki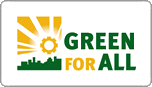 Green For All is a national organization that aims to build a green economy "strong enough to lift people out of poverty." Its goal is to secure $1 billion in funding for green-collar job training.[1] Van Jones and Diana Frappier of the Ella Baker Center for Human Rights launched Green for All as a global initiative in 2007.[2] Many of its employees are tightly affiliated with the Ella Baker Center for Human Rights.
Staff
The following are members of the staff, as of April 5, 2010:[3]
Board of Directors
The following are members of the Board of Directors, as of April 5, 2010:[3]
Dream Reborn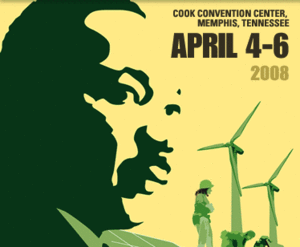 One of Green For All's project is Dream Reborn. It organized a conference to celebrate Dr. Martin Luther King, Jr on April 4-6, 2008 Memphis Cook Convention Center.[4]
Some of the presenters were Van Jones, Majora Carter (Sustainable South Bronx/Green For All), Winona LaDuke (Honor the Earth), Malia Lazu (The Gathering for Justice), LaDonna Redmond (Institute for Community Resource Development), Mary Anne Hitt (Appalachian Voices), Reverend Lennox Yearwood (Hip Hop Caucus), Adrienne Maree Brown (Ruckus Society), Tony Anderson (Morehouse College Student Leader), Ian Kim (Oakland Green Jobs Corps) and more.[5]
"Green Deen"
"Green Deen: What Islam Teaches about Protecting the Planet", was written by Ibrahim Abdul-Matin, Keith Ellison.
The following people cotributed in some way to the development of the project: Van Jones, Dr. L'Heaureux Lewis, Musa Syeed, Ahlam Syeed, Yasir Syeed, Ismail Ocasio, Idris Braithwaite, Samiha Rahman, Sister Aisha Al-Wadiwiyya, Rami Nasashibi, Amir Al-Islam, Debbie Altmontaser, Asad Jafri, Abdul Qadir, Nimco Ahmed, Omar Mullick, Cynthia Hamilton, Professors Rosa Marie Pegueros, Sonia Jarvis, Ed Sermier, Al Killilea, Lynn Pasquerella,
Those thankedd for their help included Terry Marshall, Maytha Alhassen, Tanjila Islam, Najima Nazyat, Yusef Ramalize, Taj James, Jungwon Kim, Suyoung Kim, Wahija Akhtar, Awais Khaleel, Anas Canon, Bracken Hendricks, Mahea & Alea, Kizzy Charles-Guzman, Marianne Manilov, Zaid Mohiuddin, Jody Tonita, Ferentz Lafargue, CAIR-NY, the Green For All Fellows, and the 2008 National Urban Fellows.[6]
Sponsors
The following were listed as sponsors of Dream Reborn:[7]
Funders
The following were listed as funders of Dream Reborn:[7]
Partners
The following were listed as Partners of Dream Reborn:[7]
Partner of the March for Science
Green For All is listed on the March for Science website as a "partner."[8]
External links
References