Graylan Hagler
From KeyWiki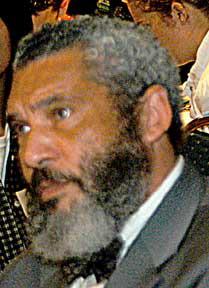 Rev. Graylan Scott-Hagler..s a Washington DC pastor and activist.
ANSWER "Rally Against War and Racism"
April 20, 2002 International A.N.S.W.E.R. Rally Activists representing various groups met on the Ellipse in Washington, DC to voice their support for a Palestinian state, criticize the Bush administration for its support of Prime Minister Sharon's government in Israel, advocate a stop to racial profiling, and protest the treatment of Muslims at home and abroad.
The event was coordinated by the organization Act Now to Stop War and End Racism.
Speakers included Larry Adams - Labor Against the War, Pam Africa Activist International Concerned Family and Friends of Mumia Abu-Jamal, Sami al-Arian Professor University of South Florida (Tampa, FL)->Computer Science, Tariq Ali Author, Luis Alvarez Committee for the Rescue and Development of Vieques, Nihad Awad Co-Founder and Exec. Dir. Council on American-Islamic Relations, Brian Becker, Co-Director International Action Center, Vernon Bellecourt Director (Former) American Indian Movement, Mahdi Bray Director Muslim Public Affairs Council->Communications, Helen Caldicott M.D. Founder Physicians for Social Responsibility, Illel Cohen Activist, , Tarek Elgawhay Spokesperson Muslim Student Association Shaker Elsayed, Secretary-General Muslim American Society, Sara Flounders Spokesperson Iraq Sanctions Challenge, Jane Franklin Author, Teresa Gutierrez Co-Director International Action Center, Graylan Hagler Minister Plymouth Congregational Church of Christ (Washington, DC), Cheri Honkala, Founder and Executive Director Kensington Welfare Rights Union, Rafik Jaber President National Islamic Association for Palestine, Teresita Jacinto Member Committee for Indigenous Solidarity, Randa Jamal Member Palestine Right to Return Coalition, Amer Jubran Activist, Sala Kahn, Activist Magdy Mahmoud, President , Metropolitan Muslim Federation->New York, New Jersey, Carl Messner Co-Founder, Partnership for Civil Justice, Riya Ortiz, Representative Asha Samad-MatiasSpokesperson Muslims Against Racism, Grace Trevett Activist.[1]
National Campaign to Defend Civil Rights
Representatives and supporters of the ANSWER (Act Now to Stop War & End Racism) coalition held a news conference at the National Press Club in Washington, D.C., June 18 2002, to announce the National Campaign to Defend Civil Rights. The group announced a major demonstration on June 29 at the headquarters of the FBI and Justice Department.
"Our community is uniting with other civil rights and anti-war organizations to mobilize for the June 29 demonstration protesting the attacks on civil rights and civil liberties," stated Mahdi Bray, executive director of the Muslim American Society's Freedom Foundation.
Rainbow Coalition/PUSH leader Joe Leonard explained that his organization was mobilizing for the June 29 protest because President George W. Bush and Attorney General John Ashcroft's use of racial and political profiling was "a threat to all the hard won civil rights gains of past generations."
"The Bush administration is substantially expanding the FBI and CIA authority to conduct domestic spying in the absence of probable cause or criminal conduct and is authorizing indefinite detention for citizens and non-citizens at the sole discretion and the direction of George Bush and John Ashcroft--without charge or trial, and without access to an attorney," Mara Verheyden-Hilliard of the Partnership for Civil Justice explained in analyzing the government's latest move.
Other speakers at the news conference included: Lubaba Abdallah, Muslim Student Association of U.S. & Canada; the Rev. Graylan Hagler, senior minister, Plymouth Congregational Church; Macrina Cardenas, Mexico Solidarity Network; Peta Lindsay & Daniel Keesler, ANSWER youth and student organizers; Chuck Kaufman, national coordinator, Nicaragua Network; Damu Smith, Black Voices for Peace; and Brian Becker, co-director, International Action Center.[2]
Endorsing ANSWER campaign
Since Oct. 26, 2002 when hundreds of thousands of people marched and rallied in Washington and San Francisco against the Bush administration's growing war on Iraq, the government has pretended that nothing happened.
The International ANSWER coalition, which called the Oct. 26 demonstrations, is now building new national actions on the Martin Luther King holiday weekend in January. It is also gathering hundreds of thousands of registrations in a referendum against the war, both online and on paper.
The group's web site now has a long list of endorsers for the Jan. 18-19 actions that shows the broad social character of this movement. It encompasses groups and individuals from almost every area of activism for justice, equality, peace and a better life for all the people.
Key endorsers of the Oct. 26 demonstrations like former Attorney General Ramsey Clark, Rev. Graylan Hagler, Dr. Hans Christof von Sponeck--former director of the UN Oil for Food Program, Bishop Thomas Gumbleton, Mahdi Bray of the Muslim American Society Freedom Foundation, people's historian Howard Zinn and Congressperson Cynthia McKinney Dr. James Tate, Executive Director, National Alliance Against Racism and Political Repression; John Dear, former executive director of the Fellowship for Reconciliation; Attorney Michael Tarif Warren, singer Patti Smith, the Rev. Herbert Daughtry, author Ron Kovic and hundreds more.[3]
"NO WAR, NO WAY"
Jan 19, 2003, ANSWER brought together an impressive array of speakers at two rallies—one that began at 11 a.m. in the sprawling National Mall, and a concluding rally at the Washington Shipyard.
Moonanum James, co-chair of United American Indians of New England and a Vietnam-era veteran, opened the rally by connecting the U.S. government's ongoing racist war against Native peoples with their preparations for a racist war against Iraq.
Actors Jessica Lange and Tyne Daly addressed the crowd. So did political figures, including the Revs. Jesse Jackson and Al Sharpton; former-U.S. Congressperson Cynthia McKinney and Rep. John Conyers. The Rev. Lucius Walker read an anti-war statement from Rep. Charles Rangel.
Former Attorney General Ramsey Clark called on those listening to "impeach Bush." Blase Bonpane, from the Office of the Americas, traveled from Los Angeles to bring greetings. International representation included Ashraf El-Bayoumi from the Cairo Conference against U.S. Aggression on Iraq and Jeremy Corbyn from the Stop the War Coalition and Abe Tomoko spoke as a representative of the Lower House of the Japanese Parliament.
Struggles around the world against U.S. domination were articulated by Teresa Gutierrez and Sara Flounders from the IAC; Hector Castro, director of education, Central Unitaria de Trabajadores, Colombia; Francisco Rivera, Committee for the Rescue and Development of Vieques; Marie Hilao Enriquez from BAYAN; and Yoomi Jeong from the Korea Truth Commission.
Muslim speakers included Mahdi Bray, Muslim American Society; Ismael Kamal, Muslim Student Association; Ihab Darwish, Free Palestine Alliance; Ghazi Khan Kan, Council on American Islamic Relations; Imam Mousa, Masjid Al-Islam; and Dr. Mansoon Khan from Peace TV.
The Revs. Herbert Daughtry, national pastor of House of the Lord Church; Graylan Hagler, pastor of Plymouth Congregational Church, andJesuit priest John Dear addressed the audience. [4]
2004 MLK march
Activists inside the United States and internationally paid tribute to the struggle-oriented legacy of Dr. Martin Luther King, Jr. with marches, civil disobedience, rallies and much more. A majority of these actions took place on Jan. 19, 2004 the U.S. federal holiday recognizing his birthday.
In Washington, D.C., despite physical intimidation by security personnel and police, a solidarity action with the striking Sterling Laundry workers prevailed. Prominent Black activists Mahdi Bray, a leader of the Muslim American Society, the Rev. Graylan Hagler, Latina members of the UNITE union, and representatives of the Baltimore All-Peoples Congress were present, and repelled these physical attacks by goons.[5]
"Forging a Black Liberation Agenda for the 21st Century"
10th Anniversary Meeting of the Black Radical Congress, "Forging a Black Liberation Agenda for the 21st Century" Black Radical Congress, June 20-22, 2008, St. Louis, Missouri.
Endorsers for the Congress included Rev. Graylan Hagler National President- Ministers for Racial, Social and Economic Justice.[6]
National Dialogue on the Sudan
In Memory of El-Hajj Malik El-Shabazz (Malcolm X)
A National Dialogue on the Sudan
Sunday, Feb. 27, 2005
THE UNIVERSITY OF THE DISTRICT OF COLUMBIA, BLDG. 46 - MAIN AUDITORIUM
Among the Invited Speakers
US Representative Elijah Cummings, Congressional Black Caucus
Ambassador Khidir H. Ahmed, Embassy of the Republic of Sudan
Imam Khalid Fattah Griggs, Journalist and Community Activist
Akbar Muhammad, International Representative of the Nation Of Islam
Rev. Walter Fauntroy [or] Joe Madison, Sudan Campaign
Rev. Graylan Hagler, Plymouth Congregational Church
Dr. Mustafa Osman Isma'il, Sudanese Foreign Minister
John Garang, Vice President of the Republic of Sudan *
Dora Muhammad, Editor The Final Call Newspaper
Rev. Willie Wilson, Union Temple Baptist Church
US Representative Donald Payne, (D-NJ)
The National Conference/Dialogue on the Sudan will take place (Feb 27th), culminating a week long observance for an Afro-American Muslim leader who was (and still is) most deserving.
We expect to be joined by a host of local grass-roots community leaders and activists (and possibly a few from outside the Washington area) for the press conference. Our hope is that we will also be joined by leaders from some of our "major Muslim organizations" (i.e., CAIR, ISNA, ICNA, MAS, MPAC, etc), as this will be an opportunity for us to make a unified statement of concern and support for the Sudan and its people – particularly in light of the crisis in Darfur.
The objective will be threefold: (a) enlightened dialogue on the crisis in Sudan; (b) education for the community; (c) and a far more constructive engagement of African Americans on this issue than what we've seen thus far.
This conference is being sponsored by The Committee for Truth, Justice, and Reconciliation in the Sudan (a project of The Peace And Justice Foundation).[7]
Center for Labor Renewal
In 2009 Graylan Hagler was listed as an endorser of the Center for Labor Renewal[8].
Meeting with Ahmadinejad
More than 100 activists and journalists from a variety of organizations, religious groups and media outlets attended a gathering with Iranian President Mahmoud Ahmadinejad at the Warwick Hotel here Sept. 21, 2010. The leader of the Islamic Republic of Iran was in the city to attend the annual United Nations General Assembly.
These prominent leaders of grassroots social justice and human rights movements within the U.S. consciously rejected a well-funded campaign to demonize Iran and whip up a pro-war climate. Ahmadinejad's visit had been preceded by incendiary billboards, ads in buses and newspapers, hostile media coverage and demonstrations against Iran, much of it funded by the CIA-connected U.S. Agency for International Development and private corporations.
After an Iranian-style dinner, the gathering moved to a conference room where representatives from various organizations spoke on the plight of people inside the United States. The displacement of African Americans in the aftermath of Hurricane Katrina, the burgeoning prison-industrial complex, conditions facing political prisoners, the crisis in U.S.-Iranian relations and the overall economic crisis dominated the discussion.
Among the individuals and organizations in attendance were Cynthia McKinney, a former U.S. House of Representatives member from Georgia and the Green Party's presidential candidate in 2008; poet and activist Amiri Baraka; MOVE Minister of Information Ramona Africa; International Action Center co-director Sara Flounders; Ardeshir Ommani and Eleanor Ommani, co-founders of the American-Iranian Friendship Committee; former U.S. Attorney General Ramsey Clark; Million Worker March Movement organizer Brenda Stokely; Shafeah M'Balia of Black Workers for Justice; Phil Wilayto of Virginia Defenders for Freedom, Justice and Equality; Larry Holmes of Bail Out the People Movement; Don DeBar of WBAIx.org; Ryme Katkhouda of the People's Media Center; Michael McPhearson of United for Peace and Justice; and Rev. Graylan Hagler.
After listening for an hour and a half to 22 different speakers, President Ahmadinejad addressed the guests for approximately 45 minutes. He touched on the international struggle for peace and justice, saying that "trying to build peace is the most important and comprehensive struggle that mankind can have."
He added, "Those who are opposed to justice are a few, a minority."[9]
Council run
Metro-DC Democratic Socialists of America endorsed and campaigned for two candidates for Washington DC Council running explicitly left-progressive platforms: Eugene Puryear of the Statehood Green Party and Graylan Hagler, running as an independent. Despite vigorous campaigns by both, Puryear finished sixth with 3.5 percent of the vote, and Hagler seventh with 3.0. Winning the second seat, formerly held by Catania, was Elissa Silverman, formerly a reporter for the Washington Post and Washington City Paper, with 12 percent.[10]
Socialist Salon
Insights into the way money and power manage electoral politics in Washington, D.C., came to the Democratic Socialists of America run Socialist Salon in November 2014 via Rev. Graylan Hagler, senior pastor of Plymouth United Church of Christ, an at-large City Council candidate in the recent plebiscite.
Hagler, an Independent candidate who came in behind several other Independents in a race won by Democrat Anita Bonds and Independent Elissa Silverman, pointed out that of around 100,000 votes cast in the crowded at-large Council race, "60,000 were undervotes." Those voters, who could vote for two candidates because two seats were available, cast a vote for only one of the candidates. The Democratic establishment, he said, had called for a "bullet vote" to ensure that Bonds, an undistinguished legislator who had been appointed to a seat made vacant by a prosecution for corruption, would win an electoral victory.[11]
"Where Do We Go From Here?"
Institute for Policy Studies' Phyllis Bennis joined a line up of special guests for an inter-generational teach-In on the triple evils of militarism, economic exploitation, racism, January 18 2016, 5th and K Busboys & Poets. Washington DC.
At this tribute to Dr. Martin Luther King, Jr. the discussion will tease out the role of popular culture: 60s vs. now, the international implications of Dr. King's Vision, and the links between economic exploitation and racism.
Participants included: Dr. Clarence Lusane, Joni Eisenberg, Rev. Graylan Hagler, Medea Benjamin, Phyllis Bennis, Dr. Vanessa Wills, Jeremiah Lowery, Dr. Maurice Jackson, Frank Smith, Dave Zirin, Jay Mills, Ayanna Gregory, In Process, and Live Audience Participation from Busboys!
Co-Moderators: Youth Activist Princess Black and Dr. Greg Carr, Howard University.[12]
References