Gradye Parsons
From KeyWiki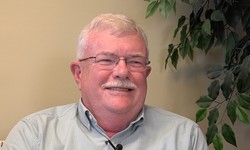 The Reverend Gradye Parsons served as the Stated Clerk of the General Assembly of the Presbyterian Church (USA), a "Member Communion of the Church World Service.[1] The post has been filled by Reverend Dr. J. Herbert Nelson, II as of 2016.[2],[3]
Refugee rally
Rev. Gradye Parsons, stated clerk for Presbyterian Church U.S.A., spoke during a news conference with senators and national religious leaders to respond to attempts at vilifying refugees and to call on lawmakers to engage in policymaking and not 'fear-mongering' at the U.S. Capitol December 8, 2015 in Washington, DC. Following last week's mass shooting in San Bernardino, Calinfornia, leading Republican presidential candidate Donald Trump called on Monday for the United States to bar all Muslims from entering the country.
Also speaking were Senators Tim Kaine, Patrick Leahy, Dick Durbin, and Theodore McCarrick, Rabbi Jack Moline, Bishop Sally Dyck, Rev. Richard Graham, Imam Talib Shareef.
MC Rev, Dr. Sharon Stanley-Rea.
Q&A Jen Smyers Church World Service.
Delegation to Cuba
Rev. John L. McCullough led a delegation to Cuba in November 2014 which included former Presbyterian Church (USA) Stated Clerk Gradye Parsons:[4]
Gradye Parsons of the Presbyterian Church (USA)[5] associated with the Presbyterian Church (USA) praised Barack Obama's efforts to normalize relations with Cuba in November 2014:
This, along with another post by Presbyterian Church (USA)'s Gradye Parsons in December 2014:[6]
Embassy of Cuba in New Zealand November 6, 2014:
RELIGIOUS PEOPLE FAVOR US-CUBA DIALOGUE
The chairman of the World Service of Churches, Reverend John L. McCullough, favored promoting actions to promote "sincere and transparent" dialogue between Cuba and the United States.
At a press conference in Havana on Tuesday, along with his companions, Reverend Gradye Parsons, of the US Presbyterian Church, and Rabbi Howard Sunny Shnitzer, McCullog noted the need to achieve speed and progress in the dialogue between the two countries to search after the normalization of relations. He assured that efforts to achieve that goal will continue.
In order to take a first step, it is necessary to solve the humanitarian crisis; that is, to release the three Cuban antiterrorists held in US prisons since 1998, and Alan Gross, who is serving time in Cuba, he noted.[7]
National Council of Churches
Gradye Parsons is a Chair of the Constitution and Bylaws Committee for the Presbyterian Church (USA) on the 2008-2011 National Council of Churches Governing Board, as of March 22, 2010.[8]
External links
References