Gloria Steinem
From KeyWiki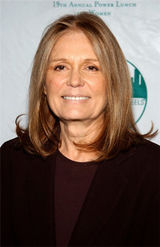 Gloria Steinem is an honorary chair of Democratic Socialists of America.[1]
Student Marxist
"When I was in college, it was the McCarthy era," Steinem told Susan Mitchell in 1997, "and that made me a Marxist."[2]
Helsinki-Youth Festival/CIA recruiter
July 29-August 6, 1962 the World Youth Festival was held in Helsinki, under the auspices of the Soviet front World Federation of Democratic Youth.
Gloria Steinem was under a CIA contract to recruit participants to infiltrate the communist confab and to fund "liberal" Americans participants in the 450-member U.S. group of pacifists and Communist Party USA activists. It was a futile stunt. Among those whom Steinem recruited through her CIA front, Independent Research Service, were Zbigniew Brzezinski, Barney Frank, Clay Felker, the Rev. William Sloane Coffin, attorney Tom Garrity and reporter Robert Kaiser. Among those invited, but not attending were Michael Harrington and Tom Hayden.[3]
National Women's Political Caucus
Betty Friedan joined other leading feminists, such as Gloria Steinem, Shirley Chisholm, Fannie Lou Hamer, Bella Abzug, and Myrlie Evers-Williams in founding the National Women's Political Caucus in 1971.[4]
Coalition of Labor Union Women
Gloria Steinem was one of the cofounders the Coalition of Labor Union Women in 1974.[5]
Democratic Socialist Organizing Committee
Among the prominent figures; who joined Democratic Socialist Organizing Committee around late 1976, early 1977 were; James Farmer; Georgia State Representative Julian Bond; New York State Assemblyman Seymour Posner; Zolton Ferency, former head of the Michigan Human Rights Party; and Gloria Steinem.[6],
DSOC conference
Some 150 delegates and 100 observers met at Houston's Airport Holiday Inn, February 16-19, 1979, for the fourth national convention of the Democratic Socialist Organizing Committee (DSOC).
DSOC's leadership[7]at the 1979 convention included-Michael Harrington, chairman, Julius Bernstein vice chairman, Victor Reuther vice chairman, Jack Clark national secretary.
the national board consisted of-Julian Bond, Harry Boyte, Bogdan Denitch, Harry Fleischman, Irving Howe, Alex Spinrad, Gloria Steinem, Harry Walsh, Nat Weinberg, Richard Wilson
Democratic Agenda/Socialist Caucus
For groups and organizations seeking radical social change within the Democratic Party, the National Convention of 1980 had at least one historic first - formation of a Socialist Caucus of delegates. Organized by the Democratic Socialist Organizing Committee and by the Democratic Agenda which was DSOC's cadre and supporters within the Democratic Party and was based in DSOC' s New York office and at 1730 M Street, NW, Washington, DC. Some 31 delegates and alternates from twelve states and Democrats Abroad attended the Socialist Caucus.
As a preliminary to the convention's Socialist Caucus meeting, , indeed as a "building event" and as a continued show of support for Senator Edward Kennedy (D-MA), the Democratic Agenda sponsored a convention rally at New York's Town Hall. The speakers included Herman Badillo, Julian Bond, Fran Bennick, Harry Britt, Cesar Chavez, Rep. John Conyers (D-MI}, Douglas Fraser, Murray Finley, Michael Harrington, Terry Herndon, Ruth Jordan, Ruth Messinger, Eleanor Smeal, Gloria Steinem and William Winpisinger.
DSOC works within the Democratic Party, said Harrington, because of the party's relationships with organized workers, blacks, feminists, environmentalists and other "progressive groups."
The Socialist Caucus circulated a list of convention delegates who were caucus members, including;[8]
American Solidarity Movement
The American Solidarity Movement was announced in early 1984 by Democratic Socialists of America, as a vehicle to support American labor unions it considered under attack, or on strike and in need of support.
Members of the Initiating Committee for an American Solidarity Movement were: Michael Harrington (convenor), Stanley Aronowitz, Balfour Brickner, Harry Britt, Harvey Cox, Rep. Ron Dellums, Bogdan Denitch, Barbara Ehrenreich, Cynthia Epstein, Jules Feiffer, Rep. Barney Frank, Msgr. George Higgins, Irving Howe, Eleanor Holmes Norton, Frances Fox Piven, Jose Rivera, Ray Rogers, Gloria Steinem, Peter Steinfels, Ellen Willis.[9]
New Directions conference
In May 1986, Democratic Socialists of America "supported" a New Directions conference in the Washington DC Convention Center. Conference organizer was Jo-Ann Mort of DSA.
The conference, supported by DSA, will bring together activists, analysts and elected officials to develop new directions for the Democratic Party and the broad democratic left.
Initial sponsors of the event included Reps. Charles Hayes and Barney Frank, labor leaders William Winpisinger and Jack Sheinkman (ACTWU), Joyce Miller (ACTWU and CLUW) and Jack Joyce, (Bricklayers), feminist leaders Gloria Steinem and Judy Goldsmith and policy analysts Robert Kuttner, Jeff Faux and Eleanor Holmes Norton.
DSA member
In 1993 Gloria Steinem was a member of Democratic Socialists of America.[10]
New Party builder
New Party News Fall 1994 listed over 100 New Party activists-"some of the community leaders, organizers, retirees,, scholars, artists, parents, students, doctors, writers and other activists who are building the NP" the list included Gloria Steinem, author.
DSA 25th Anniversary
In 1998 Gloria Steinem addressed attended Democratic Socialists of America's 25th anniversary celebrations.[11]
Social Policy
For over 30 years, Social Policy has served as "key site for intellectual exchange among progressive academics and activists from across the United States and beyond", including: Frances Fox Piven, Jonathan Kozol, Noam Chomsky, Marian Wright Edelman, Ivan Illich, Stanley Aronowitz, Michael Lerner, Gloria Steinem, and others[12].
Presidential Medal of Freedom
In November 2013, Gloria Steinem was awarded the Presidential Medal of Freedom by President Barack Obama.[13]
Midwest Academy 2014
Jan Schakowsky, Gloria Steinem, Heather Booth.
Midwest Academy 2014 Awards
Midwest Academy Awards, December 2014, went to;[14]
Women Cross DMZ walk
Resolution calling for a final settlement of the Korean War
February 26, 2019 Press Release
Washington, DC – As President Trump arrives to Hanoi, Vietnam, Rep. Ro Khanna, along with eighteen Democratic Members of Congress, have introduced a resolution calling for a final settlement of the Korean War, now officially in its 68th year.
The resolution -- which is backed by former President and Nobel Peace Laureate Jimmy Carter and a range of Korean-American and pro-diplomacy organizations -- urges the Trump Administration to provide a clear roadmap to achieve a final peace settlement while highlighting the importance of reciprocal actions and confidence-building measures between the parties.
"Historic engagement between South and North Korea has created a once-in-a-generation opportunity to formally end this war," said Rep. Ro Khanna, a member of the House Armed Services Committee. "President Trump must not squander this rare chance for peace. He should work hand in hand with our ally, South Korean President Moon Jae-in, to bring the war to a close and advance toward the denuclearization of the peninsula."
"I commend this important resolution that will help bring this nearly 70 year conflict to a close," said President Jimmy Carter. "I have visited North Korea several times to talk with their leadership and study the best path forward for peace. Ending the threat of war is the only way to ensure true security for both the Korean and American people and will create the conditions to alleviate the suffering of the ordinary North Koreans who are most harmed by ongoing tensions."
Co-led by prominent progressive Reps. Andy Kim, Barbara Lee, Pramila Jayapal, Deb Haaland, and Jan Schakowsky, the resolution calls on the Trump Administration to make greater efforts to include women in the peace process, citing the Women, Peace, and Security Act of 2017 which Trump signed into law. Women's rights icon Gloria Steinem, founder of the peace group Women Cross DMZ, published an op-ed in the Washington Post on Sunday in support of the resolution.
The resolution clarifies that ending the war does not necessitate a withdrawal of US troops from Korea or an acceptance of North Korea as a legitimate nuclear power. The resolution calls on the Administration to continue the repatriation of servicemember remains, and expand cooperation to achieve reunions of divided Korean and Korean-American families and facilitate people-to-people exchanges and humanitarian cooperation.
Rep. Khanna has been a consistent voice for diplomacy on the Korean Peninsula. Shortly after Trump threatened "fire and fury" against North Korea, Khanna was joined by over 70 Congressmembers on his bipartisan "No Unconstitutional Strike on North Korea Act", which would reinforce existing law prohibiting an unauthorized and unprovoked strike on North Korea. He has also been critical of those in both parties who have sought to restrict flexibility in negotiations, instead urging support for the diplomatic approach of our South Korean ally and its President, Moon Jae-in.
Rep. Khanna will travel to Atlanta next week to sit down with Pres. Carter to discuss developments on the Korean Peninsula and solicit guidance from the Nobel Laureate about how the next generation of policymakers can best pursue a pro-diplomacy agenda for America.
Current original cosponsors (18): Pramila Jayapal, Mark Pocan, Barbara Lee, Deb Haaland, Ilhan Omar, Alexandria Ocasio-Cortez, Eleanor Holmes Norton, Jan Schakowsky, Raúl Grijalva, Bobby Rush, Eddie Bernice Johnson, Tulsi Gabbard, Adriano Espaillat, Andy Kim, Rashida Tlaib, Judy Chu, Jose Serrano, Gwen Moore.
The resolution is endorsed by organizations including the National Association of Korean Americans, Ploughshares Fund, Women Cross DMZ, Korean Americans in Action, United Methodist Church – Global Ministries, Win Without War, Peace Action, American Friends Service Committee (AFSC), Friends Committee on National Legislation (FCNL), Just Foreign Policy, Beyond the Bomb, and Physicians for Social Responsibility.[15]
References