Glen Ford
From KeyWiki
Glen Ford is Executive Editor of Black Agenda Report.
The Black Alliance for Peace
Advisory Committee The Black Alliance for Peace, as of October 28 2020.
Activist and scholar Mireille Fanon, Black Agenda Report executive editor Glen Ford, Colombian gender-rights activist Charo Mina-Rojas, Black Lives Matter co-founder Opal Tometi, public intellectual Cornel West, human-rights activist Janvieve Williams Comrie, and internationally known filmmaker and sociologist Tukufu Zuberi.[1]
Anti Walmart symposium
The Wal-Mart, Race & Gender: Local Controversies, Global Process symposium was held on January 21st 2006 at the University of Chicago. It was an opportunity to put the many-faceted struggle against Wal-Mart—and the nature of the corporation itself—into context.
Organized by the university's Center for the Study of Race, Politics and Culture and the Center for Gender Studies, the "symposium drew about 250 people into a mostly sober discussion of the Wal-Mart menace, and the particularities of how it impacts the various groups it seeks to crush or coopt— the kind of conversation that is sorely needed by all who claim to be "movement" people."
Glen Ford and Peter Gamble wrote an article on the event for the February 16, 2006 issue of the Black Commentator (issue number 171). [2]
Obama book
In 2006 the Black Commentator Publishers Glen Ford and Peter Gamble were writing a book to be titled "Barack Obama and the Crisis in Black Leadership".[3]
"Radical Black Perspective"
Left Forum 2010 contained the following panel: "Radical Black Perspective Panel: Obama, the Crisis of Black Leadership and US Imperialism Running Amuck!"
National Peace Conference
The National Peace Conference, took place at the Crowne Plaza Hotel in downtown Albany New York, July 2010. Many workshops are scheduled and many leaders of the peace and progressive movements will be there: Cindy Sheehan, Kathy Kelly, Medea Benjamin, Ann Wright, Dahlia Wasfi, Leila Zand, Michael McPhearson, Kevin Martin, David Swanson, Glen Ford, and many others.
Keynote speakers were Noam Chomsky and Donna DeWitt (President of the South Carolina AFL-CIO).
"New Cold War"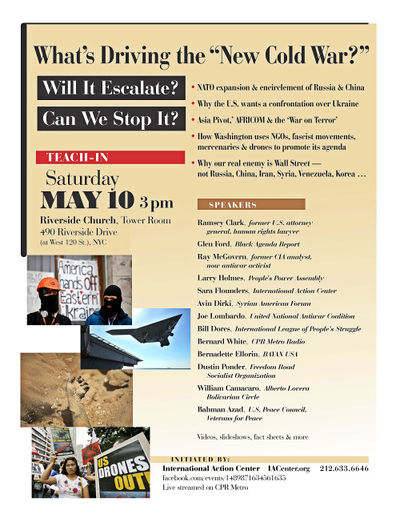 New York City: What's driving the new 'Cold War'? Will It escalate? Can we stop it?
Teach-In: Saturday, May 10 2014 Riverside Church, Tower Room.
NATO expansion and encirclement of Russia & China
Why the U.S. wants a confrontation over Ukraine
'Asia Pivot,' AFRICOM & the 'War on Terror'
How Washington uses NGOs, fascist movements, mercenaries & drones to promote its agenda
Why our real enemy is Wall Street – not Russia, China, Iran, Syria, Venezuela, Korea …
Speakers:
Left Forum 2016
South Africa Today: Liberation or Economic Apartheid? L2.80 Socialist Action Newspaper
Comrades
Jon Levine is with Bill Fletcher, Jr. and 28 others - Richie Chevat, Francy Caprino, Ellie Gitelman Bagli, Mindy Gershon, Ajamu Dillahunt, Steve Backman, Dennis O'Neil, Martha Cameron, Glen Ford, Stan Goff, Sean Crimmins, Nat Turner Bender, Dave Blalock, James Carey, Larry Hamm, Sally Davidow, Bert Barao, Joe Fine, Bella August, Richard Cammarieri, Jeff Crosby, Sidney Brown, Carol Fine, Charles Bagli, Willa Cofield, Carmen Berkley.
September 14, 2016:
Thanks to Alfreda Coachman Daniels for sharing this 40 year old historic photo from a 1976 anti-busing rally in Boston. Shaun King, from whom Ms. Daniels shared this blast-from-the-past photo, commented "The American flag may represent freedom to you but it meant something else to this man."[4]
References