George Soros - Affiliations
Jump to navigation
Jump to search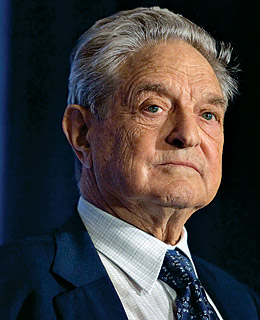 Template:TOCnestleft George Soros (born August 12, 1930, as György Schwartz, in Budapest, Hungary), is one of the wealthiest people in the world (rated number 35 in 2010) and is a leading funder and organizer for progressive organizations and progressive causes. He is a proclaimed atheist.
Soros is the Chairman of Soros Fund Management, LLC and founder of The Open Society Institute. Soros claims his political activities are separate from the Open Society Institute.[1] He is a former member of the Board of Directors of the Council on Foreign Relations. Visit the main page on George Soros here...
ACLU
After 9/11, George Soros' Open Society Institute gave a $250,000 grant to the ACLU.[2]
ACORN
Soros has donated at least $150,000 to ACORN.[3]
America Coming Together
Soros played a major role in creating America Coming Together, whose purpose was to coordinate and organize pro-Democrat voter-mobilization programs.
America Votes
America Votes: According to the New York Times reporter Matt Bai: George Soros, along with Democratic donors Peter Lewis, Herb Sandler and Marion Sandler, established America Votes, "to coordinate various get-out-the-vote drives during the 2004 election." The Sandlers also sent their son-in-law Steven Phillips as their representative to the October 2005 meeting of the Democracy Alliance at the Chateau Elan near Atlanta, Georgia.[4]
American Arab Anti-Discrimination Committee Research Institute
After 9/11, George Soros' Open Society Institute gave a $75,000 grant to the American Arab Anti-Discrimination Committee Research Institute.[2]
American Constitution Society
The American Constitution Society is a left-wing legal activist group working to change our nation's laws and approaches towards law enforcement. One of its areas of focus is constitutional interpretation and change.
ACS is funded by the big players in left-wing political finance, including members of the billionaires' club, the Democracy Alliance. Reliably liberal benefactors of ACS include George Soros's Open Society Institute ($2,201,500 since 2002), Ford Foundation ($600,000 since 2003) and the Sandler Family Supporting Foundation ($200,000 in 2003).[5]
Open Society Institute Disclosed Grants to ACS:
Grants disclosed on George Soros' Open Society Institute's Form 990 tax filings to the American Constitution Society for Law and Policy (ACS) going back to 2002 (with the exception of the 2005 filing which could not be searched electronically). Open Society's 2002 filing referenced that the grant was designated for start-up of ACS. Adding all the totals from each year below (excluding 2005) comes to $14,602,850:
2008 funding: $3.65 million
2007 funding: $4.5 million
2006 funding: $5,025,000
2004 funding: $676,800
2003 funding: $252,050
2002 funding: $500,000
American Prospect Magazine
In 1999, George Soros' Open Society Institute gave a $35,000 grant to American Prospect magazine.[2]
Association for Progressive Communications
OSI and Soros provided $200,000 to the Association for Progressive Communications, "an international network…working for peace, human rights, development and protection of the environment..."[6]
Bill Moyers
PBS broadcaster and Schumann Center for Media and Democracy President Bill Moyers is a trustee of the Open Society Institute's Board of Directors.[7]
Carlyle Group
Soros is a partner in the Carlyle Group where he has invested more than 100 million dollars. According to an article by "The Baltimore Chronicle's" Alice Cherbonnier, the Carlye Group is run by "a veritable who's who of former Republican leaders," from CIA man Frank Carlucci, to CIA head [and ex-President] George Bush, Sr.[8]
Catholic Campaign for Human Development
The CCHD - it's worse than we thought! - Air date: 11-18-10
Catholic Campaign for Human Development, with the assistance of George Soros' money and public donations, is funding prostitution, homosexuality, contraception, abortion, etc.
This is one of a number of so-called Catholic organizations that Soros is bankrolling that operate in direct opposition to Catholic principles. CCHD is linked to Catholics in Alliance for the Common Good through Tom Chabolla. CCHD under the nation's bishops has funneled millions of dollars to ACORN - over 7 million to be exact. ACORN is just another Soros affiliated group.[9]
The CCHD also funds the Gamaliel Foundation which is also funded by Soros.
Catholics in Alliance for the Common Good
Catholics in Alliance for the Common Good is another quasi-Catholic liberal group that Soros is bankrolling. They are diametrically opposed to Catholic Church teachings. They are also linked to the Catholic Campaign for Human Development.
CACG supported Barack Obama in his run for president. They also condone and support abortion, illegal immigartion and workers' justice through the Employee Free Choice Act. They are a who's who of progressive liberals such as Francis Doyle who was an executive at the United States Conference of Catholic Bishops. Tom Chabolla is on the advisory council to CACG. He was also the personal assistant to Andy Stern, who until recently headed up SEIU. Before that, Chabolla was an executive with CCHD. CACG is also closely connected to ACORN.
The Executive Director of CACG is Victoria Kovari. She originally came from the Gamaliel Foundation, a well-funded urban faith-based community organization group. According to their website, they are modeled after the Saul Alinsky style of community organizing. It was founded in the 1960s in Chicago and was the group that Barack Obama worked for first in his community organizing days. They are also connected to ACORN and are funded by George Soros.[9] The Chairman of CACG is Alfred M. Rotondaro, a senior fellow at another Soros-funded group, the Center for American Progress.
The CACG advisory council includes figures from the Service Employees Union (SEIU), AFL-CIO, Catholic University of America, Georgetown University and Boston College.
Catholics United
Catholics United, an organization of dissenting Catholics which has received a hefty amount of funding from Soros, has announced that it will dedicate $500,000 to a campaign designed to promote the reelection of Democrats who helped to push through the massive healthcare reform bill. They also condone abortion and illegal immigration.[10]
Center for American Progress
The Center for American Progress is a Soros funded think tank with deep ties to the White House. The center reportedly was founded in 2003 with seed money from Soros, who also donated $3 million to the center's sister, the Project Action Fund. Its mission states the group is "dedicated to improving the lives of Americans through progressive ideas and action." Soros awarded $1 million in grants to the Center for American Progress for 2008/2009.
The group was largely set up to prevent President Bush from gaining re-election in 2004. Soros told the Washington Post: "I have made rejection of the Bush doctrine the central project of my life... America, under Bush, is a danger to the world. And I'm willing to put my money where my mouth is."
The organization is headed by John Podesta. Van Jones is currently a senior fellow. In its first year, Center for American Progress took in more than $10 million.
In 2006, CAP launched a network of liberal religious leaders called Faith in Public Life to "fuel this burgeoning faith movement with cutting edge strategies and capacity-building resources."
Cap's Campus Progress, with a staff of 15 and a large network of student advisers, offers money and guidance to help college activists launch initiatives and newspapers.
CAP has a congressional outreach staff and aides dedicated to booking its experts on talk shows. It has a studio that offers daily taped segments and talking points for radio hosts, and it broadcasts liberal radio host Ed Schultz's show when he's in town.
The Center for American Progress has written a road map for President Obama to bypass the new Republican Congress and rule for the next two years via executive order. Podesta explains that Obama can use executive orders, rule making and even the armed forces "to accomplish important change" and that such means "should not be underestimated."
The plan lays out how Obama should push for a "progressive agenda" on issues such as health care, the economy, the environment, education, federal government and foreign policy.
John Podesta wrote:
"The U.S. Constitution and the laws of our nation grant the president significant authority to make and implement policy," including in executive orders, diplomacy, rule making and commanding the armed forces.
"The ability of President Obama to accomplish important change through these powers should not be underestimated," he wrote.
See Podesta's treatise entitled: The Power of the President: Recommendations to Advance Progressive Change[11]
Herb Sandler and Marion Sandler in conjunction with Soros co-founded the liberal think-tank Center for American Progress ("The Democratic Idea Factory"). The Center for American Progress also has a media agenda: its "experts" are often quoted by newspapers across America as if they were independent, neutral experts; their ties to liberal billionaires are never mentioned. One of the "arms" of the Center for American Progress is called Think Progress and this was the source, the Ground Zero, of the agitprop regarding the Chamber of Commerce ads being funded by foreign money. This absurd charge (ridiculed by even the New York Times) was fanned by Barack Obama, Robert Gibbs and Democrat politicians running for office across America.[12]
Center for Defense Information
In 1999, George Soros' Open Society Institute gave a $30,000 grant to the Center for Defense Information.[2]
Center for Investigative Reporting
OSI and Soros gave a $75,000 grant to the Center for Investigative Reporting. The group's board of advisers includes prominent journalists.[6]
Center for Public Integrity
OSI and Soros gave $246,528 to the Center for Public Integrity, headed by former CBS News producer Charles Lewis, "to support the continuing expansion of the International Consortium of Investigative Journalists." A total of $1 million went for "the Global Access Project." In total, it is estimated that the group has received $1.7 million from Soros.[6]
Citizens for Independent Public Broadcasting
In 1999, George Soros' Open Society Institute apparently gave a $125,000 grant to the Citizens for Independent Public Broadcasting [CIPB} group (on whose board sits FAIR/CounterSpin co-host Janine Jackson) "to cover administrative and start-up costs for launching a national campaign entitled Citizens for Independent Broadcasting."[2]
Committee to Protect Journalists
In 1999, George Soros' Open Society Institute gave 4 grants, totaling $220,000 to the Committee to Protect Journalists - on whose board once sat The Nation magazine co-owner and editorial director Victor Navasky.[2] He is currently a Publisher emeritus with the magazine.
Council on Foreign Relations
Soros is a former member of the Board of Directors of the Council on Foreign Relations.
Democracy Alliance
According to the Investor's Business Daily, Soros heads up a secretive rich-man's club called the Democracy Alliance that has contributed $20 million to activist groups such as ACORN.[3]
On Nov. 17, 2010, Soros had a private meeting with elite Democratic donors. The meeting was organized and held by the Democracy Alliance.[13] In the meeting, George Soros urged them to pressure the Obama administration to focus on liberal policy priorities including climate change and immigration reform.
Soros stood firm on his position that wealthy liberals should focus their donations on groups that will pressure President Barack Obama and congressional Democrats on liberal legislative initiatives, rather than groups supporting individual candidates.
Democracy Alliance, which was created after George W. Bush's 2004 reelection, requires its members to pay annual dues starting at $15,000 to support member activities including its twice-a-year conferences, which features a mix of policy briefings and socializing. Its staff vets and recommends non-profit groups to which its members can contribute.
Members are required to contribute a minimum of $100,000 to recommended groups, which have primarily focused on policy, issue advocacy and voter mobilization and not campaign advertising.
In addition to Soros, donors who attended the conference included former Stride Rite chairman Arnold Hiatt, hedge fund financier Donald Sussman, electronics pioneer Bill Budinger, real estate developer Wayne Jordan and Suzanne Hess, the wife of real estate mogul Lawrence Hess.
Soros was quoted as saying:
"If this president can't do what we need, it is time to start looking somewhere else."
Michael Vachon stated that Soros was not suggesting that progressives mount a 2012 primary challenge to President Barack Obama from the left, but rather that "liberals need to be more forceful and should create pressure from the left" to keep their issues on the legislative radar.
Downtown Community Television Center
In 1999, George Soros' Open Society Institute gave a $12,000 grant to Downtown Community Television Center. (There's a possibility that this was the group which provided studio facilities for Democracy Now after the 1999 WBAI Christmas coup).[2]
Drug Policy Alliance
The Drug Policy Alliance (DPA) is a New York City-based non-profit organization with the principal goal of ending the American "War on Drugs." Its goals include nationwide availability of medicinal marijuana, the creation of drug-related public health measures, ending abuses of asset forfeiture, repealing non-violent drug sentences, repealing laws that deny public benefits to people convicted of drug crimes and the advancement of drug education programs by redirecting most government drug control resources from criminal justice and interdiction to public health and education.
Ethan Nadelmann is the executive director of Soros's New York-based Drug Policy Alliance.[14] George Soros has stated that he supports the Drug Policy Alliance because the organization promotes harm reduction and fosters debate on drug policy.[15]
Electronic Frontier Foundation
From EFF:
From the Internet to the iPod, technologies are transforming our society and empowering us as speakers, citizens, creators, and consumers. When our freedoms in the networked world come under attack, the Electronic Frontier Foundation (EFF) is the first line of defense. EFF broke new ground when it was founded in 1990 — well before the Internet was on most people's radar — and continues to confront cutting-edge issues defending free speech, privacy, innovation, and consumer rights today. From the beginning, EFF has championed the public interest in every critical battle affecting digital rights.
The Electronic Frontier Foundation received $300,000 from Soros in 2008 and another $100,000 in 2007. EFF strongly supports Net Neutrality which is the Fairness Doctrine for the Internet.
Fund for Investigative Journalism
In 1999, George Soros' Open Society Institute gave a $150,000 grant to the Fund for Investigative Journalism. (Is this the same media group which provided some funding for KPFA's Dennis Bernstein during the 1990s?)[2]
OSI and Soros later gave $200,000 to the Fund for Investigative Journalism. This group, too, features prominent journalists on its board.[6]
Group of Thirty
The Group of Thirty aims to deepen understanding of international economic and financial issues, to explore the international repercussions of decisions taken in the public and private sectors, and to examine the choices available to market practitioners and policymakers.[16]
The former President of the New York Federal Reserve Bank is an associate of the governor of the Chinese central bank through this mysterious organization of bankers and other top current and former officials from various countries. You will notice that other Obama nominees and associates are members including Paul Volcker, Timothy Geithner and Larry Summers.
The entire list of "contributors and supporters" of the Group of Thirty is quite impressive. You will find not only U.S. financial institutions getting bailout money, but central banks around the world and Arab financial interests. In addition, you also find private financial interests, including the hedge fund operated by George Soros.[17]
Human Rights Watch
Soros gave $100 million to Human Rights Watch to expand the organization's work globally in Sept. of 2010. Human Rights Watch will use the gift to add about 120 staff members to its team of 300 around the world, expand translation of its reports and open new offices. The intent, said Kenneth Roth, the advocacy group's executive director, is to increase its influence in emerging power centers. The group, which is based in New York, investigates and draws attention to human rights abuses around the world.
From The New York Times:
Mr. Roth said that South Africa had more sway in Zimbabwe than the United States and other Western powers. Similarly, India, China and Japan are more influential in Sri Lanka. "We need to try to generate pressure on those governments, those emerging powers, now, which means expanding our capacity to deploy our information," Mr. Roth said.
Mr. Soros put it differently. "I'm afraid the United States has lost the moral high ground under the Bush administration, but the principles that Human Rights Watch promotes have not lost their universal applicability," he said. "So to be more effective, I think the organization has to be seen as more international, less an American organization."
Human Rights Watch is well known for it's anti-Israel leanings. HRW has also spearheaded attacks on Arizona's immigration enforcement policies, pushed for closure of Gitmo and is crusading for civilian trials of Gitmo detainees on American soil.[18]
Independent Media Institute
OSI and Soros gave $60,000 to the Independent Media Institute, whose executive director, Don Hazen, is a former publisher of Mother Jones. Hazen has called Soros a "progressive philanthropist." A story carried by the Independent Media Institute on its AlterNet project says Soros "believes in democracy, positive international relations and effective strategies to reduce poverty, among other things."[6]
Indymedia
OSI and Soros have contributed $70,000 toward the far-left Independent Media Center, or Indymedia, known as an "independent newsgathering collective," whose servers were seized by a federal law enforcement agency. The action was apparently related to an investigation into international terrorism, kidnapping or money laundering.[6]
Institute for Alternative Journalism
In 1999, George Soros' Open Society Institute gave a $78,660 grant to Don Hazen's Institute for Alternative Journalism/IMI/Alternet in San Francisco "to fund start-up of Youth Source, a youth web site which will be part of a larger web portal, Independent Source."[2]
Institute for Policy Studies
The Institute for Policy Studies is a Soros funded affiliate. Recently, they urged President Obama to rule by Executive Order.
From Logistics Monster:
Dead weight gone. Good Riddance. The blame for the stalemate to come can now fall squarely where it belongs…on the anti-progressive, anti-democratic, anti-populist Republican members of Congress.
Our work is now finally beginning. The veil of a happy Democratic governing majority is finally lifted. We didn't have it then; We don't have it now. But what we do have now is a more solidly progressive bunch of Dems in Congress and a president presumably less encumbered by the false illusion that playing nice will get him a date with the other team.
Let's throw our support unabashedly behind the Congressional Progressive Caucus and let's push Obama to finally do the right thing through as many Executive Orders as we can present to him.
International Center for Global Communications Foundation
In 1999, George Soros' Open Society Institute gave a $126,000 grant to the International Center for Global Communications Foundation "toward launch of Media Channel, the first global media and democracy supersite on the Internet."[2]
International Crisis Group
International Crisis Group honored George Soros on Dec. 7, 2010 at their In Pursuit of Peace: Crisis Group 2010 Award Dinner and Celebrating Our 15th Anniversary event.
The International Crisis Group is generally recognized as the world's leading independent, non-partisan, source of analysis and advice to governments and intergovernmental bodies like the United Nations, European Union and World Bank, on the prevention and resolution of deadly conflict.[19]
Internews Network
In 1999, George Soros' Open Society Institute gave 4 grants totaling $118,000 to the Internews Network.[2]
Investigative Reporters and Editors
Soros and OSI's "Network Media Program" gave $22,157 to Investigative Reporters and Editors.[6]
Jewish Funds for Justice
Jewish Funds for Justice (JFFJ) is funded by Soros' Open Society Institute. JFFJ says it is seeking to create a just, fair and compassionate America, with social and economic security for all citizens.[20] The group believes that "by transforming leaders, we are better able to transform society" and "create a more just world." They also promote "green" jobs, immigration reform and they were and still are a champion of President Obama's health-care bill.
In 2009, OSI provided a $150,000 grant to the JFFJ and its associated group, the Funder's Collaborative on Youth Organizing. In 2010, OSI provided an additional $200,000 grant to cover a period of two years of financing.
JFFJ delivered a petition with 10,000 signatures to Fox News in January 2011 to protest a program in which Glenn Beck did an expose on Soros, labeling the businessman the "Puppet Master." JFFJ deemed the show anti-Semitic.
They have worked with a long list of radical leftist groups and leaders. Many of JFFJ's leaders and board members come from the organized labor community. The group's president and CEO, Simon Greer, previously worked as a labor and community organizer and social change leader for 15 years.[21]
JStreet
JStreet is an organization that, according to its website, "was founded to change the dynamics of American politics and policy on Israel and the Middle East." Observers believe that the group, while nominally supporting Israel, is a pro-Palestinian wolf-in-sheep's-clothing.
Tax forms obtained by The Washington Times reveal that Mr. Soros and his two children, Jonathan Soros and Andrea Soros, contributed a total $245,000 to JStreet from one Manhattan address in New York during the fiscal year from July 1, 2008 to June 30, 2009.
The contributions represent a third of the group's revenue from U.S. sources during the period.[22]
Jeffrey Sachs
Jeffrey Sachs is Director of the UN Millennium Project and Special Advisor to United Nations Secretary General Ban Ki-moon on the Millennium Development Goals, the internationally agreed goals to reduce extreme poverty, disease and hunger by the year 2015.
He is also the Director of The Earth Institute at Columbia University, where he is also the Quetelet Professor of Sustainable Development and Professor of Health Policy and Management.
By the 2000s, Sachs was hanging out with socialist financier George Soros.
Sachs and Soros have shared many platforms in recent years and Soros' Open Society Institute has funded one of Sachs' African projects to the tune of $50 million.
In December 2009, Sachs addressed a meeting of the Party of European Socialists in Prague.
He makes it clear that while he still supports "markets," he is in essence a redistributive socialist.
Sachs praises the socialists as "both the heirs and the leaders of the world's most important and most successful political path..."
Sachs goes on to praise the socialists' "strong commitment to universalist ethical principles and fiscal re-distribution..." He is also happy that the socialists have kept "campaign financing as a public commitment, not dominated by private money..."
Sachs also regrets that "in the United States, we do not have a commitment to re-distribution, we have a commitment to low taxes, which are so low, we have enabled a massive underclass to develop..."
Sachs makes it clear that the United States should be the major funder of his globalist vision. He also calls for an international financial transactions tax and a carbon levy - both to rein in capitalism and to finance the West's "commitments" to the world's poor nations.
Sachs calls for a "global fund for health," one for "education" and another for "climate."
The war in Afghanistan, the troubles in Gaza, even Somali piracy. can only be ended through "sustainable development".
Sachs ends with a plea to the Party of European Socialists to "make common cause with the progressives of the United States, so that we too, may find a political course back...we too, need to find your wisdom, we need to make common cause in that effort... Your cause is a European cause, but it's also a global cause... I so much admire you for that."
Jeffrey Sachs has basically outlined the Soros agenda. The reduction of the United States to a subservient milking cow for global socialism.[23]
Jim Wallis/Sojourners
The Open Society Institute (George Soros) gave Sojourners a $200,000 grant in 2004, $25,000 in 2006 and $100,000 in 2007. Sojourners is a so-called Christian Social Justice Fellowship that is headed by Jim Wallis.
John Sperling
Dr. John Sperling is the founder of the Apollo Group. Dr. Sperling was the Chairman of the Board of Directors from its inception until June 2004, was President of the Apollo Group until February 1998 and Chief Executive Officer of the Apollo Group until August 2001. Prior to his involvement with the Apollo Group from 1961 to 1973, Dr. Sperling was a professor of Humanities at San Jose State University where he was the Director of the Right to Read Project and the Director of the NSF Cooperative College-School Science Program in Economics. At various times from 1955 to 1961, Dr. Sperling was a member of the faculty at the University of Maryland, Ohio State University and Northern Illinois University. Dr. Sperling received his Ph.D. from Cambridge University, an M.A. from the University of California at Berkeley and a B.A. from Reed College. In 1996, he started funding pro-drug initiatives and organizations with George Soros.[24]
LCEF
After 9/11, George Soros' Open Society Institute gave a grant to the LCEF group on whose board Mary Frances Berry used to sit. [2]
Media Access Project
OSI and Soros provided $600,000 to the Media Access Project, a so-called telecommunications public interest law firm critical of conservative influence in the major media.[6]
Media Awareness Project
OSI and Soros provided $30,000 to the Media Awareness Project, a "worldwide network dedicated to drug policy reform" and promoting "balanced media coverage" of the drug issue.[6]
MediaChannel.org
Soros Foundations have provided $160,000 to MediaChannel.org, a so-called "media issues supersite, featuring criticism, breaking news and investigative reporting from hundreds of organizations worldwide." The executive editor is Danny Schecter, a former news program producer and investigative reporter at CNN and ABC. It was created by Globalvision News Network, whose board includes "senior executives from the world's leading media firms." [6]
Media Matters
In October 2010, Soros announced that he was donating $1 million to Media Matters who would use the money to hold "Fox News host Glenn Beck and others on the cable news channel accountable for their reporting."
MoveOn.org
Soros gave $3 million to the Center for American Progress, $2.5 million to MoveOn.org and $20 million to America Coming Together. These groups worked to support Democrats in the 2004 election.[25]
National Federation of Community Broadcasters
In 1999, George Soros' Open Society Institute gave a $50,000 grant to the National Federation of Community Broadcasters, which used to be headed by former Pacifica Foundation Executive Director Lynn Chadwick.[2]
New America Foundation
The New America Foundation was launched in 1999 by founding president Ted Halstead and is now led by Steve Coll. It claims to be nonpartisan.
The Open Society Institute has donated between $250,000 and $999,999 to the New America Foundation.
Open Society Institute
In 1993, Soros created the Open Society Institute, which supports the Soros foundations working to develop democratic institutions throughout Central and Eastern Europe and the former Soviet Union.[26] The "open society" basically refers to a "test and evaluate" approach to social engineering. The Open Society Institute has active programs in more than 60 countries around the world with total expenditures currently averaging approximately $600 million a year. Soros has given away over $7 billion to support human rights, freedom of expression and access to public health and education.
Aryeh Neier is the current (2010) president of OSI. Neier was the director of the League for Industrial Democracy in the late 1950s. He renamed the league's student division Students for a Democratic Society in 1959. Before he joined the staff of OSI in 1993, he founded and was the executive director of Human Rights Watch. Neier worked at the American Civil Liberties Union for 15 years and was an adjunct professor of law at New York University.
The Open Society Institute (OSI), serves as the flagship of a network of Soros foundations that donate tens of millions of dollars each year to a wide array of individuals and organizations that share Soros' agendas. Those agendas can be summarized as follows:[27]
Promoting the view that America is institutionally an oppressive nation.
Promoting the election of leftist political candidates throughout the United States.
Opposing virtually all post-9/11 national security measures enacted by the U.S. government, particularly the Patriot Act.
Depicting American military actions as unjust, unwarranted and immoral.
Promoting open borders, mass immigration and a watering down of current immigration laws.
Promoting a dramatic expansion of social welfare programs funded by ever-escalating taxes.
Promoting social welfare benefits and amnesty for illegal aliens.
Defending the civil rights and liberties of suspected anti-American terrorists and their abettors.
Financing the recruitment and training of future activist leaders of the political Left.
Advocating America's unilateral disarmament and/or a steep reduction in its military spending.
Opposing the death penalty in all circumstances.
Promoting socialized medicine in the United States.
Promoting the tenets of radical environmentalism, whose ultimate goal, as writer Michael Berliner has explained, is "not clean air and clean water, [but] rather ... the demolition of technological/industrial civilization."
Bringing American foreign policy under the control of the United Nations.
Promoting racial and ethnic preferences in academia and the business world alike.
Promoting taxpayer-funded abortion-on-demand.
Advocating stricter gun-control measures.
Advocating the legalization of marijuana.
The Open Society Foundations recently pledged its largest donation ever to Human Rights Watch in the amount of $100 million to be distributed over 10 years.
Richard Poe writes, "Through his global web of Open Society Institutes and Open Society Foundations, Soros has spent 25 years recruiting, training, indoctrinating and installing a network of loyal operatives in 50 countries, placing them in positions of influence and power in media, government, finance and academia."
Some organizations that have received support from OSI:
Top 20 grant recipients in 2008 (the most recent OSI filing as of Dec. 2010):
Pacifica Network News
In 1999, George Soros' Open Society Institute gave a $73,730 grant to the dance company of a Pacifica Network News staff person's domestic partner.[2]
Paul Volcker
In 2003, former Federal Reserve Chairman Paul Volcker wrote in the foreword of Soros' book The Alchemy of Finance:
George Soros has made his mark as an enormously successful speculator, wise enough to largely withdraw when still way ahead of the game. The bulk of his enormous winnings is now devoted to encouraging transitional and emerging nations to become 'open societies,' open not only in the sense of freedom of commerce but — more important — tolerant of new ideas and different modes of thinking and behavior.[29]
Peter Lewis
Peter Lewis, retired chairman, president and chief executive officer of the Progressive Corporation, brings the same sensibilities to his philanthropy that he brings to business. He invests in people with a clear, creative, courageous vision who break new ground and show results.
It is a philosophy that has worked well for Lewis. In 1965, in one of the first leveraged buyouts in history, he took control of a small Cleveland insurance company with $6 million in revenues specializing in drivers who had difficulty finding auto insurance. In 1996 he started funding pro-drug initiatives and organizations with George Soros.[24]
PICO
Radio ad Smears
Glenn Beck
about his Social Justice Shows - Air date: 7-15-10
PICO, a progressive national network of faith-based organizations, is once again taking money from the Bishops' CCHD fund to support the President's financial reforms. With an initiative called "Our Money Our Values," PICO teams with Faithful America to pressure banks to serve the needs of the people. They are organizing personal bank accounts, congregational investments and even public dollars as leverage in negotiating with top bank executives to win the reforms their communities need. Like health care reform, this newest PICO initiative aims to redistribute wealth by demanding that "faith leaders step into the big banks' boardrooms."
PICO National Network received a $600,000 grant from Soros' Open Society Institute. PICO was founded in 1972 by John Baumann, a Jesuit priest trained in Saul Alinsky community organizing in Chicago in the 1960s. It was later patterned after COPS, a San Antonio, Texas project of Alinsky's Industrial Areas Foundation.
The Open Society Institute describes PICO as "a network of congregation-based community organizations which brings the voices of people of faith and faith leaders to the public debate on national priorities," and mentions other Soros funding beyond the main grant.
PICO and four other groups led an effort to accuse Glenn Beck of preaching false doctrine. The other four are: Sojourners ($100,000 from Soros in 2007); Catholics in Alliance for the Common Good ($300,000 from Soros in 2007); Faith in Public Life (FPL), a project of Soros's Center for American Progress; and an FPL sub-entity called Faithful America. Faith in Public Life produced an ad attacking Glenn Beck after he exposed the antics of Sojourners and others to spread their beliefs concerning collective faith, social justice and wealth redistributionism throughout America - all Marxist principles.[30]
Planned Parenthood
Alternet, Soros' Media Matters and other progressives staged a conference call on February 4th, 2011, where they mapped out strategy to defend Planned Parenthood from the choices their staffers made on tape.[31] This is all tied to the pimp and underage hookers scandals hitting Planned Parenthood in a sting orchestrated by pro-life group Live Action. See videos and documentation on the scandal here, here, here and here.
The majority of the call was spent discussing ways to discredit Live Action and their founder, Lila Rose, because of their funding. It was alleged that the Koch brothers were funding the effort which is not the case.
President Obama
In December of 2006, Soros met with presidential hopeful Barack Obama at Soros' New York office. Soros had previously hosted a fundraiser for Obama during his 2004 campaign for the Senate.
On January 16, 2007, Obama announced the creation of a presidential exploratory committee and within hours, Soros sent a contribution of $2,100, the maximum allowable under campaign finance laws.
Days after Obama was elected in November of 2008, Soros said in an interview, "I think we need a large stimulus package which will provide funds for state and local government to maintain their budgets - because they are not allowed by the constitution to run a deficit. For such a program to be successful, the federal government would need to provide hundreds of billions of dollars. In addition, another infrastructure program is necessary. In total, the cost would be in the 300 to 600 billion dollar range." Since then, Congress passed a $787 billion stimulus package and Obama very recently introduced a $50 billion plan to improve the country's transportation program, saying, "I want America to have the best infrastructure in the world."
In that same interview, Soros called for cap and trade: "I think this is a great opportunity to finally deal with global warming and energy dependence. The US needs a cap and trade system with auctioning of licenses for emissions rights. I would use the revenues from these auctions to launch a new, environmentally friendly energy policy. That would be yet another federal program that could help us to overcome the current stagnation." Since then, Congress has introduced cap and trade legislation. (More information can be found in the Climate Change section.)
Another section of this same interview in 2008 went as follows:
Spiegel: Your proposal would be dismissed on Wall Street as "big government." Republicans might call it European-style "socialism."
Soros: That is exactly what we need now. I am against market fundamentalism. I think this propaganda that government involvement is always bad has been very successful --- but also very harmful to our society.
Spiegel: Would you advise the new president to say that publicly?
Soros: He has already spoken about changing the political discourse. I think it is better to have a government that wants to provide good government, than a government that doesn't believe in government.
Also in that interview, Soros said: "In 2010, the Bush tax cuts will expire and we should not extend them." Since then, Obama expressed his opposition to the Bush tax cuts in an interview with ABC on September 9th, 2010: "All those middle class folks who need tax relief are being held hostage right now in order to provide tax breaks for the top two percent wealthiest Americans, who don't need a tax break, aren't asking for a tax break. And you know, if we could afford it, it'd be one thing. But we know that's gonna cost $700 billion over ten years. And so, that is not a smart thing to do for the economy."
Soros is also on board with Obama's proposals to reform the banking system. In an interview with the BBC: Interviewer - Now President Obama last week announced some quite radical proposals to reform the banking system. He wants them out of what he calls "proprietary trading," using their capital to speculate on their own account and also, he wants a limit on their size. Are these constructive measures in your view? Soros - Very much so, these are the right ... it goes in the right direction. In my opinion, it doesn't actually go far enough because it still leaves the problem of too big to fail. In other words, if you, let's say now again, Goldman Sachs gives up its banking license, it becomes then an investment bank ...[32]
Since Obama has been in office, Soros has made at least four visits to the White House.
Pro Publica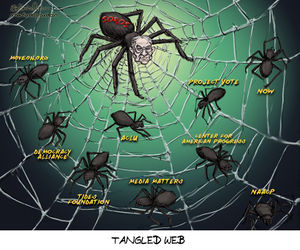 Soros's political allies, Herb Sandler and Marion Sandler (billionaire profiteers from the Savings and Loan crisis -- one more thing they have in common with George Soros), founded a group called Pro Publica that has the same purpose as Soros' new effort to fund and control the media (see How Allies of George Soros helped bring down Wachovia Bank and The Sandlers, Soros and Marcellus Shale reserves).[12]
The only difference is that Pro Publica is geared towards providing "investigative" columns for newspapers, websites and other media outlets. Their stories have been appearing in the Washington Post, Politico and other media channels.
Therefore, what is reported as "news" by the government-funded NPR will be tainted (and perhaps influenced) by money provided by the hyper-partisan George Soros and "news" provided by Pro Publica (for free) to other media outlets will also be influenced by the role of Herb Sandler and Marion Sandler in funding Pro Publica. These two projects are supposed to fill gaps in coverage due to financial constraints at NPR and privately owned media outlets.
Progressive States Network
George Soros funds the Progressive States Network. In 2009 the Soros Fund made a grant of $300,000 to be issued over two years. The Progressive States Network states that it aims to transform the political landscape by sparking progressive actions at the state level. David Brock serves on their board of directors and they also employ Nathan Newman, a former leader of the Communist Party USA spin-off Committees of Correspondence and a Van Jones associate, as their Policy Director.[33]
Project on Media Ownership
In 1999, George Soros' Open Society Institute gave 2 grants, totaling $272,000, to the Project on Media Ownership.[2]
Public Media Center
In 1999, George Soros' Open Society Institute gave a $100,000 grant to the Public Media Center in San Francisco.[2]
Radio Bilingue
George Soros' Open Society Institute recently gave a $102,025 grant to Radio Bilingue.[2]
Refugees International
Soros is an Emeritus Director of Refugees International.[34]
Soros Foundations Network
The Soros Foundations Network is a George Soros project. The Open Society Institute is the hub of the Network, which is made up of autonomous foundations and organizations in over fifty countries. Foundations include:
Take Back America
On June 3, 2004, Sen. Hillary Clinton (D-NY) introduced George Soros, international philanthropist and financier, who spoke on the subject of "The Bubble of American Supremacy."[35] Take Back America is the old name for America's Future Now! which is the annual conference of Campaign for America's Future.
TeaPartyTracker.org
George Soros and his foundation launched TeaPartyTracker.org and funded it to go after Tea Party activists.[36] TeaPartyTracker.org has stated that they will post video interviews and blog posts gathered by progressives and radicals on the left to discredit the Tea Party movement.[37]
The site is sponsored by the NAACP, Think Progress, New Left Media and Media Matters for America. Think Progress is a George Soros operation connected to John Podesta's Center for American Progress.
Soros has continuously put forth the false accusation that Tea Party protesters spit on Missouri Democrat Emanuel Cleaver. This was proven false by Andrew Breitbart of Big Journalism, who is a larger than life Tea Party activist, and Alex Jones of InfoWars.
In July of 2010, Think Progress put together a video purporting to show that the Tea Party is rife with racists.
Since the Tea Party is a conservative Constitutional movement, it is a direct threat to Soros' progressive/Marxist agenda. He will do anything and everything he can to stop Tea Party activists whether through propaganda, regulations, lies or militant force.
The Nation Institute
In 1999, George Soros' Open Society Institute gave a $50,000 grant to The Nation Institute "to support a project to improve the performance and reach of Radio Nation, a weekly public radio news and commentary program." George Soros' personal advisor for politics, Hamilton Fish III, is also a top executive at The Nation Institute.[2]
Tides Foundation
In 1999, George Soros' Open Society Institute gave 2 grants, totaling $393,000, to the Tides Foundation.[2] The Tides Foundation funds organizations such as the Ruckus Society.
Here is the 2008 funding from the Open Society Institute (George Soros) to the Tides Foundation. This is the latest year for which OSI has filed a Form 990 document with the IRS (as of Dec. 19, 2010):
Total: $4.229 million
Drummond Pike is the Founder and CEO of the Tides Foundation and is directly connected to Soros. He is also Treasurer of the Democracy Alliance, a group that was founded with major financial backing from member George Soros.
The Apollo Alliance is a project of the Tides Center. Van Jones is a former board member for the Apollo Alliance and is instrumental in Color for Change. The Apollo Alliance helped to design and promote the stimulus bill which included $110 billion for "green spending."
Tina Tchen
The Wall Street Journal reports:[38]
Among the many moves afoot, Tina Tchen, who is responsible for working with outside groups, is preparing to move to the East Wing to serve as First Lady Michelle Obama's chief of staff, according to two Democrats close to the White House.
It's part of a shuffle that gives the White House a chance to consider how it wants to organize itself for the coming two years, when it will face a more hostile, more Republican Congress. Interim Chief of Staff Pete Rouse is studying how to reorganize the place so it is ready for the next stage.
Tchen may be filling a new position, but she is no newcomer to Washington politics. Tchen has been a longtime friend and political ally of the Obamas and is close friends with White House senior adviser Valerie Jarrett, another Chicago veteran associate of the first couple.
Tchen is now the head of the White House Office of Public Engagement, an operation overseen by Jarrett which, among other things, fought for Obama's failed Chicago Olympics bid last year. The office was also implicated for representing the White House in taxpayer-funded efforts to recruit artists and produce projects to advance the Obama agenda.[39]
In addition, Michelle Malkin has pointed out that Tchen also worked as a "high-powered campaign finance bundler" for the Obama camp in 2009 and "personally raised more than $200,000."
According to White House visitor logs that have been made public, Tchen has also personally met with George Soros. Tchen was just one of a handful of White House senior staff members to have one-on-one meetings with Soros. The billionaire also met privately with director Larry Summers and David Lipton, both of Obama's White House National Economic Council.
Jonathan Soros, purportedly George Soros' son Jonathan, also logged a personal White House visit with First Lady Michelle Obama in May.
Van Jones
Soros has also supported Van Jones. He supported him originally through the Open Society Institute which gave the Ella Baker Center $151,800 in 2006 and $140,000 in 2007. Van Jones was head of the Ella Baker Center during those years. OSI also funded Green for All in 2008. They received a grant in the amount of $75,000 to "integrate the Civic Justice Corps into Green for All's campaign to create a national Clean Energy Corps," while Van Jones was running it. Van Jones later appeared as a senior fellow at the Center for American Progress. Additionally, OSI helped fund the Tides Foundation which then started the Apollo Alliance, where Van Jones sat on the board.
Youth Radio
In 1999, George Soros' Open Society Institute gave a $50,000 grant to Youth Radio in Berkeley.[2]
External links
References