George McGovern
From KeyWiki
George McGovern ...was a Senator from South Dakota.
Rapoport support
Bernard Rapoport was a lifelong supporter of the Democratic Party, starting with Homer Rainey's gubernatorial campaign in 1946. He later supported Ralph Yarborough, Frances Farenthold, Ted Kennedy, Alan Cranston, and George McGovern, during whose campaign in 1972 Bernard met Bill Clinton and Hillary Rodham. From 1974 onward, Rapoport donated to every one of Bill Clinton's campaigns and served as fundraiser for both presidential bids.[1]
Californians for Liberal Representation award
Californians for Liberal Representation, arrived on the Los Angeles political scene in 1962. It was founded by mostly white, middle-class, liberally minded, anti-war advocates. They coalesced around the issue of the Vietnam War and their first major fundraising campaign in 1962 helped elect Edward Roybal and George Brown, two anti-war Congressmen. Some of the early members of the organization include Arthur Carstens (Chairman), Maurice Weiner (Executive Director), Jack Berman (Coordinator) and Eleanor "Elly" Wagner (Administrative Secretary). The board consisted of activists from the broad spectrum of Los Angeles political life and included members from organizations such as the ACLU, community religious leaders, and entertainers such as Steve Allen.
In 1969, CLR executed one of its largest campaign efforts in support of Tom Bradley's mayoral bid. In addition to aiding liberal politicians in Los Angeles, CLR supported liberal politicians and figures nationwide. Each year they presented the Estes Kefauver Award, which was named after the Assembly member and Congressman who assisted the CLR in building a progressive coalition of community leaders. Some of the Kefauver Award winners include journalist William Shirer, Senators George McGovern, Wayne Morse, and Joseph Clark. The organization remained active for over ten years. Eleanor Wagner, one of the founding members, left CLR in 1972. Jack Berman fulfilled her duties as administrative secretary (essentially the executor of board decisions) and CLR continued its work through the late 1970s. [2]
Vietnam pullout
Sen. George McGovern introduced a resolution October 9 1969 urging total U.S. withdrawal from South Vietnam as swiftly as possible. McGovern's proposal seeks a pullout pace limited only by steps to insure the safety of U.S. forces, prisoner of war release and arrangements for asylum for South Vietnamese who want to leave with the American troops. Senators Abraham Ribicoff, Alan Cranston, Stephen Young, Frank Church and Harold Hughes joined in sponsoring the measure.[3]
Vietnam Veterans Against the War/Operation RAW
During the Labor Day weekend of September 4-7, 1970, Operation RAW ("Rapid American Withdrawal") took place. It was a three day protest march from Morristown, NJ, to Valley Forge State Park by over 200 veterans. It was sponsored by Vietnam Veterans Against the War. They were joined by members of Nurses for Peace and other peace groups. Dressed in combat fatigues and carrying toy weapons, the march was designed to dramatize a Vietnam-type search and destroy mission to the Middle America they passed through. Upon entering each town along the march, sweeps were made, prisoners taken and interrogated, property seized and homes cleared with the assistance of previously planted "guerrilla theater" actors portraying civilians. The 86 mile long march culminated in a four hour rally at Valley Forge that over 1,500 people attended. The honorary commander during this event was retired Army Brigadier General Hugh B. Hester. Sponsors included Senators George McGovern and Edmund Muskie, Rep. John Conyers, Paul O'Dwyer, Mark Lane, and Donald Sutherland. Scheduled speakers were John Kerry, Joe Kennedy, Rev. James Bevel, Mark Lane, Jane Fonda, and Sutherland. Congressman Allard Lowenstein, Mike Lerner, and Army First Lt. Louis Font also spoke.[4]
F.B.I. Soviet contacts memo
On July 28, 1970, the F.B.I. issued a top secret memo entitled CONTACTS BETWEEN REPRESENTATIVES OF THE SOVIET, UNION AN MEMBERS OR STAFF PERSONNEL OF THE UNITED STATES CONGRESS INTERNAL SECURITY - RUSSIA
The memo stated;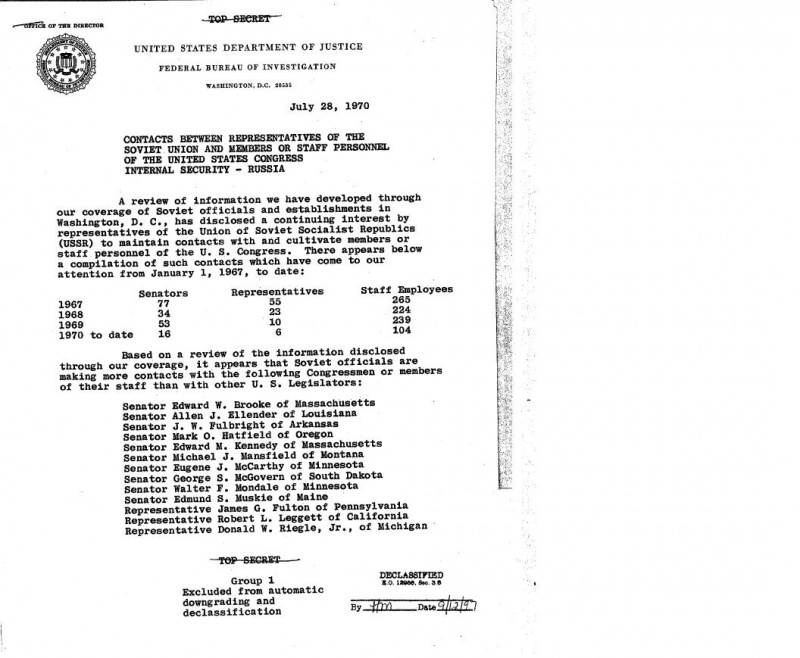 A review of information we have developed through our coverage of Soviet officials and establishments in Washington, D. C., has disclosed a continuing interest by representatives of the Union of Soviet Socialist Republics (USSR) to maintain contacts with and cultivate members or staff personnel of the U. S. Congress. There appears below a compilation of such contacts which have come to our attention from January 1, 1967, to date:
Senators
1967 77
1968 34
1969 53
1970 to date 16
Representatives
1967 55
1968 23
1969 10
1970 to date 6
Staff Employees
1967 265
1968 224
1969 239
1970 to date 104
Based on a review of the information disclosed through our coverage, it appears that soviet officials are making more contacts with the following Congressmen or members of their staff than with other U. S. Legislators
Group 1
Excluded from automatic downgrading and declassification
The document was declassified on September 12, 1997
Cuba recognition drive
In 1972, a coalition of congressmen, radical activists and some communists spearheaded a drive to relax relations with Fidel Castro's Cuba.
Under, the auspices of Sen. Ted Kennedy (D.- Mass.) and Sen. Harold Hughes (D.-Iowa), a two day conference of liberal scholars assembled in April, in the New Senate Office Building to thrash out a fresh U.S. policy on Cùba.
Among congressional sponsors of the seminar were Sen. J. William Fulbright (D.-Ark.) and Sen. Jacob K. Javits (R.-N.Y.), both influential members of the Senate Foreign Relations Committee; Sen. George McGovern (D.-S.D.), Rep. Bella Abzug (D~-N.Y.) and Rep. Ron Dellums (D.-Calif.).
Other sponsors included Senators Alan Cranston (D-CA), Mike Gravel (D - Alaska), Fred Harris (D - OK), Philip Hart (D - MI), George McGovern (D - SD) and Frank Moss (D - UT)
Congressmen Joseph Addabo (D - NY), Herman Badillo ( D - NY), Alphonzo Bell (R -CA), Jonathan Bingham (D - NY), John Brademas (D -Indiana), Donald Fraser (D - Minn.), Seymour Halpern (R - NY), Lee Hamilton (D - Ind.), Michael J. Harrington (D - MA), Patsy Mink (D -HI), Parren Mitchell (D - MD), Charles Rangel (D - NY), Thomas Rees (D - CA), William Fitts Ryan (D - NY), Ogden Reid (D - NY), Benjamin Rosenthal ( D - NY), Morris Udall ( D - AZ).
Secretary of the New York State Communist Party USA, Michael Myerson was among the observers.
One panelist, John M. Cates, Jr., director of the , Center for Inter-American Relations, matter of factly remarked during the discussions: "So why are we here'? We're here so Sen. Kennedy can have a rationale to get our country to recognize Cuba."
The conference was financed by a New York-based organization called the Fund for the New Priorities in America, a coalition of groups clearly sympathetic to many pro-Communist causes.
The Fund was virtually the same group as the Committee for Peace and New Priorities, a pro-Hanoi group which bought an ad in November 1971 in the New York Times demanding Nixon set a Viet Nam withdrawal date. Both the Fund for the New Priorities and the Committee for Peace, were located at the same address in New York.[5]
Cuba trip
IVI-IPO
In 1981 George McGovern was a Vice President of Independent Voters of Illinois-Independent Precinct Organization[6].
American Committee on East-West Accord
As at March 10, 1982, George McGovern, former U.S. Senator was a member of the American Committee on East-West Accord. The ACEWA, based in Washington, D.C., was a tax-exempt "independent educational organization", with the stated aim of "improving East/West relations, with special focus on U.S.-Soviet relations." McGovern also endorsed the Kennedy-Hatfield Nuclear Freeze Resolution which was introduced in the Senate on March 10, 1982.[7]
Supported by Council for a Livable World
The Council for a Livable World, founded in 1962 by long-time socialist activist and alleged Soviet agent, Leo Szilard, is a non-profit advocacy organization that seeks to "reduce the danger of nuclear weapons and increase national security", primarily through supporting progressive, congressional candidates who support their policies. The Council supported George McGovern in his successful Senate run as candidate for South Dakota.[8]
In These Times
Over the years, socialist journal In These Times has published the work of a wide range of noted writers, including fiction by Alice Walker and Kurt Vonnegut; reporting by Clinton speechwriter David Kusnet, former New Republic editor Andrew Sullivan, and current Salon Editor-in-Chief Joan Walsh; and political commentary by former presidential candidate George McGovern, environmentalist Sandra Steingraber, the late Democratic Sen. Paul Wellstone of Minnesota, novelists Barbara Kingsolver and Dorothy Allison, and a number of contemporary members of the House of Representatives who contribute to the magazine's "House Call" column.
The late Sen. Paul Wellstone, one of the first subscribers to In These Times, put it this way: "Meaningful democracy cannot survive without the free flow of information, even (or especially) when that information threatens the privileged and the powerful. At a time of growing media concentration, In These Times is an invaluable source of news and information that the corporate media would too often prefer to ignore."[9]
Institute for Policy Studies
In 1993 George McGovern was listed[10] among former "Trustees" of the Institute for Policy Studies, Washington DC.
During the 1984 Democratic primaries, Marcus Raskin and Richard Barnet advised George McGovern and Sen. Alan Cranston (D-Calif.), and IPS fellow Saul Landau, an Emmy-winning filmmaker, shot some of McGovern's spots.[11]
The Progressive
McGovern has been a contributor to the liberal magazine, The Progressive.
External links
References