General Baker
From KeyWiki
General Baker is a Detroit activist. he is married to Marian Kramer.
Background
General Baker was born on September 1, 1941 soon after his parents moved to Detroit from Georgia so that his father could work in the automobile industry. Baker graduated from Southwestern High School in 1958 during an economic recession and was unable to find steady work until 1961.
General Baker, also 72, passed away in Michigan May 18 2014 after a lifetime of in-your-face, "no justice, no peace" actions that inspired workers to stand up and fight against the kicking they were getting from fat-cat industrial bosses in the plants where they worked, and class-based exploitation in the communities where they lived.
As one friend put it, from his first arrest at a 1963 protest for "disturbing the peace," he made that charge his life's work. He had been protesting Detroit's bid to host the Olympics when the city was refusing to combat its own extensive housing discrimination.
In the 1960s Baker was in constant motion, working, teaching and learning with students, community activists, workers and anyone else seeking a fairer and more just future than the one offered by profit-seeking capitalists. He spent a summer in Cuba studying with revolutionaries from all over the world and moved from the Black Nationalist thinking of his student days to a deeper understanding of the class-based economic oppression that created slavery and has always been at the heart of the U.S. economic system. And he was always eager to shout out against injustice, and to share what he was learning with others.
In 1968 Baker and an estimated 4,000 other workers at the giant Dodge auto plant responded to a work speedup with a wildcat strike that stopped production and created national headlines. When the then-huge Chrysler Corporation decided he was the ringleader and blacklisted him from the auto industry, even though it rehired white strikers, Baker, in typical fashion, stuck it to them with a letter that read in part:
"Let it be further understood that by taking the course of disciplining the strikers you have opened that struggle to a new and higher level and for this I sincerely THANK YOU. You have made the decision to do battle with me and the entire Black community in this city, this state, and this country, and in this world of which I am a part … [Y]ou have made the decision to do battle, and that is the only decision that you will make. WE shall determine the arena and the time. You will also be held completely responsible for all of the grave consequences arising from your racist actions."
By that time the benefits of his years of talking and organizing in factories and in the streets were evident. As his friend David Goldberg wrote in the quarterly publication Jacobin:
"The prior organizing done in the plants, papers, pool halls, schools, bars and communities of Detroit began to pay off, as people searched for more radical and militant vehicles to confront racism and economic oppression. When Baker formed the Dodge Revolutionary Movement (DRUM) after the initial wildcat, he did so with rapidly growing in-plant and community support.
"Student activists formed affiliates that reached all the way down to the elementary schools, and helped distribute leaflets and papers at the plants. Allies in an array of grassroots organizations mobilized against racist urban renewal policies, slumlords and substandard housing, police brutality and racism within the building trades unions.
"Black workers in other plants and industries also began following DRUM's lead, organizing an assortment of their own revolutionary union movements (RUMs) and wildcats to fight against racist employers and company unions. To coordinate this activity, the League of Revolutionary Black Workers (LRBW) was formed, with General Baker, Mike Hamlin, Ken Cockrel, Chuck Wooten, Luke Tripp, John Watson and John Williams comprising the Executive Committee.
The many ways in which Baker and his wife of 35 years, Marian Kramer, moved ordinary people to action meant that when he died, the group they considered their extended family numbered thousands, including students, labor activists, Black Power movement allies, socialist and communist activists, groups involved in welfare rights and housing rights, community activists and advocates for Single-Payer Healthcare.
He was a founder and leader of LRNA, the League of Revolutionaries for a New America. A tribute to him in the Peoples Tribune, a national newspaper for the working class, said that what the ruling class fears most ". . . is a mass in motion, guided by vision. Comrade Gen's life is summed up as the effort to organize the scattered demands of the exploited into a vision, to organize the fighters around that vision."[1]
Founding conference/Leadership
By Allen Harris CHICAGO– With tremendous enthusiasm, fighting spirit and unity, the League of Revolutionaries for a New America was established during a convention held in Chicago on April 29 and 1995.
Attending were 73 delegates and 67 observers, as well as representatives of 30 areas and the national office. They came from 22 states, the District of Columbia and the Lakota Nation.
The meeting was the second national convention of the organization founded in Chicago in April, 1993 and originally called the National Organizing Committee.
Ranging in age from 17 to 80, the participants were Native American, white, black, Latino, Asian and Arab. They were urban, suburban and rural. They were secular and Christian, Muslim, Jewish and people of other faiths.
The convention elected on April 30 the following leadership: General Baker, Chair; Abdul Alkalimat, International Secretary; Beth Gonzalez, National Secretary; Jo Ann Capalbo, Organizational Secretary and Nacho Gonzalez, Secretary-Treasurer.
Activism
During the early 1960s Baker attended Wayne State University where he became involved in black nationalism and left wing politics. He studied the writings of Karl Marx and developed an ideology that combined the tenets of socialism with black nationalism. In 1963 Baker was arrested for booing the National Anthem as a protest against the Detroit City Council's failure to pass an open housing ordinance. He was acquitted of the disturbing the peace charges. In 1964 he traveled to Cuba where he studied the Marxist government of Fidel Castro. After returning to Detroit, Baker went to work at the Dodge Main plant in Hamtramck.[2]
In 1965 he was drafted into the army but refused to be sworn as a protest to the Vietnam War. He expected to be tried and put in jail but was declared a security risk and released. During the 1960s workers at the Dodge Main plant faced a speed-up on the production line. Baker and other leaders increased their criticism of Dodge and the United Auto Workers Union and on May 2, 1968 led workers out on what would be the first of many wildcat strikes called without the sanction of union leadership. Baker was fired from his job and blacklisted from employment in the auto industry after being identified as one of the leaders of the strike. He did not work in the industry again until 1973 and then only by getting a job under a false name at the Ford Motor Company Rouge plant.[3]
DRUM
Baker and the other leaders of the protest movement at the Dodge Main plant created the Dodge Revolutionary Union Movement (DRUM). DRUM's goal was to end all discriminatory union and employer policies and to increase the power of African-American workers in American society. They demanded that African Americans be hired as shop foremen, union officials, and as UAW president. Baker served as managing editor of the movement's newspaper, the Inner City Voice. DRUM spurred African Americans in other plants and industries to form their own revolutionary union movement. Baker and others then founded the League of Revolutionary Black Workers as an organization to amalgamate the actions of the various union movements. The League eventually split apart due to differing interpretations of its purpose and tactics, but Baker continued to fight for "economic justice". In 1976 he ran for Michigan House as a Communist Labor Party Candidate and in 1978 sought the same seat as a Democrat. He continued his involvement in politics as one of the founding members of the League of Revolutionaries for a New America and in numerous other leftist groups. He also served as Chairman of UAW Local 600 at the Ford Rouge Steel. [4]
Revolutionary Union Movement
In 1968 and 1969, former Wayne State students such as General Baker, Marian Kramer, Ken Cockrel, Ken Hamblin, Luke Tripp, Charles Johnson, and others organized the Revolutionary Union Movement in Detroit's auto plants, which culminated in the League of Revolutionary Black Workers. Some of the organizers who split from the League joined former SNCC leader James Forman and founded the Black Workers Congress.[5]
Malcolm X conference
A conference, Malcolm X: Radical Tradition and a Legacy of Struggle was held in New York City, November 14 1990.
Black Workers Unity and Resistance to Economic Barbarism
Chairperson:
Panel:
Black Radical Congress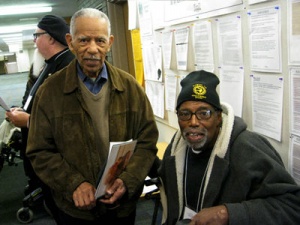 In March 1998 "Endorsers of the Call" to found a Black Radical Congress included General Baker, Auto Worker, Detroit[7].
At the June 1998 Black Radical Congress in Chicago, militants of an older generation were assigned to work with younger comrades.
On Friday evening there was an inter-generational dialogue which was an attempt to blend an historical and contemporary review of the Black liberation struggle by means of older and younger activists interviewing one another.
Veteran activists Kathleen Cleaver, General Baker, Barbara Smith, Ahmed Rahman, Angela Davis and Nelson Peery were "paired up with younger activists" Van Jones, Kim Diehl, Kim Springer, Fanon Che Wilkins, Kashim Funny, and Quraysh Ali Lansana, respectively[8].
Speakers for a New America
Circa 2014 General Baker was part of Speakers for a New America, the speakers bureau for League of Revolutionaries for a New America.
League comrades
Daymon J. Hartley January 5, 2014 · League of Revolutionaries for a New America leaders.
With Cathy Talbott, David Smokler, General Baker, Darryl Waistline Mitchell, Nelson Peery, Jerome Scott, Dorothy Pinkney, Marian Kramer, Claire McClinton and Sandra Reid. Plus Edward Pinkney.
References
References