Gene Ruyle
From KeyWiki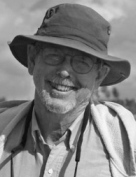 Gene Edward Ruyle ... is a Bay Area activist.
Background
Ruyle was born November 16, 1936 in Concord, CA. He served in the USMC (1957-1969).
From 1960-1963, he was a Correctional Officer, San Quentin State Prison. From 1976-2006: Professor of Anthropology, CSU Long Beach.[1]
Activism
Ruyle has stood several times for the Peace and Freedom Party.[2]
Socialist Community School
In 1982 Gene Ruyle was a committee member of the Socialist Community School in Los Angeles.[3].
Socialism in North Korea?
Sunday Mar 24th, 2013, presentations by Gene Ruyle, Emeritus Professor of Anthropology, CSU, Long Beach, and Paul Liem, Korea Policy Institute, were given on the topic of "Socialism in North Korea?" at the Niebyl-Proctor Marxist Library in Oakland.[4]
Beer, Burgers and Bernie
East Bay Democratic Socialists of America presents:
Bernie's Plan: Free Public College Tuition
Find out how we can pay for public higher education, put an end to student debt, and invest in youth. Voice your concerns, hopes, and opinions!
Saturday, April 23, 2016 3101 Shattuck Ave at Prince St – 2 blocks from Ashby BART at the Starry Plough Pub in Berkeley
FREE – all ages welcome, please buy food & drink at the Pub. For info, contact Karl Knobler, DSA-East Bay is working for Bernie because we can believe in him. Kayla Pace, of Young Democratic Socialists and a tuition activist at UC Davis; Nicky Gonzalez Yuen, community college instructor and trustee, Peralta Community College District, and Gene Ruyle, emeritus professor, CA State Long Beach will speak about this important issue. Stay in touch to find out how we can build a political revolution.[5]
References