Gary Kroeger
Jump to navigation
Jump to search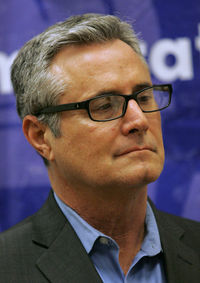 Gary Kroeger is a Berniecrat, a term used for those democrats (generally) running for office who have expressed support of former presidential candidate Bernie Sanders.[1]
Iowa AFL-CIO 2016 Endorsement
Gary Kroeger was endorsed by the Iowa affiliate of AFL-CIO: AFL-CIO - Iowa for the 2016 election. [2]
Endorsed by Our Revolution
Gary Kroeger was endorsed by Our Revolution, an organization run by former campaign workers and supporters of former socialist presidential candidate Bernie Sanders.[3]
Debt Free College
Gary Kroeger endorsed debt-free higher education in Iowa:
"If the Founding Fathers intended something for education, it was specifically that you be an investment, our investment as a society. … That is the greatest stimulus for our future and our prosperity right there," Kroeger said. "It's not a bottom-line equation here, where we're profiting off of your education. And that is fundamentally wrong."[4]
Other local activists mentioned in the 2015 article are Chris Schwartz, Pat Murphy, Logun Buckley, Joe Gorton.
References