Gary Hart
From KeyWiki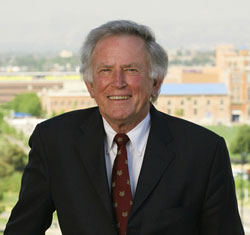 Gary Hart has been extensively involved in international law and business as a strategic adviser to major U.S. corporations and as a teacher, author and lecturer since retiring from the United States Senate.
He is currently scholar in residence[1]at the University of Colorado. He is also chairman of the American Security Project and of the Council for a Livable World. Hart is a member of the National Academy of Sciences committee on science, technology and the law and was a member of its task force on science and security. He has recently been appointed distinguished congressional fellow of the Center for Strategic and International Studies and a member of the board of the Eurasia Foundation.
Gary Hart has been visiting fellow, Chatham lecturer, and McCallum memorial lecturer at Oxford University, Global Fund lecturer at Yale University, and regents lecturer at the University of California. He has earned a doctor of philosophy degree from Oxford University and graduate law and divinity degrees from Yale University. He has been a visiting lecturer at the Yale Law School and is the author of eighteen books.
For 15 years, Hart was senior counsel to Coudert Brothers, a multinational law firm with offices in 32 cities and 19 countries around the world.
Political career
Gary Hart represented the state of Colorado in the United States Senate from 1975 to 1987. In 1984 and 1988, he was a candidate for his party's nomination for president.
Commission on National Security
Gary Hart was co-chairman[2]of the U.S. Commission on National Security for the 21st Century.
The commission performed the most comprehensive review of national security since 1947, predicted the terrorist attacks on America, and proposed a sweeping overhaul of U.S. national security structures and policies for the post-Cold War new century and the age of terrorism.
Trip to People's Republic of China
In January 1978 Senate Majority Whip Alan Cranston urged the United States yesterday to normalize relations with the People's Republic of China "as soon as possible" along lines suggested by the Chinese. Cranston, who led a 10-member congressional delegation on a four-city tour of China, said he doesn't believe that Peking will try to take Taiwan by force if the United States renounces a mutual defense treaty in effect since 1954. The California Democrat, declaring that he feels more urgently about the need to set up diplomatic ties with China because of his trip, said, "I feel we should do so swiftly, that we should recognize the absurdity of maintaining our relationship with Taiwan on the grounds it is the government of all China. Clearly, it is not. . . Cranston noted the terms outlined by Peking for normalized relations: an end to U.S.-Taiwanese diplomatic relations although trade and cultural ties could continue; an end to the mutual U.S.Taiwanese defense treaty and withdrawal of U.S. military personnel from the island off the Asian mainland.
"I think we should proceed on those termsas soon as possible," Cranston said. Defense treaty He noted that renouncing the mutual defense treaty would eliminate a legal obligation for the United States to intervene if Peking moves militarily against Taiwan. It would not preclude such a move, however, if the United States decided one were necessary. Cranston said he discussed his views with President Jimmy Carter on Monday aboard the plane carrying Carter back to Washington from Minnesota, where he attended funeral services for Hubert Humphrey. Carter "didn't comment," he said. United States policy, as set out in the Shanghai Communique signed at the end of President Richard Nixon's trip to China in 1972, favors eventual normalization in diplomatic relations. But the question of Taiwan has been the main stumbling block. Cranston declined to say precisely how soon he thinks the United States can move toward normalized relations with Peking. "I doubt that practically it can be done this year," he said, especially in view of administration foreign policy concerns with the Panama Canal treaties and strategic arms limitation talks with the Soviet Union. Not fearful But he also said he was not fearful that the issue would be politically damaging if it were raised in advance of the 1980 presidential elections. "I think there will be some uproar and then when China doesn't make an immediate grab for Taiwan it will die down," he said.
With Cranston in China for a 14-day trip that ended a day early because of Humphrey's death were Sens. Charles Mathias (R-Md.), James Abourezk (D-S.D.), Gary Hart (D-Colo.), and Richard Lugar (R-lnd.) and Reps. Charles Whalen (R-Ohio), James Weaver (D-Ore.), Stephen Neal (D-N.C.), Fred Richmond (D-N.Y.) and Steven Solarz (D-N.Y.). The group traveled to Peking, Shanghai, Nanking and Canton, touring numerous facilities as well as holding discussions with several Chinese officials. Cranston said he found among Chinese leaders a "discouraging acceptance of the inevitably of war" because of differences between the United States and Russia.[3]
Council for a Livable World
As at March 12, 2010, Gary Hart, a former U.S. Senator served on the board of the Council for a Livable World. The Council was founded in 1962 by nuclear physicist Leo Szilard and other scientists. Its purpose is to campaign against the proliferation of nuclear weapons through lobbying and by supporting candidates who share their vision.[4] The Council had earlier supported Gary Hart in his successful Senate run as candidate for Colorado.[5]
ProgressNow
From:michael@progressnowaction.org To: john.podesta@gmail.com Date: 2008-04-29 18:29
Subject: Do you want to discuss any of these states?
Dear Board, Investors and Progressive Partner Organizations,
Great news! We are proud to announce our newest advisors below. I've also included the most recent successes in each of our state partner organizations.
Please let me know if you'd like to discuss any ProgressNow partner states: California, Colorado, Florida, Michigan, Minnesota, New Mexico, Ohio, Washington or Wisconsin.
I'd also like your advice on any of these states: Arizona, Missouri, Nevada, New Hampshire, New York, Oregon or Pennsylvania.
Thank you. I look forward to hearing from you.
Mike (303) 931-4547 cell
P.S. Let me know if you wish to discuss our plans around the August convention in Denver (the Pepsi Center is four blocks from our office).
P.P.S. Below is an updated list of our advisors (if you would like to be added let me know)
National Board of Directors: Wes Boyd, Martin Collier, Rob McKay, Doug Phelps, Jared Polis, Deborah Rappaport, Bill Roberts, Jeff Rusnak, Anne Summers, Ted Trimpa (Chair) and Joe Zimlich (We recently lost one of our cherished board members-- Adam Solomon-- who went out of his way to help so many of us and so many progressive causes. Our deepest condolences to his entire family. Adam's passing is a true loss and we will miss him.)
Advisors Include: Alexandra Acker, Karen Ackerman, Jennifer Ancona, Adam Bink, Kafi Blumenfield, Bill Budinger, Marc Buell, Anne Bartley, Patricia Bauman, Jeff Blum, Heather Booth, Robert Borosage, David Brock, Anna Burger, Steve Cobble, Noey Congdon, David Donnelly, Cathy Duvall, Christian Ettinger, Patricia Evert, Kirstin Falk, Ricki Feller, David Friedman, Meg Gage, Beth Ganz, Chris Gates, James Golin, Ellen Golumbek, Ken Grossinger, Jill Hanauer, Honorable Gary Hart, Jerry Hauser, Bracken Hendricks, Norton Kalishman, Craig Kaplan, Paul Lhevine, Paul Loeb, Mark Lotwis, John Luongo, Mike Lux, Awilda Marquez, Matt MacWilliams, Tony Masarro, Peter Murray, Sandy Newman, Eli Pariser, Steve Phillips, Drummond Pike, John Podesta, Mike Podhorzer, Zach Pollet, Carl Pope, Rachel Pritzker, Andrew Rasiej, Cecile Richards, Will Robinson, Robin Rorapaugh, Donald Ross, Ron Rowell, Catalina Ruiz-Healy, Laura Quinn, Marsha Scott, Steve Silberstein, David Sirota, Frank Smith, Greg Speed, Steve Shapiro, Rob Stein, John Stocks, Valerie Tarico, Betsy Taylor, Roy Temple, Lisa Turner, Michael Vachon, Phil Villers, Antha Williams, Al Yates, Jon Youngdahl, David Zwick.
ProgressNow affiliate organizations have already launched in nine states and we hope to expand to twenty-five states by 2012.
References