Gary Goff
From KeyWiki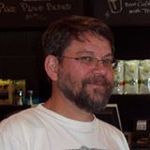 Gary Goff worked at Grove Press He is married to Martha Cameron.
Education
Studies at Antioch College.
National Fight Back Conference
Gary Goff was a New York delegate to the October League's December 1975 "National Fight Back Conference" in Chicago.
PSN
Gary Goff wearing a Progressive Student Network T - shirt.
Forward Motion
In 1994 Gary Goff was a member of the editorial collective of Forward Motion, the journal of Freedom Road Socialist Organization.
Moving Forward
In June/July 1994 Gary Goff contributed an article to Moving Forward, the newsletter of the Freedom Road Socialist Organization/Socialist Organizing Network.
Uhrich interview
Jack Uhrich, co-chair of the Sandoval County Green Party in New Mexico, was interviewed by Gary Goff for Freedom Road Socialist Organization's Forward Motion, Winter 1996/97 issue.
BARN
Gary Goff was a founder of the Brooklyn Anti-bias Response Network.[1]
FRSO
Gary Goff is close to Freedom Road Socialist Organization.
Standing Rock
Gary Goff of United States Labor Against the War (USLAW) spoke at the "Standing with Standing Rock" rally held at Union Square in New York City on Tuesday, November 15, 2016.
CPUSA Environmental Action
CPUSA Environmental Action is a Facebook closed group. It is "a meeting place for members and friends of the Communist Party USA to discuss environmental issues (especially climate change), share information, and coordinate activities".
As of June 21, 2017 members included Gary Goff;[2]
References