Gary Delgado
From KeyWiki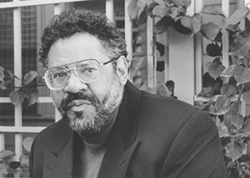 Gary Delgado is former Executive Director and founder of the Applied Research Center, Oakland California. He is a nationally recognized researcher, lecturer and activist on issues of race and social justice. He has worked extensively in both the organizing and the academic communities.
Gary Delgado was an initial organizer of ACORN, a lead organizer with the National Welfare Rights Organization, and a co-founder and director of the Center for Third World Organizing (CTWO). He was a scholar-in-residence at the Institute for the Study of Social Change at UC Berkeley.[1]
Education and writing
Gary Delgado received his BA from SUNY Old Westbury in 1972, a Masters in Urban Affairs from CUNY Queens College in 1975 and a PhD in Sociology from UC Berkeley in 1983. He was a Danforth Fellow in 1979 and a Whitney Young Fellow in 1980. In 1993, he was a Kenneth Pray Visiting Lecturer at the University of Pennsylvania School of Social Work. He is currently a scholar-in-residence at the Institute for the Study of Social Change at UC Berkeley.
Delgado's writings includesover 30 articles and studies on social change practice including his doctoral dissertation from UC Berkeley, Organizing the Movement: The Roots & Growth of Acorn, published by Temple University Press in 1986, Beyond the Politics of Place: New Directions in Community Organizing in the 1990s, published by ARC in 1994, the new anthology From Poverty to Punishment: How Welfare Reform Punishes the Poor.
Affiliations and awards
Delgado is a board member of the Nonprofit Sector Research Fund of the Aspen Institute, an advisory board member of the Institute on Race and Poverty and an honorary director of the ATR Foundation in Seattle. He was formerly a member of the board of the Poverty and Race Research Action Council in Washington, DC.[2]
Delgado was one of the initial organizers of ACORN, a lead organizer with the National Welfare Rights Organization and cofounder and director of the Center for Third World Organizing (CTWO).
In 1988, he received the Bannerman Fellowship for activists of color in its first year. He was recognized as a Hellraiser by Mother Jones magazine in 1996, and was profiled as a one of 61 Visionaries by Utne Reader.
New Party founders
The two key founders of the New Party were Joel Rogers and Dan Cantor.
The first strategic meetings to plan the New Party were held in Joel Rogers' home in Madison Wisconsin in the very early 1990s. Present were Rogers' wife Sarah Siskind, Dan Cantor, ACORN leaders , Wade Rathke ,Zach Polett , Steve Kest and Jon Kest , Steve Cobble from the Institute for Policy Studies (in an advisory role), Sandy Morales Pope (for the first 18 months), Harriet Barlow and Barbara Dudley.
The very first meeting included Gerry Hudson from Democratic Socialists of America and SEIU and Gary Delgado, plus labor activists Sam Pizzigati and Tony Mazzocchi. Anthony Thigpenn of Los Angeles was also approached, but though supportive did not wish to play a leadership role.[3]
New Party builder
New Party News Fall 1994 listed over 100 New Party activists-"some of the community leaders, organizers, retirees,, scholars, artists, parents, students, doctors, writers and other activists who are building the NP" the list included Gary Delgado, Applied Research Center.
"Beyond Identity Politics"
"Beyond Identity Politics: Emerging Social Justice Movements in Communities of Color" by John Anner
"A long-awaited roadmap to the grassroots social justice movements of the 1990s and beyond. The strikingly diverse array of multiracial struggles presented here succeed, in various ways, by moving by simplistic identity politics. In an era when the right-wing seems to be winning all battles, Beyond Identity Politics presents a critical inside look at progressive victories.
Contributors were Clarence Lusane, Mark Toney, N'Tanya Lee, Don Murphy, Lisa North, Juliet Ucelli, Hoon Lee, Van Jones, Gary Delgado, David Bacon, Andrea Lewis.
War Times
In January 2002, a group of San Francisco leftists, mainly involved with STORM or Committees of Correspondence, founded a national anti-Iraq War newspaper War Times.
Endorsers of the project included Gary Delgado.[4]
DataCenter Donor
In 2007 Gary Delgado and Marcia Henry were listed on the DataCenter's annual report as donors to the organization. The Oakland, California based DataCenter is widely regarded as the intellegence wing of the United States Left and has close ties to Cuba.[5]
Ear to the Ground Project
We would like to express our deep respect and appreciation for everyone who took the time to talk with us, and the organizations that generously hosted us during our travels. Interviews were confidential, but the following people have agreed to have their names listed for this publication:
Most of those listed were connected to Freedom Road Socialist Organization.
Gary Delgado was among those on the list. [6]
Alliance for a Just Society board
References