Fred Yamashita
From KeyWiki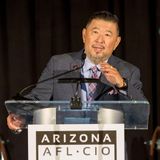 Fred Yamashita is Arizona AFL-CIO Executive Director. Yamashita a native of Detroit, Michigan, accepted his position at the AZ AFL-CIO in November of 2017. Prior to that he spent 20 years working for the United Food and Commercial Workers Local 99, before which he spent 20 years as a worker on the floor in the grocery industry.
Fred Yamashita served as Chair of the Pima Area Labor Federation from 2015 until moving back to Phoenix to accept the position as Executive Director.[1]
Romero connection
Regina Romero with Fred Yamashita August 2019.
ERA FORUM JANUARY 18, 2019
Why do we need the ERA? Listen to Senator Victoria Steele, Rep. Pamela Powers Hannley, Senator Michelle Ugenti-Rita, Col. Felicia French, Kiana Sears, Rabbi Shmuly Yanklowitz and Fred Yamashita share their thought on why it's time.[2]
At Salt of the Earth
Fred Yamashita lecturing at Salt of the Earth Labor College.
Fred Yamashita February 3 2019:
At Salt of the Earth Labor College.
Carolyn Classen Paul Stapleton-Smith on the far right in the photo.
Paul Stapleton-Smith, Steve Valencia, Sam Newsome of A. Philip Randolph Institute, and Arizona AFL-CIO Executive Director Fred Yamashita from left to right. Thank you, Ms. Classen!
SALT OF THE EARTH LABOR COLLEGE SPRING 2019 SCHEDULE.
The Labor Movement in Action
Presentation and discussion with Fred Yamashita, Executive Director of Arizona AFL-CIO.
Saturday. February 2nd 2019: 2:00 pm
Brother Yamashita will discuss some of the struggles facing organized labor and working people in this age of Trump. Did Arizona labor's role in the mid term elections play out with increased participation and more union members running for office? Can some of the energy spent on elections be transferred to organizing and rebuilding the Labor Movement. [3]
Fred Yamashita February 3 2019·
With Steve Valencia and Carolyn Trowbridge at Salt of the Earth Labor College.
References