Fred Hampton
From KeyWiki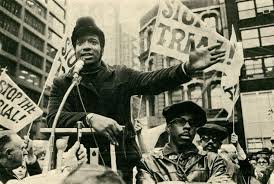 Fred Hampton was the Deputy chairman of the Illinois chapter of the Black Panther Party. He was killed on December 4 1969 along with fellow Black Panther Party member Mark Clark while police were attempting to execute a warrant for weapons possession.
His fiance was Akua Njeri (nee Deborah Johnson), also a member of the Black Panther Party. His son is Fred Hampton, Jr..
'Power Anywhere Where There's People' Speech
Portion of Fred Hampton's speech in Chicago, 1969: "We say you don't fight racism with racism. We're gonna fight racism with solidarity. We say you don't fight capitalism with no black capitalism; you fight capitalism with socialism. We ain't gonna fight no reactionary pigs who run up and down the street being reactionary; we're gonna organize and dedicate ourselves to revolutionary political power and teach ourselves the specific needs of resisting the power structure, arm ourselves, and we're gonna fight reactionary pigs with international proletarian revolution. That's what it has to be. The people have to have the power: it belongs to the people."
GI Civil Liberties Defense Committee
Circa 1969, Fred Hampton, Illinois Black Panther Party was listed as a sponsor of the Socialist Workers Party led GI Civil Liberties Defense Committee .[1]
Die for the Revolution
Fred Hampton considered to be a revolutionary willing to die "for the people." Here is a part of a speech from Fred Hampton as reported at the New York Times:[2]
"I believe that I will be able to die as a revolutionary in the international revolutionary proletarian struggle. And I hope that eacn one of you will be able to die in the international proletarian revolutionary struggle or you'll be able to live in it. And I think that struggle's going to come. Why don't you live for the people? Why don't you struggle for the people? Why don't you die for the people?"
Rainbow
Young Patriots Organization was an American left-wing organization of the 1960s and 1970s. Growing out of an Students for a Democratic Society (SDS) project called Jobs Or Income Now (JOIN), its first leaders included Doug Blakey, the son of Peggy Terry; Jack Boykin; Bobby Joe Mcginnis; William Fesperman; and Hy Thurman. [3]
Originating in the Uptown neighborhood of Chicago, the organization was designed to support young, white migrants from the Appalachia region. However membership was open to all races. With Fred Hampton of the Black Panther Party, Cha Cha Jimenez of the Young Lords, and Katiri LaRouge of the Native American Housing Committee, the Young Patriots Organization helped to form the Rainbow Coalition (unrelated to Jesse Jackson's later Rainbow/PUSH Coalition).
1969 press conference
References
↑

Undated, GI Civil Liberties Defense Committee letterhead circa 1969

↑

[The Black Panthers: Vanguard of the Revolution]