Frances Gabow
Jump to navigation
Jump to search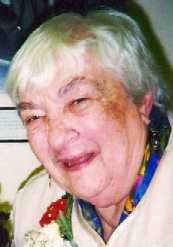 Template:TOCnestleft Frances Gabow is a Communist Party USA veteran.
Early activism
From her earliest youth she was an active participant in labor's struggles. During the 1930's she was involved in cultural activities that entertained sit-in strikes during the CIO organizing campaigns. She was active in the defense of the Scottsboro boys and an active member of the Young Communist League USA and student of Marxism Leninism. In 1939 she joined the Communist Party USA in Philadelphia, and was soon to become the chairperson of the then 4th Congressional District[1].
Civil Rights
Frances Gabow has been active in civil rights struggles. She led the first demonstrations to desegregate Woolworths in Philadelphia, and fought to defend the foreign born. She was called before House Un-American Activities Committee during the 1950s and was cited by the Attorney General under the infamous McCarren Act. She has run for elected office and was active in the struggles to end the Korean and Vietnam Wars. Today, she is involved in the Philadelphia Area Coalition to Defend Public Healthcare, in the coalition to fight the high price of gas, as well as political action[2].
The shocking events of 9/11 have energized her to include resistance to the George Bush War and calling for world unity to combat terrorism.
Illinois Communist Party
In 1972 Frances Gabow was Communist Party USA candidate for Secretary of State of Illinois.[3]
A partial list of sponsors for a January 19, 1973 Reception in Chicago for Communist Party USA leader Claude Lightfoot included;
Linda Appelhans, Margaret Appelhans, Arnold Becchetti, Leon Beverly, Richard Criley, Reverend Martin Deppe, Ishmael Flory, Frances Gabow, Ben Green, Bill Hampton, FatherJohn Hill, Mrs. Christine Johnson, Jack Kling, Attorney Max Maiman, Margaret Palmer, John Pappademos, Ted Pearson, A. A. Rayner, Jr., Harold Rogers, Norman Roth, Attorney Irving Steinberg, Gil Terry, Robbylee Terry, Charles Wilson and Sylvia Woods[4].
In 1976 Frances Gabow was Communist Party USA candidate for Secretary of State for Illinois.[5]
Communist Party MLK tribute
On January 19, 2002, the Communist Party USA newspaper, Peoples Weekly World published a signed tribute to Martin Luther King, Jr..
We salute Dr. King's courage and vision. He saw and struggled for an America and world that can be. We pledge in his memory to work to reorder our nation's priorities "so that the pursuit of peace will take precedence over the pursuit of war."
Signatories included Frances Gabow. Almost all signatories were confirmed members of the Communist Party USA[6].
Communist Party USA
In September 2006 the Peoples Weekly World listed several members, or supporters of the Pennsylvania Communist Party:[7]
Asad Ali, Billie Penn Johnson, Denise Winebrenner Edwards, Donna Puleio Spadaro Dr A. S. Mahdi Ibn-Ziyad, Gary Puleio (In Memoriam), George Edwards, Joe Kopnitsky, Ken Heard, Ben Sears, Dave Bell, Debbie Bell, Diane Mohney & John Vago, Evie Horwitz & Larry Horwitz , Frances Gabow, The Incognito Family, James Bradford, Jimmie Wayne Moore, June Krebs, Leonard Pepper, Rookie Perna, Rosita Johnson, Sharon Hurley.
Communist Party tribute
In July 2007, the Communist Party USA paper Peoples World published a tribute "We salute Joyce Wheeler" to retiring Baltimore public school teacher and Communist Party member Joyce Wheeler. Frances Gabow and Rookie Perna signed the tribute page. Most of the more than 100 signatories were identified Party members.[8]
References