Felicia Eaves
Jump to navigation
Jump to search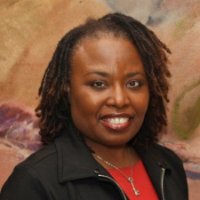 Template:TOCnestleft Felicia Eaves is a Public Policy Strategist Washington DC.
Fayetteville peace rally
The Fayetteville rally for peace was held on March 19th 2005.
Speakers included;
MCs were Bridgette Burge, Peace LEAP (NC; and Bryan Proffitt, North Carolina Peace and Justice Coalition.[1]
"Forging a Black Liberation Agenda for the 21st Century"
10th Anniversary Meeting of the Black Radical Congress, "Forging a Black Liberation Agenda for the 21st Century" Black Radical Congress, June 20-22, 2008, St. Louis, Missouri.
Endorsers for the Congress included Felicia Eaves Black Voices for Peace.[2]
UFPJ
In 2005 Felicia Eaves, Black Voices for Peace was on the Steering Committee of United for Peace and Justice[3].
Iraq: The Legacy of the 7-Year U.S. Occupation
On Sunday, August 29th 2010. at Busboys and Poets, 5th and K Sts. NW, Washington, D.C., an event "Iraq: The Legacy of the 7-Year U.S. Occupation" was held;
Is the U.S. military really leaving Iraq or just rebranding? What is the toll of seven years of occupation on Iraqis, U.S. soldiers and our economies? What is the status of Iraqi refugees around the world? Is it still possible to hold accountable those who dragged us into the war or committed crimes such as torture? What role did Congress and the media play in facilitating the invasion/occupation? We'll also look at the role of the peace movement -- its strengths and weaknesses -- and draw key lessons to make our work for peace, including in Afghanistan, more effective.
Speakers/performers included:
The event was sponsored by: CODEPINK, Peace Action, Institute for Policy Studies, Fellowship of Reconciliation, Global Exchange, Just Foreign Policy, Veterans for Peace, Iraq Veterans Against the War, Military Families Speak Out, Progressive Democrats of America (PDA), U.S. Labor Against the War, ANSWER, World Can't Wait, Voices for Creative Nonviolence, War is a Crime, Rivera Project, Washington Peace Center.[4]
Damu "Connecting the Dots" conference
Makani Themba February 27, 2011:
Tha panel kicks off the discussion featuring Ron Daniels, Phyllis Bennis, Felicia Eaves, Rick Hinds, Kenny Barnes and Acie Byrd.
National Briefing on Ferguson and the Palestine Solidarity Movement
On October 8 2014? the US Campaign hosted a briefing to talk about challenging racism from Palestine to Ferguson.
Speakers:
References