Farhan Sheikh-Omar
Jump to navigation
Jump to search
Template:TOCnestleft Farhan Sheikh-Omar
Background
After arriving as a Kenyan refugee 15 years ago, Farhan Sheikh-Omar grew into adulthood in Lansing, finding himself protesting against police brutality and for racial equity in the city.
Activism allowed Sheikh-Omar to instill change from the inside out and prompted his decision to run for mayor of Lansing in the Nov. 2 2021 election.
Sheikh-Omar will be running against Lansing Mayor Andy Schor, former Lansing Mayor Virg Bernero, City Councilwoman Patricia Spitzley and Larry Hutchison. Jr.
"I got tired of talking to the wall, and I wanted to be the change I want," Sheikh-Omar said. "I want to represent the defenseless. I want to represent those that are not being represented. And there's a lot of people in this city that are being ignored and underrepresented."
Sheikh-Omar has run two failed campaigns in his past, running for the House of Representatives — District 68 in 2018 and first Ward City Council in 2019 — but his most recent experiences lie outside of official positions.
Last February, he led protests following Uwimana Gasito's excessive force allegation against officer Andrew Stephenson that prompted an internal investigation within the East Lansing Police Department. He also carried on protests through the summer months following George Floyd's murder in Minneapolis in May 2020.
2021 Council endorsements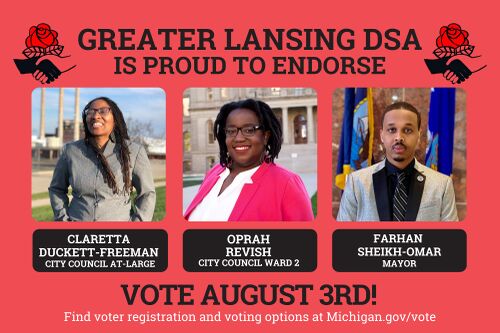 Greater Lansing Democratic Socialists of America June 17, 2021.
Farhan Sheikh-Omar, Claretta Duckett-Freeman, Oprah Revish.
References