Faiz Shakir
From KeyWiki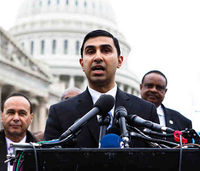 Faiz Shakir is the National Political Director at the American Civil Liberties Union. He previously worked for Harry Reid, the Center for American Progress, which was founded by John Podesta. He has worked for Nancy Pelosi and is a founding member and served as editor-in-chief of Think Progress.org. In his college days, he was a member of the Harvard Islamic Society.
On Feb 19 2019, it was reported that Bernie Sanders hired Faiz Shakir as campaign manager for his 2020 Presidential bid.
Biography
This is Faiz Shakir's biography as posted at the ACLU website:[1]
"Faiz Shakir joined the American Civil Liberties Union (ACLU) in January 2017. As National Political Director, he oversees the ACLU's National Political Advocacy Department, which houses the organization's Washington Legislative Office and State Advocacy and Policy departments. In his role, Shakir develops and implements strategies to advance the organization's priorities at the federal and state levels.
"Prior to joining the ACLU, Shakir worked as one of the most senior advisers to former Senate Democratic Leader Harry Reid. He directed policy and communications work for Senator Reid while also coordinating with Democratic members and staffs, key interest groups, and press to organize issue campaigns. Prior to that, Shakir served as Senior Adviser and Director of Digital Media for House Democratic Leader Nancy Pelosi, helping wage key fights on behalf of the LGBT and Muslim American communities.
"Shakir, a graduate of Harvard University and Georgetown University Law Center, also spent seven years at the Center for American Progress, helping the organization establish its identity as the leading progressive think tank in the nation. At CAP, Faiz served as a Vice President for Communications and was a founding member and editor-in-chief of Think Progress.org, one of the top political news websites in the United States. He also advised CAP's senior leadership on policy matters ranging from economic and domestic policy to national security and civil rights. He led a major campaign to take on Islamophobia which featured the production of a report titled 'Fear, Inc.'"
Campaign Manager for Bernie Sanders 2020 Presidential Bid
Verbatim from Gideon Resnick, Spencer Ackerman and Sam Stein of The Daily Beast:[2]
"Sen. Bernie Sanders (I-VT) has tapped Faiz Shakir to serve as his campaign manager for his second run at the White House, The Daily Beast has learned.
"In hiring Shakir, Sanders brings into the fold one of the Democratic Party's better-traveled operatives—an official with limited campaign experience but with ties to the party's think tank infrastructure, its Hill operations, and the larger progressive universe.
"Shakir joins the Sanders operation from the American Civil Liberties Union where he served as national political director since early 2017. Before joining the ACLU, he was a senior adviser to then-Senate Majority Leader Harry Reid (D-NV) and before that he worked with House Democratic Leader Nancy Pelosi (D-CA). He first made a name for himself as an editor at the website ThinkProgress, the news arm associated with, though editorially independent of, the powerhouse Democratic think-tank Center for American Progress.
"Shakir held a meeting with his team at the ACLU at noon on Tuesday to announce that he was leaving to join the Sanders campaign, The Daily Beast has learned. His departure is expected to be announced imminently by the civil-liberties giant. Shakir, 39, is almost certainly the first campaign manager of a major presidential campaign who identifies as a Muslim. His candidate, Sanders, is Jewish.
"Neither Shakir nor the Sanders campaign returned a request for comment.
"A team of Sanders advisers had been in the hunt for a new campaign manager since at least January, at which time the inner circle was dealing with the fallout of allegations of harassment and misconduct from former 2016 staffers. In part due to that fallout, the team was seeking more diversity among their top ranks. A number of names were floated as potential candidates, though Shakir was not among the individuals named by Sanders sources with whom The Daily Beast spoke.
"Jeff Weaver, the 2016 campaign manager and a longtime personal friend and ally of Sanders, took on a different role for the senator's second run and is likely to become a senior adviser instead.
"Tad Devine, a long-time Democratic operative who had worked on Sanders' Senate campaigns and his 2016 presidential run, is not expected to join the 2020 effort, several sources told The Daily Beast, though his firm is working for Sanders and he himself could potentially help out later in the campaign. Devine, who had a falling out with several campaign aides in 2016 and who has been ensnared in legal drama related to Special Counsel Robert Mueller's probe of foreign influence peddling, did not return a request for comment.
"Shakir spent several years during the Bush and Obama administrations at ThinkProgress, which quickly established itself as a digitally native information outlet for left-of-center Democrats. ThinkProgress primarily focused on challenging Republicans and conservatives but also took progressive stances on policy, particularly foreign policy and national security, that challenged the Democratic mainstream. There, Shakir worked closely with Matt Duss, who is now Sanders' chief Senate foreign-policy adviser.
"After a stint advising both Pelosi and Reid, Faiz did informal work for Sanders' 2016 run. He moved to the ACLU's Washington office after Trump won the general election. While some ACLU veterans and alums quietly expressed concern about such a prominent role being filled by someone so closely associated with the Democratic Party, the ACLU has become a bastion of legal resistance to the Trump administration on everything from the Muslim-focused travel ban to migrant family separation, and has seen its membership expand off its uncompromising opposition.
"Anthony Romero, the ACLU's executive director, praised Shakir as a "transformational leader" whose work helped quadruple ACLU membership since Trump took office.
""While the ACLU does not endorse or oppose candidates for elected or appointed office, Faiz has picked his candidate for president," Romero said. "Senator Sanders is fortunate to have someone of Faiz Shakir's talent, creativity and vision running his campaign for president."
"In 2016, Shakir was the subject of animus in a leaked email publicized by WikiLeaks in which John Podesta, then the chairman of Hillary Clinton's campaign, chided Shakir for advising Sanders' campaign."
Criticized 2018 State of the Union Address for using word "America"
In an ACLU press release[3] published in the wake of the 2018 State of the Union Address, Faiz Shakir criticized President Trump's over-use of the word "America," saying it was "exclusionary." Faiz Shakir wrote:
"Tonight, President Trump said the word 'America' more than 80 times in his speech. Yet, after a divisive first year, we hear and feel how exclusionary that 'America' is, with policies that have harmed so many vulnerable American communities. The ACLU stands ready to protect these communities, both in the courts and at the polls.
Faiz Shakir says Trump says America too much
"In particular, the immigration plan put forth by Trump would hold Dreamers hostage to his demands for a harmful border wall and an even larger mass deportation force. We are at this crossroads because of the president's deeply destructive ideas fomented by his nativist allies and divisive rhetoric. We will continue to stand up for these young immigrants and ensure they continue to contribute to our country. We cannot let America's Dreamers be deported.'"
PeoplePower.org
In March 2017, it was reported that the ACLU was attempting to lead a "grassroots" movement against President Trump by creating an "organizing platform" called PeoplePower.org. Faiz Shakir was quoted as advocating for "freedom cities" that would resist President Trump.[4]
"The ACLU also launched a new grassroots online organizing platform called PeoplePower.org. It's billed as a way for people considering a local protest or rally to connect and coordinate with others around the country with similar intentions, and to provide details of ACLU initiatives.
"Another plan is creation of "freedom cities" around the country that would encourage local officials to pass laws resisting Trump policies such as stepped-up deportations of people living in the country illegally, said Faiz Shakir, ACLU national political director.
Padma Lakshmi also spoke at the event.
Fear, Inc.
In August 2011, Faiz Shakir wrote a 138 page report for the Center for American Progress titled Fear, Inc. The Roots of the Islamophobia Network in America with Wajahat Ali, Eli Clifton, Matthew Duss, Lee Fang, and Scott Keyes.[5] Chapter titles include "Donors to the Islamophobia network," "The Islamophobia misinformation experts," "The grassroots organizations and the religious right," "The right-wing media enablers of anti-Islam propaganda," and "The political players."
Center for American Progress
In 2005 Faiz Shakir served in the Communications department of Center for American Progress.[6] Research Director
Harvard Islamic Society
Verbatim from an article dated May 28, 2012 by Daniel Greenfield of FrontPageMag:[7]
"In 2000, he oversaw a week of events that raised money for Islamic terrorists murdering Jews. From 2005 until the present, he oversaw a left-wing blog whose contributors used language that even he admitted was anti-Semitic. And now Faiz Shakir is about to become a senior advisor to the Democratic Minority Leader of the House of Representatives.
"What happens to a top left-wing operative when he loses control of a media operation so badly that the White House has to distance itself from its allied think tank? He gets a job offer from Nancy Pelosi.
"After the use of bigoted language by ThinkProgress contributors turned into a growing scandal, the White House publicly distanced itself from ThinkProgress, an outlet of the Center for American Progress, which Time Magazine called the think tank with the largest influence on the Obama administration. Jarrod Bernstein, the White House's liaison to the Jewish community, described the events there as troubling and stated that the Center for American Progress's attitude was not that of the Obama administration.
"This distancing has however proven to be only momentary with Faiz R. Shakir, ThinkProgress's longtime Editor-in-Chief and Vice President at the Center for American Progress, who had made the site what it is, going off to work as a senior advisor and new media director for Nancy Pelosi. Moving Faiz Shakir into such a prominent role where he will be able to influence policy and messaging for a key Democratic Party figure, while keeping Danielle Gilbert on as the DNC liaison to the Jewish community, is proof once again that the Democratic Party does not take bigotry seriously when it is directed at Jews. Not only that, but it even rewards the bigots with plum posts.
"Faiz Shakir had co-authored the "Fear Inc." report, which had implicitly claimed that Islamophobia was the product of a Jewish conspiracy, and had written positively about the Tunisian Islamist Al-Nahda Party and its genocidal head, Sheikh Rashid Ghannouchi, who has engaged in blatant anti-Semitism, and has said, "There are no civilians in Israel. The population—males, females and children—are the army reserve soldiers, and thus can be killed."
"During his time at ThinkProgress, Faiz Shakir had repeatedly attacked the Jewish State, endorsing the Hamas aid flotilla to Gaza and attacking Israel's attempts to defend itself against terrorists. Unlike some of his more radical junior colleagues, like Ali Gharib and Zaid Jlani, his position has forced Shakir to be somewhat more discreet.
"But Shakir's sympathy for Islamists and antipathy for the Jewish State are no surprise at all considering his activities during his college days when he was a member of the Harvard Islamic Society.
"While the Harvard Islamic Society's affiliation with the Muslim Brotherhood's MSA is somewhat vague, its Constitution states that its independence does not preclude "affiliation with the Muslim Students Association of the United States and Canada."
"HIS was co-founded by Yusuf Ibish, the father of Hussein Ibish, who is a veteran pro-terrorist and anti-Israel activist, and Syed Hossein Nasr, an Islamic philosopher and opponent of the United States and Israel, who claims to be able to trace his ancestry back to Mohammed. During Faiz Shakir's time there, HIS was presided over by Zayed Yasin, who became infamous for his "My American Jihad" speech.
"In 2000, The Harvard Islamic Society held an Islamic Awareness Week and Faiz Shakir served as the co-chair for the week's events. One of those events included a fundraiser for the Holy Land Foundation, a group which acted as the fundraising arm for Hamas in the United States. As co-chair of the week's events, Shakir would have unquestionably been involved in the selection of organizations to donate to. That he chose a fundraising for a Muslim Brotherhood terrorist organization can only be regarded as highly significant.
"Though the Holy Land Foundation was only raided in the year after that, it was well known at the time that the group was a front for terrorists, and the Harvard Islamic Society faced complaints and scrutiny for its terrorist fundraising. Zayed Yasin's defense of the Holy Land Foundation made it quite clear that he was familiar with its true mission.
"At the time, Shakir was quoted as saying that, "We want to give them a couple ways for them to think about Islam." But apparently there was really only one way to think about Islam. There still is.
"Under Shakir, ThinkProgress has promoted Muslim Brotherhood-linked Islamists, much as he tried to direct funds to Hamas during his Harvard days. It has been a long time since Shakir was a student and as someone who claims to be a foreign policy expert, there is no doubt that during his tenure at ThinkProgress he knew exactly what he was doing.
"ThinkProgress is not just a site; it's the messaging apparatus for the most influential think tank in the country. It's where Democrats and their media allies pick up their talking points in their war on truth, justice and the American Way. And as senior advisor to the Democratic Minority Leader in Congress, and aspiring Majority Leader, Faiz Shakir will be doing what he was doing all along.
"The Center for American Progress is the George Soros Shadow Party's tool for influencing domestic and international policy, but it is also filled with members of another shadow party: the agents of the Muslim Brotherhood. As a senior advisor to Nancy Pelosi, Faiz Shakir will be doing directly what he once did indirectly, openly what he once did covertly.
"Putting a man like Shakir into such a position is a statement that the Democratic Party no longer cares what it reveals about itself as the last vestiges of caution that it adopted after September 11 fall away and the dark blotch of the two shadow parties covers it over. And so a man who chaired a week of events that raised money for an Islamic terrorist group, whose charter calls for the extermination of the Jewish people, and who ran a messaging apparatus whose contributors used anti-Semitic language, will now run the messaging apparatus for the leader of congressional Democrats.
"The elevation of Faiz Shakir is yet another reminder to Jews that there is no longer a place for them in the Democratic Party.
References