Fabian Nunez
Jump to navigation
Jump to search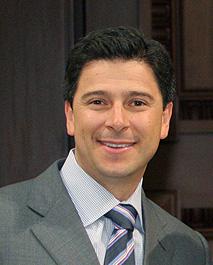 Template:TOCnestleft Fabian Nunez is a partner with Mercury, an influential public affairs firm with offices in Sacramento, Los Angeles, Washington and New York.
Nunez currently serves on the Board of Directors for Zenith Insurance, the U.S. Soccer Federation, and previously served on the University Of California Board Of Regents from 2004-2008.
He lives in Sacramento with his wife Maria Robles and their children.[1]
Career/activism
From 1996 to 2000, Nunez served as political director for the Los Angeles County Federation of Labor.
Nuñez left the federation when the Los Angeles Unified School District, the second largest in the nation, appointed him head of government relations.
"We don't have economic power because we don't own the means of production," Nuñez told a rally in January 1995, where he urged the crowd to "bring Washington to its knees." A year earlier, in October of 1994, Nuñez and his militant colleague Juan Jose Gutierrez of the group One Stop Immigration, coordinated a rally of 70,000 immigrants against Proposition 187. Protestors waved Mexican flags and displayed an American flag with only 13 stars. They called Governor Pete Wilson a pig, compared Prop. 187 to Hitler's laws against Jews and told "Anglos" to go back to Europe. Gutierrez later became Senior Political and Community Organizer for the SEIU.[2]
Political career
Nunez served three two year terms as a member of the California State Assembly, before being term limited in 2008. His final two terms as Speaker, the 66th person to hold that position in California.
Recognized for his unique ability to lead and find bi-partisan solutions to complex public policy challenges, Nunez was named "Legislator of the Year" in 2007 by Governing Magazine; specifically for his bi-partisan efforts with former Governor Arnold Schwarzenegger on transportation and infrastructure legislation.
Fabian Nunez was also listed as one of 2009's Top 100 Influential Leaders in Hispanic U.S. as well as being featured in Poder's 2008 Special Edition Black Book.
He authored AB 32, landmark climate change legislation that has become a blueprint for other states and the U.S. Congress in addressing environmental challenges.
As Speaker, he oversaw an annual Assembly budget of approximately $150 million with 1100 employees in over 103 offices statewide. He was also the Assembly's lead negotiator on the California state budget, responsible for producing four state budgets, which ranged as high as $103 billion.
From 2000-2002, Nunez was government affairs director for the Los Angeles Unified School District. In this capacity, he tackled a broad range of education issues and secured millions of dollars in funding for school construction projects, children's health insurance, and low-performing schools.
During the 2008 U.S. Presidential Election, Fabian was a national co-chairman for Hillary Clinton's campaign.[3]
Changing Demographics, and Voting in California
Beginning in 1994, California began to change. The numbers of immigrants who became citizens grew exponentially each year. According to the Department of Homeland Security's statistics, prior to Proposition 187, the number of new citizens in California each year had been a steady 50,000 to 60,000. In 1994, the number jumped to 118,567. In 1995, it was 171,285. In 1996, 378,014.
Also in 1994, a husband and wife team, Miguel Contreras the leader of the Los Angeles County Federation of Labor and Maria Elena Durazo, then the leader of the Hotel Workers in Los Angeles (later Miguel's successor at the Labor Fed) began something new: they linked organizing immigrant workers to organizing immigrant voters. And they hired a young immigrant-rights firebrand, Fabian Nunez, as he protested Proposition 187 by carrying the Mexican flag down Broadway in Los Angeles.
Nunez served as L.A. Labor's political director and eventually became the Speaker of the Assembly.
The campaigns Durazo, Contreras and consultant Richie Ross, developed broke new ground, organized new union workers, and increased the political impact Latino voters had on California politics – simultaneously tripling their number of registered voters, increasing the Democratic share of that vote by 50%, and doubling the percentage of the total votes cast in California from Latinos.
Through the rest of the 1990′s our campaigns focused on legislative races in Los Angeles. We succeeded. But it was all small.
References