Eugene TeSelle
Jump to navigation
Jump to search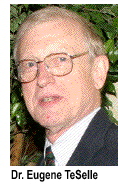 Template:TOCnestleft Eugene TeSelle Ph.D., is a veteran community activist, having served in this capacity for over 40 years. He is active with the Belmont-Hillsboro Neighbors, Nashville Neighborhood Alliance, Affordable Housing Resources, Nashville Peace and Justice Center and the Nashville Housing Fund. He was a Professor at Vanderbilt Divinity School and Presbyterian minister (now retired).
CDV Founding conference
The Center for Democratic Values, the think-tank project of Democratic Socialists of America, held its first national conference, "Arguing with the Right," November 6-7 1996, at the Clarion Hotel Columbus Ohio - In conjunction with the Democratic Socialists of America National Convention[1].
The conference will include historical and analytical sessions, plus skills workshops for contesting the Right's current dominance of American political discussion.
3:45-5:00 A: Reclaiming Religion, Values, and Morality from the Right: Duane Oldfield ("The Right and the Righteous"); Eugene TeSelle (Vanderbilt University Divinity School); Rabbi Melody Johnston.
DSA
In 1984 Nancy Stetten was chair, and Eugene TeSelle was recording secretary, of Nashville Democratic Socialists of America.[2]
Nashville DSA leaders
Metropolitan Nashville Democratic Socialists of America leaders, as of as of January 1987;[3]
Gore mentor
When Al Gore became a divinity student at Vanderbilt in 1971 he also became a protege of global warming advocate and Vanderbilt theology professor Eugene TeSelle. TeSelle was a disciple of the Earth goddess Gaia whose disciples believe Gaia is the planetary brain of this world. Her followers have about the same type of spiritual relation with her that Christian believers have with God through His Son, Christ Jesus.
TeSelle, a hard left pro-Sandinista communist whose chair at the Vanderbilt School of Divinity was funded by David Rockefeller, remained Gore's environmentalist mentor until then Sen. Al Gore sided with President Ronald Reagan to provide humanitarian aid to the Contras in Nicaragua. TeSelle, like Rockefeller knew world government could not be achieved until the American people were forced to go to sleep every night with the same fears that gnawed at the stomachs of the nations of Europe who feared they would awaken in the morning to find their nation had been invaded while they slept.[4]
References