Esther Moroze
From KeyWiki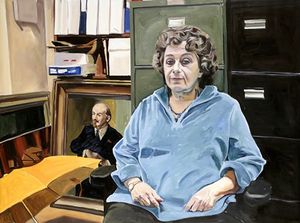 Esther Moroze was born in Albany, New York, in 1942, into a family of communists. She attended high school in New Ark, New Jersey, and then, Antioch College in Ohio. She joined the Communist Party USA in 1963, during the "Cuban missile crisis." In 2006 she was the national treasurer of the Communist Party USA.[1]
CPUSA Organization Commission
As at March 1994, the following were members of the Organization Commission of the Communist Party USA: Sam Webb, chair; Pat Barile; Judith LeBlanc; Carole Marks; Elena Mora; Esther Moroze; and Joe Sims.[2]
Communist veterans
Tim Wheeler July 12 2019·
With Rookie Perna, Bea Lumpkin, Edie Fishman, Jarvis Tyner, Esther Moroze, Michelle Artt and Brian Steinberg at Communist Party USA national convention Chicago July 2019.
Endorsed Communist Party Call
On March 30 2002 the Communist Party USA paper People's Weekly World called for a national holiday in honor of late Farm Workers Union leader Cesar Chavez. The article was followed by a long list of endorsers[3]including Esther Moroze, Almost all endorsers were confirmed members of the Communist Party USA.
Communist Party USA
In September 2006 the Peoples Weekly World[4]listed several members of the New YorkCommunist Party USA.
Angie Lebowitz, Betty Smith, Bill Davis, Bob Beachman, Carole Marks, Charlotte Sinovoi, Dan Margolis, Eileen Reardon, Estelle Katz, Esther Moroze, Gabe Falsetta, Gary Bono, George Robbins, Gloria Freedman, Grace Bassett, Judith Paulsen, Ken Besaw, Linda Feldman, Martin Sawma, Michael Moore, Rose Bilander.
"Socialism Betrayed"
In 2004 Roger Keeran, and Thomas Kenny published "Socialism Betrayed: Behind the Collapse of the Soviet Union"
Special thanks went to Bahman Azad, Norman Markowitz, Michael Parenti, Anthony Coughlan, and Betty Smith for reading the entire manuscript and suggesting editorial and substantive changes. We would also like to thank those who read all or parts of the manuscript and those who shared their ideas and sometimes their encouragement: Gerald Horne, Frank Goldsmith, Erwin Marquit, Sam Webb, Elena Mora, Mark Rosenzweig, Gerald Meyer, Joe Sims, Lee Dlugin, Pat Barile, Daniel Rubin, Phillip Bonosky, Bill Davis, Evelina Alarcon, Tim Wheeler, Scott Marshall, Noel Rabinowitz, Paul Mishler, Jarvis Tyner, Esther Moroze, Marilyn Bechtel, Gerald Erickson, Constance Pohl, Jackie DiSalvo, Richard Najarian and Brawee Najarian, and Jim Miller.
Also thankedd were librarians, Mark Rosenzweig of the Reference Center for Marxist Studies and Jackie Lavalle, for helping with the research, and Eileen Jamison for tracking down numerous books and articles. Also owed a debt of gratitude were Gregory Grossman for helping find sources on the second economy. Also thankedd were SUNY Empire State College for granting a sabbatical leave to Roger Keeran during which he did some early research and writing. Catherine Keeran for her assistance and Alice Ward and John Ward for providing accommodations and company, while Roger did research at the University of Texas. David Granville, Derek Kotz, Ian Denning and Charles Keller, and for technical help.[5]
Feminists for Peace and Barack Obama
In early 2008 Esther Moroze, a peace activist signed a petition circulated by Feminists for Peace and Barack Obama[6].
In the coming elections, it is important to remember that war and peace are as much \"women\'s issues\" as are health, the environment, and the achievement of educational and occupational equality. Because we believe that all of these concerns are not only fundamental but closely intertwined, this Tuesday we will be casting our vote for Senator Barack Obama as the Democratic nominee for President of the United States.
Stepping down
In 2014 Esther Moroze stepped down from her national leadership role with the party.
According to John Bachtell;
Esther has been in national leadership for over 40 years most recently as co-chair of the Membership Committee. She has been one of the pioneers of our work with the thousands of new members who have joined online - no doubt many of you received your first call from Esther. She's going to continue to make contributions with helping rebuild the New York district and organizing in the South.[7]
CPUSA NC, Closed Group, 2014
Communist Party of North Carolina closed Facebook group, 2014.
New member phone bank
New member phone bank Public · Hosted by Communist Party USA.
Saturday, April 15, 2017 at 11 AM - 4 PM EDT
Your living room
We're organizing a phonebank to our new members on Saturday and we need your help. The callfire service allow you to make the calls from home, using your smartphone, laptop or deskstop. You'll get a real charge from talking to them! Aint' nuthin like it!! Please click "going" if you can make calls! Thanks!
Those invited to participate on on Facebook included Esther Moroze.
National Party Building Conference
National Party Building Conference Hosted by Communist Party USA and People's World.
Saturday, November 11, 2017 at 12 PM – 6 PM EST
Join Communist Party activists and members in a national conference. You can register here https://tinyurl.com/ycdouk3y
The conference will take place November 11th to 12th to plan our work in the fight against the Trump Administration and its white supremacist ruling class backers. Find information here about how to participate. http://www.cpusa.org/2017-national-party-building-conference-resist-organize-vote-grow/
The conference will be streamed from Chicago to regional meetings in New Haven, Los Angeles, and Orlando. Whether you're on the East Coast, West Coast, in the MIdwest or the South, you'll be able to participate.[8]
Those invited on Facebook included Esther Moroze.
White House protest
Libero Della Piana May 22, 2008 ·
Civil disobedience at the White House with veterans and religious leaders, September 2005. — with Judith LeBlanc, Ted Auerbach, Amie Fishman, Linda Feldman, Gabe Falsetta, Esther Moroze and Adam Tenney.
References