Estelle Katz
Jump to navigation
Jump to search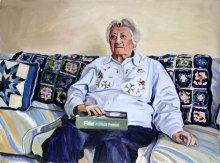 Template:TOCnestleft Estelle Katz was a New York City activist. She died November 23, 2012, age 96.
In a series of tributes sent to Chelsea Now by Speaker Christine Quinn's office, those who knew Katz during her formative years recalled how she "worked her way up from a waitress, becoming a college graduate and eventually teaching science." A Penn South resident for almost three decades, Estelle served on the Board for eight years, and also spent time as a member of house council and the co-op council."
Katz was also a persistent, vocal presence at demonstrations against the West Side Stadium and played active roles in the fight for affordable housing during the rezoning of West Chelsea as well as efforts to create Chelsea Waterside Park. During the 2004 Republican National Convention, she played a central role organizing protests down Eighth Avenue.
Estelle Katz is survived by her daughters, Ann Katz-Jacobson and Vivian Weinstein.[1]
Tributes
"Without Estelle's light," said City Council Speaker Christine Quinn, "Chelsea and New York City will be a little darker." Katz was a leader, said Quinn, "in the true sense of the word. She thought about others before she thought about herself, and was always working to make our community a better place. She was not shy about sharing her thoughts and feelings with me or other elected officials. I couldn't be where I am, without Estelle's work and support."
Citing her decades of work on labor and tenant rights issues, Manhattan Borough President Scott Stringer recalled how Katz "dedicated her life to the struggles facing the working class," noting that in recent years, "Estelle was a vocal critic of the wars in Iraq and Afghanistan through her Chelsea for Peace group. My thoughts and prayers go out to Estelle's family, friends and all those who had the good fortune to know her."
"Estelle Katz worked with the confidence of someone who fervently believed there is a strong current in history towards social justice," said Assemblymember Richard Gottfried. "She once said to me, 'If you're a Marxist, you can never be a pessimist.' It was inspiring to have her among my constituents. I miss her."
District Leader Thomas Schuler — who hailed Katz as a tireless campaigner for progressive candidates. She could always be counted on to gather dozens of signatures for the candidates supported by the Chelsea Reform Democratic Club. Her efforts will certainly be missed."
In the recollections of New York State Communist Party USA member Esther Moroze, there's that word again: "Our party will definitely miss her," said Morove. "She was a lifelong activist for peace and social justice…very active in the Chelsea community, helping support progressives candidates to office."
"Estelle was inspiration to me," recalled NY State Senator Tom Duane. "She woke up every day believing the world could be a better place for everyone. I will miss her — and her determination, empathy and great sense of humor — tremendously." [2]
Life story
Estelle Katz was born in 1916. Katz first joined and worked in the American Youth Congress, joined the Young Communist League USA in 1935 and the Communist Party USA in 1937.[3]
This was the time of mass action. The struggles of the working class have always existed and are getting worse as time goes on. Mass action will come again and I will still be in the Party. My vocations have been many: pre-school teaching, waiting table, office work, ending my work career with teaching science in junior and senior high school.
GI Civil Liberties Defense Committee
Circa 1969, Estelle Katz, Teachers Committee to End the War in Vietnam, New York , was listed as a sponsor of the Socialist Workers Party led GI Civil Liberties Defense Committee .[4]
Chelsea Club
In 1992, the Communist Party USA newspaper Peoples Weekly World published a May Day supplement.
Included was a list of members of the Chelsea 1 and Chelsea 2 Clubs of the New York Communist Party. Estelle Katz was on the list.[5]
Communist Party Labor Day call
The Communist Party USA paper People's Weekly World issued a statement to mark Labor Day 1995, entitled "We honor the dead and fight like hell for the living."
Of the more than 100 endorsers listed, almost all were identified members of the Communist Party USA.
Estelle Katz, New York, was on the list.[6]
Communist Party USA
In September 2006 the Peoples Weekly World[7]listed several members of the New YorkCommunist Party USA.
Angie Lebowitz, Betty Smith, Bill Davis, Bob Beachman, Carole Marks, Charlotte Sinovoi, Dan Margolis, Eileen Reardon, Estelle Katz, Esther Moroze, Gabe Falsetta, Gary Bono, George Robbins, Gloria Freedman, Grace Bassett, Judith Paulsen, Ken Besaw, Linda Feldman, Martin Sawma, Michael Moore, Rose Bilander.
Better World Awards
The New York Communist Party USA hosts an annual Better World Awards banquet.
Past honorees and speakers include : former NY State Assemblyman Frank Barbaro; Marvel Cooke; Domino sugar workers, ILA Local 1814; Ernesto Jofre (UNITE); Julie Margolin; NY State Senator Bill Perkins; Chris Silvera, Teamsters local 808; NY City Councilwoman Letitia James; Rev. Lucius Walker, Pastors for Peace; former US Congressman Major Owens; Betty Smith, International Publishers; NY City Councilman Robert Jackson; Adolfo Fana; Make the Road by Walking; TWU Local 100, NY Taxi Workers Alliance; Brooklyn for Peace; Estelle Katz etc. [8]
References