Eric Ebel
From KeyWiki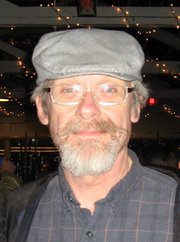 Eric Ebel is a Michigan based socialist activist.
DSA Conference delegate
In 1983 Eric Ebel was an Ann Arbor Michigan delegate to the Democratic Socialists of America conference in New York City, October 14-16, 1983[1]
Democratic Socialists of America
In 1997, Eric Ebel was the Ann Arbor contact for Democratic Socialists of America.[2]
In 2006 Eric Ebel, Michigan, donated $200 to the Democratic Socialists of America Political Action Committee. According to DSA's Democratic Left Spring 2006,[3]
"DSA has formed a Political Action Committee—Democratic Socialists of America PAC (DSA PAC), which will raise funds to enable activity that supports or opposes candidates for federal office. By law, DSA is not permitted to expend its resources in support of or against candidates in partisan elections; however, DSA is permitted to form a PAC for this purpose...
...Only DSA members in good standing may contribute to the PAC. Because the law is so specific, all contributions are carefully screened to make sure that they are from members."[4]
Ebel edits[5]the Greater Detroit Democratic Socialists of America newsletter.
In 2009, Eric Ebel was a Michigan based memmber of Democratic Socialists of America[6].
DSA picket
On Tuesday, December 4th, 2001, at the request of the United Steel Workers-Region 2, members of Detroit Democratic Socialists of America joined an informational picket at Hospice of Michigan in Farmington Hills. Approximately seventy-five people representing DSA, Gray Panthers, Metropolitan Detroit AFL-CIO, Jobs with Justice, Alliance for Democracy, and Michigan Universal Health Care Access Network picketed in order to show community and labor support for the nurses aides, cooks, and other ancillary personnel at Hospice of Michigan who were attempting to organize a union.
Eleven D.S.A. members marched in the picket line, including Earl Mandel, Eric Ebel, David Elsila, Maurice Geary, Helen Samberg, Lon Herman, Ed Nol, Linda Housch-Collins, Brandon Moss, Larry Schwarczynski, and David Green.[7]
2001 DSA leadership
Nineteen people ran for the sixteen National Political Committee positions elected at the 2001 Democratic Socialists of America Convention. The winners were:
Theresa Alt, Ithaca
Susan Chacin, Berkeley
Eric Ebel, Ann Arbor
Virginia Franco, San Diego
David Green, Detroit
Gabe Kramer, Columbus
Selina Musuta, Ithaca
Gina Neff, New York City
Angel Picon, Stockton
Maria Pineda, Davis
Kathy Quinn, Philadelphia
Jason Schulman, New York City
Joseph Schwartz, Ithaca
Timothy Sears, Oakland
Jessica Shearer, New York City
Herb Shore, San Diego
The Young Democratic Socialists representatives to the NPC (sharing the one Youth Section vote) were Joan Axthelm (Chicago) and Fabricio Rodriguez (Arizona).[8]
DSA Solidarity Economy Working Group
DSA Solidarity Economy Working Group Closed Facebook Group, accessed November 7, 2017.[9]
Admin
Eric Ebel, created group on October 29, 2017.
Members
Leaders
Steering Committee at large Huron Valley Democratic Socialists of America leaders, as of July 8, 2018 is;[10]
References