Eric Crump
Jump to navigation
Jump to search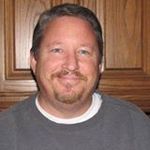 Eric Crump is an Oklahoma activist. He is married to Deb Crump.
Background
Eric Crump grew up in West Germany, an Air Force brat. He returned to the United States to begin his freshman year of high school and attended four high schools in California while his military Dad adjusted to civilian life. His family finally settled in the town of Tracy, California.
Crump double-majored in Business Administration and German while attending California Lutheran University on a partial running scholarship. Following graduation, he entered the insurance industry where he has worked for two large companies in many roles, the first for 8 years and the second going on 20.
Eric Crump resides in Choctaw Oklahoma.[1]
Formation
On May 15th, 2016, five local citizens were recognized as the official Executive Committee in Oklahoma City for the national Democratic Socialists of America. Eric Crump, Leslie Driskill, Leo Loveless, Mark Maxey, and Mabruka Yazidi, officially signed their By-Laws on May 15, 2016 at their second meeting. They are planning their third meeting in June. They have successfully been chartered through the national organization as a Local Chapter.[2]
OKC DSA Discussion Group
Members of the OKC DSA closed Facebook Discussion Group, accessed November 8, 2017 included Eric Crump. [3]
References