Emma Lozano
Jump to navigation
Jump to search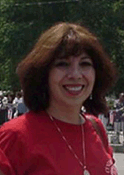 Template:TOCnestleft Emma Lozano is married to Walter Coleman. She is the sister of the late Rudy Lozano.
Activism
Emma Lozano got her start in organizing in the 1970s with Chicago's independent Latino political movement. She founded Centro Sin Fronteras in 1987 to defend the rights of undocumented Mexican immigrants. At the same time, Pueblo Sin Fronteras began organizing neighborhood residents, using hunger strikes and demonstrations to win construction of the city's first community-based bilingual school. Ever since, Sin Fronteras has played a leading role on issues ranging from school reform to legalization of the undocumented to getting the U.S. Navy out of the Vieques, Puerto Rico[1].
May Day 2021
Chicago, IL - The movements for immigrant rights, against police crimes, and the labor movement of essential workers united today to mark May 1, International Workers Day in Chicago. Banners read "Legalization for all," "Stop police crimes" and "Justice for essential workers."
The mobilization represented the unity reached between the major immigrant rights group the state, the Illinois Coalition for Immigrant and Refugee Rights (ICIRR), and the Chicago Alliance Against Racist and Political Repression (CAARPR). ICIRR's two legislative priorities are legalization for all and a pathway to citizenship at the federal level, and community empowerment to hold the Chicago police accountable.
Speaking for CAARPR, co-chair Jazmine Salas said, "The Empowering Communities for Public Safety (ECPS) ordinance will put us on a path to community control of the police – no more murders like those of Adam Toledo and Anthony Alvarez." Both were killed by CPD in late March. Adam Toledo was 13 years old and had his hands in the air when he was shot; Anthony Alvarez was shot in the back while running away from the police.
Essential workers and their unions, particularly SEIU Locals 73 and Health Care Illinois/Indiana also joined the rally. HCII Vice President Jaquie Algee explained about the 1886 nationwide strike for the eight-hour day, organized mainly from Chicago, in honor of which May 1, is celebrated around the world as International Workers Day. She said, "It's a disgrace that over 100 years later we're still fighting for the same things: respect on the job and decent wages."
The rally at Union Park was capped by remarks by Congressman Chuy Garcia, who pledged to support the PRO Act legislation in support of labor organizing; legalization for all, including removal of exclusionary bars; and a pathway to citizenship to be included in the budget reconciliation. "It's high time to stop criminalizing immigration and desperation, and to end an immigration system entangled with the flawed criminal justice system. It's no accident that the same communities that are over-policed due to racist policing and racial bias are suffering at the hands of immigration enforcement."
Garcia then spoke about his legislation, the New Way Forward, which would end the mass criminalization and deportation pipeline.
After rallying in Union Park on Chicago's West Side, they marched two-and-half miles to Federal Plaza in the Loop. A cultural program featuring youth performers was interspersed with speeches by Rev. Emma Lozano, her daughter Tanya Lozano, Frank Chapman of CAARPR, Oswaldo Gomez of ONE Northside and the Grassroots Alliance for Public Safety, and alderpersons Byron Sigcho Lopez and Carlos Ramirez Rosa, all of whom came together to help create the Empowering Communities for Public Safety (ECPS) ordinance.[2]
Cesar Chavez
Slim Coleman, Emma Lozano, Lupe Lozano with Cesar Chavez.
Supporting Bobby Rush's mayoralty tilt
In 1998 Bobby Rush was busy preparing for a tilt at the Chicago mayoralty.
At his campaign launch, Rush was introduced by Reps Danny Davis, Jesse Jackson, Jr., Mexican-American activist and Committees of Correspondence affiliate Emma Lozano, as well as by anti police brutality activist Rev. Jaul Jakes.[3]
Committees of Correspondence connection
In 1994 Emma Lozano, Chicago, was listed on a "Membership, Subscription and Mailing List" for the Chicago Committees of Correspondence, an offshoot of the Communist Party USA[4]
Richard Criley Memorial
In 2000, Emma Lozano served on the welcoming committee for the Chicago Memorial Service for Richard Criley, a long-time activist with the Communist Party USA and a leader of the Chicago Committee to Defend the Bill of Rights.[5]
2006 Chicago rally
Emma Lozano's spoke to the thousands of marchers for immigrant rights in Grant Park, July 19 2006. "I'm here to ring the bell for an immediate moratorium on deportations and the raids and sanctions on employers." The founder of Pueblo Sin Fronteras had just helped to lead over 20,000 on a three and a half mile march in 90-degree heat. The event was a continuation of the mobilizations for immigrant rights begun this spring by Chicago's March 10th Movement.
The bell she referred to was a replica of the one that rang to start the Mexican revolution nearly 200 years ago. It was carried on the back of a pick-up truck through the streets in the middle of the crowd. Connie Parra and Victor Parra, members of Local 73 Service Employees International Union (SEIU), brought it to Union Park that morning.
Congressman Luis Gutierrez addressed the rally, condemning the raids on immigrants that are being carried out by the Department of Homeland Security, through its Immigration and Customs Enforcement arm. "President Bush can't have it both ways. He can't claim to favor legalization for the undocumented immigrants on the one hand, and then carry out raids, deporting workers and breaking up families."
Jose Artemio Arreola, a co-chair of the March 10th Movement, was present at the rally as well. The coalition of local organizations has recently announced plans for a national conference to be held in Chicago Aug. 11-13. This conference will be devoted to continuing the struggle. "We don't support any of the bills in Washington," commented Arreola, "but we want the politicians to listen to us. We will tell them what the people need: No deportations, no guest worker program and legalization for all. After we have that, we need a visa procedure that grants immigrant workers full labor rights."[6]
References