Emile Schepers
Jump to navigation
Jump to search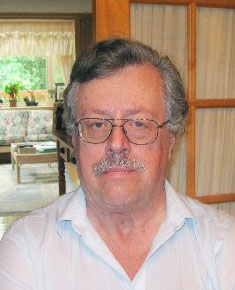 Template:TOCnestleft Emile Schepers is a veteran civil and immigrant rights activist. Emile Schepers was born in South Africa and has a doctorate in cultural anthropology from Northwestern University.
An anthropologist by profession, Schepers moved to the United States when his parents emigrated to escape apartheid. He grew up in the rugged and breathtaking landscape of the Adirondack mountains and joined the CPUSA in 1987, although his association with Marxist ideas began much earlier during periods of his life spent in the suburbs of Maryland and a Puerto Rican neighborhood in Chicago.
He has worked as a researcher and activist in urban, working-class communities in Chicago since 1966. He is active in the struggle for immigrant rights, in solidarity with the Cuban Revolution and a number of other issues. He now writes from Northern Virginia[1].
Schepers joined the Communist Party USA in in November 1987,and has been an acive member since.
Endorsed Communist Party Call
On March 30 2002 the Communist Party USA paper People's Weekly World called for a national holiday in honor of late Farm Workers Union leader Cesar Chavez. The article was followed by a long list of endorsers[2]including Emile Schepers, Almost all endorsers were confirmed members of the Communist Party USA.
Communist Party USA
In September 2006 the Peoples Weekly World[3]listed several members of the Communist Party USA.
Aaron Moss, Alan Donohue, Andre Brochu, Annie Fox, Barbara Samuelson, Barbara Collins, Barry Weinstein, Carol Sorflaten, CT Weber, Delmer Berg, Dorothy Kohl, Doug Smiley, Earl Harju, Emile Schepers, Everett Hoagland, Fay Bussell, Gregory King, Jack Bussell, James Thompson, Jerome Moss, Joe Bernick, John Falchi, John Smith, June Dennis, Karl Dennis , Karl Sorg, Karl Weichinger, Lee Dlugin, Lewis Lubka, Mark Jordan, Michele Artt, Pat Barile, Raymond Tate and Robert Jastad
Honoring Frank Wilkinson
Chicago Committee to Defend the Bill of Rights organized a "Celebration of the The Dynamic Life of Frank Wilkinson (1914-2006)" on Sunday October 29, 2006. Wilkinson had been a leader of the Communist Party USA, the New American Movement and Democratic Socialists of America[4].
Honoring Committee members included Emile Schepers .
Peoples World personnel
As at December 2010, personnel of the Communist Party USA paper, Peoples World, ;[5]
Editorial Board
Bureau Chiefs and National Contibutors, Juan Lopez (N. Calif.), Rossanna Cambron (S. Calif.), Joelle Fishman (Conn.), John Bachtell (Ill.), John Rummel (Mich.), Tony Pecinovsky (Mo.), Dan Margolis (N.Y.), Rick Nagin (Ohio), Libero Della Piana, Scott Marshall, Elena Mora, Emile Schepers, Jarvis Tyner, Sam Webb
International Secretary
In 2011, Emile Schepers is international secretary for CPUSA.[6]
"The Life & Legacy of Nelson Mandela"
Tuesday, December 17 2013, the Communist Party USA held a special People's World teleconference presentation on the life and legacy of Nelson Mandela. People's World co-editor Joe Sims and Communist Party International Secretary Emile Schepers with host Dee Myles discussed "this historic and global figure in the fight for freedom".
Emile Schepers is the International Secretary of the Communist Party USA. A veteran civil and immigrant rights activist, Schepers was born in South Africa and has a doctorate in cultural anthropology from Northwestern University. He worked as a researcher and activist in working-class communities in Chicago for 40 years and now lives in Northern Virginia.[7]
African American Equality Commission
In July 2015, Members of African American Equality Commission Communist Party USA FaceBook group included Emile Schepers
Closed working group for the African American Equality Commission of the CP USA. This is a space for members of the commission to brainstorm, communicate, and work through ideas between official meetings.[8]
What's race got to do with it?
"What's race got to do with it? Class, ethnicity and conflict in an evolving U.S. nation"
Sunday 15 February 2015, 20:00, Organized by : Communist Party USA
Join us for a Sunday evening discussion of Lenin's analysis of nations and national oppression and their applicability to 21st century America. Joe Sims will facilitate.
Those indicating they would attend on Wherevent include Dee Myles, Casey Doyle, Michelle Kern, Keri Rautenkranz Barbara Russum, Christian L. Wade, Athena Matyear, Emily Nashoba Dykes, Abby Liz, Betty Smith, Kelly Sinclair, Kathleen Casey, Chris Reynolds, Charles Brown, Josh Leclair, Roberto J. Mercado, Emile Schepers, Christopher D. Sims, Abdol H. Banaei, Zachary Clereigh, David Bender, Earchiel Johnson, Dan Power, Ahmad Budi, Adam R. Raven, Kyle Ritzinger, John Milam, Estevan Nembhard, Adrian Felty Ken Heard, Jordan Stepleton, Badreldin Elfaisal, Daniel Sankey, Hasan İncedere, Armando Ramirez, Chris Elliott, Larry Burks II . [9]
Political Affairs
In 2015 Emile Schepers served on the editorial board of the Communist Party USA's Political Affairs. [10]
CPUSA 31st National Convention resolution
17. FOR ASSESSING OUR WORLD MOVEMENT'S STRENGTHS AND SHORTCOMINGS
WHEREAS humanity faces mounting existential threats from imperialist aggressions and environmental and public-health breakdowns, and
WHEREAS capitalism creates these threats and cannot stop their escalation. and
WHEREAS only the world working class can lead initiatives among the oppressed masses to decisively address these threats, and
WHEREAS labor's organizations worldwide, including our parties, unions, and states, have identical interests in the global class struggle,
BE IT RESOLVED that the 31st National Convention direct the International Department of the Communist Party USA to support efforts to identify the strengths and shortcomings of international communism from the Comintern to the contemporary international movement of our parties worldwide, and to address the implications for international transition from capitalism to socialism.
Submitted by Sandra Rosen, Emile Schepers, Cameron Orr, John Womack, Donald Donato, Gary Hicks, and Wadih Halabi.[11]
References