Ellen Rosen
From KeyWiki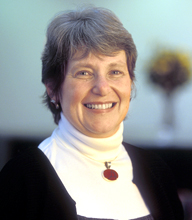 Ellen Israel Rosen is a sociologist who has taught at Vassar College and is now Professor Emeritus of Sociology at Nichols College. She has done research at the London School of Economics, at M.I.T, The Radcliffe Institute at Harvard University, and at Boston College.[1]
Writing
Her first book was Bitter Choices: Blue Collar Women in and Out of Work, based on a study of over 200 women factory workers in New England. Her second book is Making Sweatshops: The Globalization of the U.S.[2]
Democratic Socialists of America
Rosen is a member of the Boston Democratic Socialists of America Speakers Bureau.[3]
Boston DSA celebration
On January 20, 2001, Boston DSA's annual "Victor Berger bash", was hosted by Rich Rosen and Ellen Rosen.
The occasion celebrated Frank I. Smizik's victorious campaign for Brookline State Representative and welcomed DSA National Director Horace Small's move to the Boston area.[4]
Debs-Thomas-Bernstein Awards Reception
2001
On June 12, 2001, Ellen Rosen and Ellen Rosen were patrons of the annual Debs-Thomas-Bernstein Awards reception which is hosted by Boston Democratic Socialists of America. The Debs-Thomas-Bernstein Award is presented to "leaders who fight for democracy, here at home and around the world". Ed Clark, Honorary Vice Chair of Democratic Socialists of America; and Communist Party USA-linked Dessima Williams received the Debs-Thomas-Bernstein Award, while DSAer John Maher received the Michael Harrington Lifetime Achievement Award. DSAer David Knuttunen; Boston-based "social justice" organization Neighbor to Neighbor; and In These Times members Abby Rockefeller and Lee Halprin were benefactors of the reception. The reception took place at the home of DSAer Marcia Peters and her husband David Karaus in Jamaica Plain.[5]
2006
On September 24, 2006, Boston Democratic Socialists of America presented its 25th Annual Debs–Thomas–Bernstein Award to their "longtime comrade, Director of Massachusetts Neighbor to Neighbor, Harris Gruman". The event which was hosted by former Neighbor to Neighbor Director John Maher and Co-Chaired by Senator Pat Jehlen and Massachusetts AFL-CIO Vice President Ed Collins, was also a fundraiser for both Boston DSA and the Mass Alliance. Some Alliance-endorsed candidates were among the attendees, including Denise Provost, Jarrett Barrios, Willie Mae Allen, Claire Naughton and Will Brownsberger. John Maher and Ellen Sarkisian hosted the event; Julie Johnson of the Mass Teachers Association MC'd the event, while primary organizers were Susan Davidoff and Mike Pattberg. Abby Rockefeller & Lee Halprin and Patricia Armstrong, Boston Teachers Union, Local 66, were benefactors of the event.[6]
Rich Rosen and Ellen Rosen were patrons of the event.
How Class Works
At the How Class Works - 2002 Conference, panels included;
"White Women and Class in the Matrixes of Oppression"
"Poor Women, You Have Nothing to Lose But Your Welfare Cheque: The Internationalizing Project of Welfare Reform"
Ellen Rosen, Brandeis University – Women's Studies Research Center
"Social Class and Marriage"
SUNY Old Westbury – American Studies[7]
References