Ellen Feingold
From KeyWiki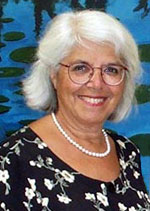 Ellen Feingold of Boston, Massachusetts is President of Jewish Community Housing for the Elderly. JCHE is a non-profit developer and manager of over 1,000 units of housing for low-income elderly, and Ms. Feingold has been associated with JCHE since 1981. Ms. Feingold is a former Director of the Departmental Office of Civil Rights, U.S. Department of Transportation, Washington, D.C.; former Faculty, with the Bunting Institute and the Kennedy Institute of Politics at Harvard University, and University of Massachusetts at Boston, College of Public and Community Service, Boston, Massachusetts. She is former Vice-President and Principal, Justin Gray Associates, architects, planners and community development consultants in Cambridge, Massachusetts; and a former Intergovernmental Relations and Legislative Specialist, Office of the City Manager, Cambridge, Massachusetts.
Over the years, Ms. Feingold has received numerous government and community service appointments, including appointments by Presidents Johnson, Nixon and Ford to the Massachusetts Advisory Committee to the U.S. Commission on Civil Rights, and appointments by Attorneys General McCormack, Brooke, Richardson and Quinn to the Attorney General's Advisory Committee on Civil Rights and Civil Liberties. Ms. Feingold has been a member of the board of Directors of the American Civil Liberties Union for thirty years.
Ms. Feingold was also appointed by the mayors of Boston and Newton, Massachusetts to the Committee on Boston's Housing Crisis, and the Newton Housing Partnership. She was also previously appointed to the American Bar Association Commission on Enforcement of Bar Discipline and Commission on NonLawyer Practice. Ms. Feingold served on the Executive Committee for 17 years and as a Director for 20 years with the National Low Income Housing Coalition; as Vice Chairperson and as Public Policy Chairperson for 16 years with the Association of Jewish Aging Services; and as Legislative Chairperson for 14 years with the New England Elderly Housing Association. Ms. Feingold currently serves on the Social and Economic Justice Committee, and the Elderly Services Committee with the Jewish Community Relations Council; and on the Committee on Service to the Elderly with the Combined Jewish Philanthropies.[1]
Democratic Socialists of America
DSA award
In 2002, the 25th annual Debs-Thomas-Bernstein awards of Boston Democratic Socialists of America were presented to State Representatives Patricia Jehlen and Anne Paulsen at a catered reception on Thursday, June 13 at the home of Marcia Peters and David Karaus.
Ellen Feingold, the earliest known recipient (1979), was asked to sketch in some of the past. Describing herself as a product of two traditions, "Jewish atheism" and democratic socialism, Ellen reminisced about being recruited into the civil rights movement by Julie Bernstein after WWII, and how this evolved into lifelong work on housing.[2]
DSA member
In 2004 Ellen Feingold was a member of Boston Democratic Socialists of America[3]
Debs-Thomas-Bernstein Awards Reception
On September 27, 2007, Boston Democratic Socialists of America presented its annual Debs-Thomas-Bernstein Award to couple Marie Kennedy and Chris Tilly, "two long-time champions of economic justice and grassroots democracy". The awards reception took place at the home of Marcia Peters and David Karaus. Honorary Co-Chairs for the event were Boston City Councilor Felix Arroyo and Elaine Bernard, Director of the Harvard Law School Labor and Worklife Program. David Knuttunen MC'd the event, Carline Desire from the Association of Haitian Women in Boston presented the award, and East Boston State Rep candidate Gloribell Mota made a speech at the event.[4][5]
Ellen Feingold and Justin Gray were listed as friends of the event.
2014 Debs-Thomas-Bernstein Award
Boston Democratic Socialists of America's Debs-Thomas-Bernstein Awards Reception, took place Sunday, June 8, at the Workmen's Circle, 1762 Beacon Street, Brookline.
Honorary Chairs for the DSA Awards Reception were;
Former Rep. Barney Frank; Rep. Ruth Balser; Sen. Patricia Jehlen; Dick Bauer—Co-Chair, New England Jewish Labor Committee; Arthur Bernstein—former YPSL, brother of Julius Bernstein; Jules Bernstein—labor attorney; Sheila Decter—Director, Jewish Alliance for Social Action; Ellen Feingold—former Director, Jewish Community Housing for the Elderly; Michael Felsen—past president, Workmen's Circle; Shelagh Foreman—Director, Massachusetts Peace Action; David Harris—Managing Director, Charles Hamilton Houston Institute for Race and Justice, Harvard Law School; Georgia Hollister Isman—Director, Mass Alliance; John McDonough—Director, Center for Public Health Leadership, Harvard School of Public Health; Rabbi Barbara Penzer—Co-Chair, New England Jewish Labor Committee; Steve Tolman, President, Massachusetts AFL-CIO; Rand Wilson—Communications and Policy Director, SEIU Local 888.[6]
Housing Commission
In 1999, Congress authorized two Commissions — the Millenial Housing Commission and the Commission on Affordable Housing and Health Facility Needs of Seniors in the 21st Century. Both were to be bipartisan, their members to be appointed by designated Chairs of Congressional Committees. Ellen Feingold was appointed the Democratic Co-Chair of the Seniors Commission in August 2000
The Commission's chief sponsors were Congressmen Barney Frank and Rick Lazio.[7]
Reference