Ella Mahony
From KeyWiki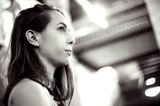 Ella Mahony is a New York City activist.
Socialism 2018
Ella Mahony was a speaker at Socialism 2018, an annual socialist gathering sponsored by the International Socialist Organization held in Chicago, Illinois in July 2018.[1] Go to the main page of ISO Socialism Conference...
DSA
In 2016 Ella Mahony was a member of New York City Democratic Socialists of America.[2]
DSA International Committee
Ella Mahony is a member of the Democratic Socialists of America International Committee
Ella Mahony November 3, 2018 ·
With Carrington Morris and Pedro Fuentes.
Pedro Fuentes Carrington and Ella, da Comissao Internacional do DSA.
"Labor's New Sources of Leverage"
"Labor's New Sources of Leverage" was a panel at Labor Notes conference 2018.
Where's our economy headed? What new organizing opportunities are there for labor in the 21st-century economy? What vulnerabilities in globalization can workers exploit to win concessions from companies—and possibly win even more profound changes?
Speakers
Facilitator: Ella Mahony, Jacobin/NewsGuild
2019 Bread & Roses slate
New York City Democratic Socialists of America 2019 Bread & Roses slate for DSA national convention delegates.
Alex Silva, Anthony Volpe, Bill Reisman, Danny Noest, Ella Mahony, Fainan Lakha, Halsey Hazzard, Jacob Farbman, Jonah Furman, Keylan Vafai, Kristin Schall, Laura Gabby, Neal Meyer, Niall Reddy, Oren Schweitzer, Pamela Allen, Patrick T. Shepherd, Ryan Bruckenthal, Stephen Thompson, Whitney Witthaus, Zach Lewis.
Brazil
In June 2017, Ella Mahony and Neal Meyer, as representatives of the Democratic Socialists of America, attended the Acampamento Internacional de Juventudes em Luta (the International Encampment of Youth in Struggle) in Rio de Janeiro, Brazil.
The Acampamento is organized by a current within Brazil's Party of Socialism and Liberation (PSOL), designed both as a congress for its youth wing and as a convocation of international solidarity.
PSOL was formed in 2004 after Brazil's Workers Party (PT), purged its left wing in an effort to pass an austerity-style pension reform. The purged activists regrouped as PSOL, which is a multi-tendency party, with several internal currents (who maintain their own international affiliations), and which promotes democratic socialism. As of 2016 it had 122,396 active members and 73 elected officials, some of whom are fairly influential, such as Marcelo Freixo and Jean Wyllys.
Present were delegations from socialist parties and currents in Argentina, Chile, Venezuela, Peru, the United Kingdom, and Portugal.
Overall, the Acampamento was a powerful experience, from which we drew several new lessons. Those lessons can be broadly separated into two themes: (1) how best to renew DSA's internationalist commitments and (2) organizing ideas inspired by the Acampamento that can be applied to DSA's work back home. Theme 1 will be addressed here and Theme 2 will be addressed in my next Democratic Left post.
In August, the DSA membership will have the chance to vote on whether to leave the Socialist International. One of the most frequent questions raised on this topic is how the DSA will be able to participate in international politics and form relationships with parties abroad without the aid of an International. For me, the visceral experience of being surrounded by socialist activists from around the continent, all of whom expressed the most sincere solidarity with DSA, answered that question for me. There is a wide world of socialist solidarity outside the SI; a world simultaneously deeply embedded in their local struggles and radically open to the international fight; who take seriously the symbolic and material consequences of international affiliations, and who will cheer us on for striking out a more independent, thoughtful, and meaningful path. The activists in this world are genuinely scandalized by the abuses carried out in the name of the Socialist International, from the French Socialist Party's neoliberal assault to, until recently, Hosni Mubarak's authoritarian reign in Egypt. They recognize that our comrades fighting capitalism in movements like Nuit Debout are being tear-gassed and repressed by those same governments that form the SI. And they view the DSA's continued affiliation as unfortunate, perhaps naïve, in the short term but a true insult if continued.
From the Acampamento, I drew two main conclusions about international solidarity. Much of it is critical of the state of DSA's internationalism; but some, I hope, can illuminate a path forward for DSA after the SI.
Left movements across the continent, and around the world, are paying attention to the DSA's growth and the direction it will take. This confers on the DSA a responsibility it has to take seriously.
Our Brazilian hosts and the international delegates present at the Acampamento took an enormous amount of interest in the DSA and saw our growth, as well as Bernie Sanders's candidacy, as a potentially decisive development in the politics of the continent. The history of US military and financial imperialism in the region casts a long shadow, and in some ways the fate of socialist movements in Latin America rests on the whims of the US deep state. The success or failure of the US socialist movement to take power and/or dispute US imperialism has serious material consequences for the Latin American left. This confers upon the DSA a responsibility to cultivate clarity in its ideas, strategy, and purpose lest it fall once again into "activistism" – activism for activism's sake, rather than for the purpose of achieving a clear goal -- and abandon the struggle for power.
"All the anticapitalists and socialists of the world are paying attention and support with active internationalism the revolutionary struggle in the heart of imperialism. Fraternally, Mariano Rosa. Movimiento Socialista de Trabajadores / Argentina."
Ella Mahony is a member of NYC DSA and an assistant editor at Jacobin. She has been working from Sao Paulo, Brazil since March, 2017.[4]
Brazilian radical friends
Ella Mahony March 2, 2018 ·
With Andrea Chan and Erick Andrade of PSOL.
NPC candidate
In August 2017 Ella Mahony stood for election to the Democratic Socialists of America National Political Committee, at the National Convention in Chicago, from Brooklyn Democratic Socialists of America.[5]
My name is Ella Mahony, I grew up in Boston and have been in New York since 2011. I've always been interested in politics but it was through student-worker solidarity activism on my campus that brought me to socialism. Through that work I started organizing with Unite-Here!, a culinary and hotel workers' union. From there I was lucky enough to organize with the New York State Nurses Union and with OUR Walmart in Dallas, Texas.
Through union organizing and through a journalism class at Brooklyn College I came into contact with Jacobin Magazine and have been working there as an assistant editor since 2015.
Finally I will be arriving to the convention (and after, back permanently to New York) from Sao Paulo where I have been researching and organizing with the Brazilian left for the past 6 months. I'm looking forward to applying my experiences to deepen DSA's internationalist commitments and to bring new organizing ideas from socialist struggles around the world into the American context.
I've served DSA in a number of capacities. For a few months I was an administrative assistant in the national office and helped put together the 2015 National Convention. In my Brooklyn chapter, in addition to many other more informal responsibilities, I co-founded our Electoral Committee and helped develop a rough framework for identifying and vetting local candidates and races. More recently, from a distance, I have been working on the national political education and internationalist committees.[6]
2017-2017 DSA NPC members
Members elected to the Democratic Socialists of America National Political Committee, August 2017;
NYC DSA Car Caucus
Members of the New York City Democratic Socialists of America DSA Car Caucus closed Facebook group, as of October 26, 2017 included Ella Mahony.[7]
Socialist Feminists (DSA) Facebook page
Members of the Socialist Feminists (DSA), closed Facebook group, as of June 20, 2017 included Ella Mahony.[8]
Democratic Socialists of America Electoral Committee
In March 2018 Ella Mahony was involved with the Democratic Socialists of America Electoral Committee.
Editorial team
The Stacks Editorial team December 2018
Ella Mahony, John Speranza, Ajmal Alami, Rachel Johnson, Andrej Markovcic, Zoe Holden, Stephen Gose.[9]
The Call
The Call, 2018 contributing editors included Ella Mahony.
The People's Forum
Bianca Cunningham February 1 2019:
Gang Gang🌹🌹 — with Jay Thompson, Clarence Adams, Leslie Fine, Joe Demanuelle-Hall, Abdullah Younus, Patrick T. Shepherd, Mary Clinton, Sam Lewis, Ella Mahony, Ryan Bruckenthal, Cea Weaver, Dana Steer, Nina Svirsky, Ben Bennett, Jia Lee, Katie Halper, Kelly Gilbert, Trevor Taylor, Zyad Hammad and Zelig Stern at The People's Forum.
References