Elijah E. Cummings
From KeyWiki

Elijah Cummings was a Democratic member of the United States House of Representatives, representing the 7th district of Maryland. He passed away in October 2019.
He was married to Maya Rockeymoore.
Early Life
Congressman Elijah Cummings was born and raised in Baltimore, Maryland, where he resided until his death.[1]
Education
He obtained his Bachelor's Degree in Political Science from Howard University, serving as Student Government President and graduating Phi Beta Kappa, and then graduated from the University of Maryland School of Law.[2]
Support for the Council on American Islamic Relations
Elijah E. Cummings wrote a letter of support to the Council on American-Islamic Relations (CAIR) on the occasion of their 24th anniversary in September 2018.[3]
DSA Targets Maryland Districts for Single Payer Canvassing
National Nurses United and other Democratic Socialists of America-affiliated groups held a "local barnstorming event" to generate support for single payer healthcare, "targeting the districts of Congressmen Dutch Ruppersberger (2nd), John Sarbanes (3rd), and Elijah Cummings (7th)."[4]
Join Healthcare NOW, the Baltimore Democratic Socialists of America and Healthcare is a Human Right for a local barnstorming event in conjunction with a national campaign organized by National Nurses United, Healthcare NOW, and other national organizations, to generate support for HR-676, National Improved Medicare for All, single-payer healthcare.
The barnstorming is a special organizer training and strategy summit to kick off a week or two of focused canvassing to mobilize support for Medicare for All in the Baltimore area, targeting the districts of Congressmen Dutch Ruppersberger (2nd), John Sarbanes (3rd), and Elijah Cummings (7th). Don't worry if you've never canvassed before - we've got you covered!
February 09, 2019 at 2pm - 3:30pm First Unitarian Church 1 W Hamilton St Baltimore, MD 21201 Attendees include:
Private Affiliations
From his website accessed in August 2011: "Congressman Cummings serves on numerous boards and commissions. He is spearheading an effort to strengthen the Maritime curriculum at the Maritime Academy in Baltimore. He is the Chairman of the Maritime for Primary and Secondary Education Coalition (MPSEC). He also serves on the U.S. Naval Academy Board of Visitors, the Morgan State University Board of Regents, the Baltimore Aquarium Board of Trustees, and the Baltimore Area Council of the Boy Scouts of America Board of Directors. He is an honorary Board member of the SEED School of Maryland, KIPP Baltimore Schools, and the Baltimore School for the Arts."[5]
Parren Mitchell influence
At former Maryland Congressman Parren Mitchell's funeral service in July 2007 delivered a fiery eulogy, praising Mitchell as a mentor and a friend who guided and inspired him throughout his career.
"Parren did something for a lot of African American young boys and girls," Cummings said. "He showed us how to dream big. … We can dream big, and we can do what we deem to be the impossible."[6]
Political Career
He began his career of public service in the Maryland House of Delegates, where he served for sixteen years and became the first African American in Maryland history to be named Speaker Pro Tem. Since 1996, Congressman Cummings has proudly represented Maryland's 7th Congressional District in the U.S. House of Representatives. Congressman Cummings currently serves as the Ranking Member of the Committee on Oversight and Government Reform. As the main investigative committee in the House of Representatives, Oversight and Government Reform has jurisdiction to investigate any federal program and any matter with federal policy implications. As the Committee's Ranking Member, Congressman Cummings fights to hold the Presidential Administration to a high standard of excellence and to ensure efficiency and effectiveness in the actions of the government of the United States. He also seeks to identify appropriate reforms that prevent waste, fraud and abuse and that ensure government programs meet the needs of the American people.
Congressman Cummings is also a senior member of the House Committee on Transportation and Infrastructure, serving on both the Subcommitte on Coast Guard and Maritime Transport and the Subcommittee on Highways and Transit.
Congressman Cummings has consistently been an advocate for the rights of those facing foreclosure and holds regular Foreclosure Prevention Seminars for people who are at risk of being foreclosed upon. The homeowners are matched with lenders to work out loan modifications on site to prevent foreclosure. He began the 112th Congress by requesting that the first hearing in the House Committee on Oversight and Government Reform investigate the causes of, and potential solutions to, the foreclosure crisis. [7]
Federal employees union, Rep. Wynn back Cummings
In 1996 Del. Elijah Cummings, the West Baltimore legislator who is speaker pro tem of the House of Delegates, has received the backing of Rep. Albert R. Wynn and the union representing Maryland's federal government employees.
The American Federation of Government Employees, Local 1923, which represents workers at the Social Security Administration, the Health Care Financing Administration and the Veteran's Administration's medical center and Baltimore regional office, announced its support of Mr. Cummings. The union estimates that it has 5,000 members who live in the 7th District.
"Both as a legislator and, from his current leadership position, Delegate Cummings has been a true friend of the working men and women represented by the Maryland State and D.C. AFL-CIO," local president John Gage wrote in a letter to members, asking them to vote for Mr. Cummings.
Last month, Mr. Cummings received the endorsement of the Baltimore Building and Construction Trades Council, an organization representing 17 labor unions. State organized labor split in January over whom to endorse in the primary and decided not to endorse anyone, freeing the more than 200 unions in the Baltimore area to make their own endorsements. The Rev. Frank M. Reid III has received the backing of a coalition of labor unions representing more than 30,000 blue-collar workers, and state Sen. Delores G. Kelley was endorsed by the Maryland State Teachers Association.
This week, Mr. Wynn endorsed Mr. Cummings.
"Elijah Cummings is a person possessing a strong sense of values and spirituality, outstanding character, commitment to the people of Baltimore, extensive experience and the ability to work with all segments of the community," said Mr. Wynn, who represents the 4th District.[8]
Progressive conference
On Saturday, January 19, 2001, Progressive Maryland and the Campaign for America's Future co-sponsored an event — The Working Families Legislative Conference — designed to link local Maryland issues with a national progressive agenda. The conference will focus on key local and national issues including: Affordable Housing, Health Care, Living Wage, Public Financing of Campaigns, and Afterschool Programs.
The conference took place at Martin's Crosswinds, 7400 Greenway Center, Greenbelt, MD from 11:00 AM to 4:00 PM.
Speakers listed included Lieutenant Governor Kathleen Kennedy Townsend (likely), Congressman Ben Cardin, Congressman Elijah Cummings (likely), Robert Borosage, from the Campaign for America's Future, State Senator Chris Van Hollen, Delegate Mark Shriver, and Delegate John Hurson.
The Working Families Legislative Conference was part of a series of regionally based Next Agenda conferences, "representing a new kind of partnership between CAF and state-level progressive organizations — unity coalitions which are coming together around a progressive action agenda for their state and for the nation".
"We are proud to be helping to co-sponsor this remarkable conference," said CAF co-director, Roger Hickey. "Through our collaboration with state-level citizen groups, like Progressive Maryland, we are able to rally support for an economic recovery agenda that works for states and for the country. This mission was important before September 11. Now it is essential."
"We must organize at the grassroots, build power in localities and states, and create in theses 'laboratories of democracy' the formula for economic success in Washington, DC." said Sean Dobson, one of the leaders of Progressive Maryland.[9]
Clinton/Pinochet letter
On October 21, 1998, many Members of Congress wrote a letter to President Bill Clinton, urging him to release information to a Spanish judge investigating former Chilean President Pinochet for alleged crimes committed during and after the overthrow of the Marxist Allende government.
Dear Mr. President:
The October 17 arrest of General Augusto Pinochet in London is a good example of how the goals you outlined in your anti-terrorism speech at the United Nations can be put into practice. Indeed, when the rule oflaw is applied to combat international lawlessness,humanity's agenda gains...we call upon you to ensure that the U.S. government provides Spanish Judge Baltasar Garzon material related to Pinochet's role in international terrorism -- material and testimony that the U.S. government has thus far withheld.
Signatories included Rep. Elijah E. Cummings.[10]
Colombia Support Network letter
In 2002, the Colombia Support Network organized a :dear colleague" letter to President Andres Pastrana Arango, of Colombia, through Ned Steiner, a staffer in Rep. Sam Farr's office.
The letter called on President Pastrana to end a military blockade on the Colombian town of San Jose de Apartado, a sister community of Madison Wisconsin, where the Colombia Support Network is based.
We write to you to bring your attention to the humanitarian crisis facing the civilian population of the Peace Community San Jose de Apartadó and its outlying settlements.
We urge the appropriate authorities of your government to dismantle the paramilitary checkpoint on the road between San Jose and Apartadó, ensure the continued safety of the road, and fully investigate recent threats and attacks on the Peace Community.
The Peace Community San Jose de Apartadó and its settlements, including the village of La Union, receive the permanent accompaniment of international organizations.
These include Peace Brigades International (PBI), as well as the U.S. Fellowship of Reconciliation (FOR), which currently has two US citizens in La Union. We support the work of these two respected organizations as well as the Peace Community in its effort to build a non-violent alternative to the conflict.
Representatives who signed the Colombia Support Network inspired letter in 2001 included Elijah Cummings. [11]
2009 letter on Colombia
From November 6th through December 7th 2009, a letter calling for change in U.S. policy towards Colombia was circulated through the House of Representatives. This letter called for a decrease in U.S. aid for Colombia's military and an increase in support for human rights and humanitarian efforts. The initiators of this letter were —Representatives James McGovern, Jan Schakowsky, Donald Payne, and Mike Honda.
Dear Secretary of State Clinton,
The FY 2011 budget will contain the twelfth year of a major aid package to Colombia—an aid package originally slated to phase out after six years.
After eleven years, it is time to scale down assistance for Colombia's military and more systematically "Colombianize" such programs, within both the State Department and Defense Department budgets.
Signatories included Elijah Cummings.[12]
HR 3000
On September 3, 2003 Congresswoman Barbara Lee (D-CA) introduced H.R. 3000, the United States Universal Health Service Act, which would provide health coverage for all Americans. H.R. 3000 would establish a United States Health Service (USHS), which would eliminate profit issues from health care because it would be owned and controlled by the public and administered primarily at the local level.[13]
According to the Communist Party USA's People's World, initial supporters of HR 3000 were Julia Carson, (D-Ind.), Donna Christensen (D-Va.), John Conyers (D-Mich.), Elijah Cummings (D-Md.), Danny Davis (D-Ill.), Jesse Jackson, Jr. (D-Ill.), Dennis Kucinich (D-Ohio), Major Owens (D-N.Y.), Donald Payne (D-N.J.), and Lynn Woolsey (D-Calif.).
The World went on to say;[14]
We will not win the United States Health Service without a massive, prolonged struggle by working people against the corporate defenders of the current for-profit health care industry.
National Dialogue on the Sudan
In Memory of El-Hajj Malik El-Shabazz (Malcolm X)
A National Dialogue on the Sudan
Sunday, Feb. 27, 2005
THE UNIVERSITY OF THE DISTRICT OF COLUMBIA, BLDG. 46 - MAIN AUDITORIUM
Among the Invited Speakers
The National Conference/Dialogue on the Sudan will take place (Feb 27th), culminating a week long observance for an Afro-American Muslim leader who was (and still is) most deserving.
We expect to be joined by a host of local grass-roots community leaders and activists (and possibly a few from outside the Washington area) for the press conference. Our hope is that we will also be joined by leaders from some of our "major Muslim organizations" (i.e., CAIR, ISNA, ICNA, MAS, MPAC, etc), as this will be an opportunity for us to make a unified statement of concern and support for the Sudan and its people – particularly in light of the crisis in Darfur.
The objective will be threefold: (a) enlightened dialogue on the crisis in Sudan; (b) education for the community; (c) and a far more constructive engagement of African Americans on this issue than what we've seen thus far.
This conference is being sponsored by The Committee for Truth, Justice, and Reconciliation in the Sudan (a project of The Peace And Justice Foundation).[15]
Peace Pledge Coalition
In 2007 90 Members of Congress, pledged in an open letter delivered to President Bush: "We will only support appropriating funds for U.S. military operations in Iraq during Fiscal Year 2008 and beyond for the protection and safe redeployment of all our troops out of Iraq before you leave office." The letter was initiated by the Peace Pledge Coalition. The Coalition was led by Tim Carpenter, Progressive Democrats of America, Bob Fertik, Democrats.com Medea Benjamin, CodePink, Bill Fletcher, co-founder of Center for Labor Renewal David Swanson, AfterDowningStreet.org, Democrats.com, Progressive Democrats of America, Kevin Zeese, Voters for Peace, Democracy Rising, Brad Friedman, co-founder of Velvet Revolution, Bill Moyer, Backbone Campaign.
Elijah E. Cummings signed the letter.[16][17]
CAIR banquet
More than 1,000 people turned out November 2006 at the Council on American-Islamic Relations (CAIR) banquet in Arlington, Va., to hear addresses by several elected officials, including Keith Ellison, the first Muslim in Congress.
The event raised more than $620,000 to support CAIR's civil rights and advocacy work on behalf of the American Muslim community.
Elected officials who spoke at the sold-out event included Representative-elect Ellison (D-MN), as well as Reps. Mike Honda (D-CA), Sheila Jackson Lee (D-TX) and Albert Wynn (D-MD). Ellison and Jackson Lee offered their addresses by video. Saqib Ali, who was elected to the Maryland House of Delegates (District 39) on November 7, was also in attendance.
Other speakers included Special Agent in Charge Joseph Persichini, Jr. of the FBI's Washington Field Office, Fairfax County Police Chief Col. David M. Rohrer and Amy Goodman of Democracy Now. Most members of CAIR's national board also took part in the banquet, which was emceed by Julia Shearson of CAIR-Ohio's Cleveland office.
Several Muslim community members received CAIR Islamic Community Service Awards during the dinner. The annual CAIR Rosa Parks Civil Liberties Scholarship went to Raashida Muhammad of Stillman College.[18]
Also speaking were Reps. Elijah Cummings , CAIR National Board chairman Parvez Ahmed, and executive director Nihad Awad. All praised CAIR for its dozen years of working to endorse, lobby and educate the American public and the country's leaders on the positive aspects of Islam and Muslims in America.[19]
On CAIR
"CAIR has also devoted countless hours to standing firm against the anti-Muslim hate incidents occurring in the country. By protecting and defending the constitutional rights of American Muslims, CAIR supports the rights of all Americans."
Rep. Elijah E. Cummings (D-Md.) (October 2017).[20]
"CAIR has worked diligently to eliminate fear, mistrust, discrimination and violence, all of which are barriers to harmonious relationships and progress." -Rep. Elijah E. Cummings (D-Md.) (September 2013). [21]
Voted against cutting funding for ACORN
In September 2009, following the lead of their Senate colleagues, the House of Representatives voted overwhelmingly to cut off funds to ACORN. the vote was 345-75. All of the 75 were Democrats, and included Elijah E. Cummings. [22]
Socialist financial plan
Sept. 30, 2008, the day after the original bailout compromise went down in flames. The progressive Democrats placed a new plan—the "No BAILOUTS Act" (Bringing Accountability, Increased Liquidity, Oversight, and Upholding Taxpayer Security)—on the table that John Nichols of The Nation says "would impose a securities tax equivalent to one quarter of one percent of profits and empower the Federal Deposit Insurance Corporation to deal more effectively with bank failures."
The bill—sponsored by US Reps. Peter DeFazio(D-Ore.), Marcy Kaptur (D-Ohio), Robert Scott (D-Va.), Elijah Cummings and Donna Edwards (both D-Md.), Lloyd Doggett (D-Texas), Mazie Hirono (D-Hawaii) and Rush Holt, Jr.,(D NJ) —would change the way securities are valued, applying "an economic value standard to measure the capital of financial institutions," as opposed to a market standard, an increase in the federal deposit insurance maximum and other accounting measures designed to create breathing room. It also would require the Federal Deposit Insurance Corporation to purchase certificates that would be repaid.
"What I'm proposing is to use both market discipline and regulatory functions at virtually no cost to taxpayers to unclog the arteries of commerce so banks can begin lending again,'' DeFazio said, according to The Oregonian.
In a letter introducing the plan, he said that Congress needed to "take swift, uncomplicated steps to ensure the financial markets return to working order. After that, we can work to resolve the housing crisis and pass effective job stimulus."
Andy Stern, president of the Service Employees International Union, said the plan would "restore confidence in the financial markets without writing a blank check to the same Wall Street banks and CEOs who got us into this mess."
"This is an important, short-term solution that protects taxpayers and their savings accounts," he added. "To revive the economy over the long-term, we must address rising unemployment, stagnant wages, the healthcare crisis, and a tax system that is tilted in favor of the wealthy."
DeFazio and the SEIU acknowledge that this is just the first step toward fixing the economy. Once a progressive rescue plan is in place, the Democrats create a rescue plan for homeowners facing foreclosure, enact a public works and green energy stimulus to get people working, fix the nation's infrastructure and refocus the nation's economy on sustainable principles. [23]
Congressional Progressive Caucus
As of February 20 2009 Elijah Cummings was listed as a member of the Congressional Progressive Caucus.[24]
Congressional Black Caucus
Elijah E. Cummings is a member of the Congressional Black Caucus for the 113th Congress:[25]
2009 Raskin event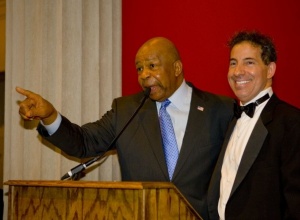 Congressman Elijah Cummings and Attorney General Doug Gansler Co-Chairs of Maryland for Obama, hosted an " extraordinary gala event for Senator Jamie Raskin, Chair of Montgomery County for Obama at the Corcoran Gallery of Art, Friday, January 9, 2009 - 8:00 pm.[26]
HR 365
HR 365 was introduced by Michigan Democratic Rep. Hansen Clarke, in 2011, in a YouTube video posted on the representative's page, he said "We need to cut, cap, and forgive student loan debt," and that "That is the true debt that is burdening American families. We cut student loan debt we'll have a freer more prosperous country."
The bill has been sponsored by House Representatives Dennis Kucinich of Ohio, Keith Ellison of Minnesota John Conyers of Michigan, and Elijah Cummings of Maryland.[27]
Communist support
Tim Wheeler and Joyce Wheeler lived in the 7th Congressional District of Maryland and doorbelled to help elect Rep. Parren Mitchell their first African-American congressmember. Later, they cast their ballots for Rep. Kweisi Mfume and in 1996 voted for Elijah Cummings. They doorbelled for Barack Obama for President in 2008 and 2012. He carried the 7th CD in an overwhelming landslide. [28]
Working with Rev. David Carl Olson
In November 2011, members of First Unitarian had been organizing Saturday's Pilgrimage for Jobs and Justice. According to long time Communist Party USA supporter Rev. David Carl Olson;[29]
First, registration begins at 8:00 a.m. at the parking lot of St. William of York Roman Catholic Parish on Cook's Lane, near the corner of Edmondson. FREE T-SHIRTS for the first 200 attendees (courtesy of Amalgamated Transit Union Local 1300–Thank you!). We are encouraging everyone to wear red (a liturgical color indicating a movement of the spirit–and the color of the Red Line light rail transit line.
Third, we'll walk together to our first "site," the Westside Skill Center. We'll actually convene in the Edmondson Village Shopping Center across the street (4530 Edmondson) and hear from Rep. Elijah Cummings, who has promised to be our "Jobs Champion" in the United States Congress. I met with Rep. Cummings this week with a group of our team from the ATU, the Jobs Opportunities Task Force, CASA de Maryland, Building ONE America and our own organization BRIDGE Maryland. Our half hour together stretched on and on until his staff dragged him from the room to his next appointments! Clearly, we hit a sympathetic nerve; and Saturday's event will be energy packed!
Communist organized healthcare meeting
Baltimore Young Communist League leader Jordan Farrar was involved with Barack Obama's Organizing for America and he served on the committee which organized a rally on October 23, 2009, at the Senator Theater, Baltimore, for OFA to support President Obama's health care bill.
A dozen speakers, including Congressman Elijah Cummings, Maryland AFL-CIO president Fred Mason and Baltimore NAACP president "Doc" Cheatham, called on Congress to act now.[30]
In her remarks, event organizer, Communist Party USA member Caroli Mullen targeted "moderate" Congress people who were sitting on the fence, telling the audience that "Democrats better get some spine,"
According to Mullen, reform must be based on the premise that health care is a right, not a privilege.
Mullen told the World how the event was conceived. "We were literally sitting around the kitchen talking about how the 'tea-baggers' were getting publicity by disrupting town hall meetings. The media was ignoring the majority of us who favor reform. We needed to stage a public event to let Congress know Baltimore supported a public option."
Mullen said that while she supports a public option, a single-payer system was the best way to provide comprehensive, universal care.
Congressman Cummings pointed out that two Maryland companies - BlueCross-BlueShield and United Heathcare, control 80% of the private health care market.
Cummings said "what good is having choice if you can't afford it? A public option gives us real choice because it will bring down costs."[31]
Supported Lifting the Gaza Blockade
On Jan. 27, 2010, U.S. Representatives Keith Ellison and Jim McDermott led 52 other members of Congress in signing a letter addressed to President Barack Obama, calling for him to use diplomatic pressure to resolve the blockade affecting Gaza. Elijah E. Cummings was one of the signatories of the letter. [32] The entire letter together with a complete list of signatories can be read by clicking here.
21st Century Democrats
On July 28, 2010, Congresswoman Barbara Lee, Congressman Elijah Cummings and former "Green Jobs Czar", Van Jones spoke about the future of American politics at the kick-off event for 21st Century Democrats' 2010 Youth Leadership Speaker Series. The event was sponsored by Representative John Lewis and Senator Tom Harkin.[33] 21st Century Democrats is led by one-time DSAer, Jim Scheibel.
Creamer connection
Elijah Cummings for Congress has been a client of Robert Creamer's Strategic Consulting Group.[34]
HR 365
HR 365 was introduced by Michigan Democratic Rep. Hansen Clarke, in 2011, in a YouTube video posted on the representative's page, he said "We need to cut, cap, and forgive student loan debt," and that "That is the true debt that is burdening American families. We cut student loan debt we'll have a freer more prosperous country."
The bill has been sponsored by House Representatives Dennis Kucinich of Ohio, Keith Ellison of Minnesota John Conyers of Michigan, and Elijah Cummings of Maryland.[35]
Response to IPS report
According to a 2011 report, twenty-five of the 100 highest paid US CEOs earned more last year than their companies paid in federal income tax, a pay study said on Wednesday.
It also found many of the companies spent more on lobbying than they did on taxes.
At a time when lawmakers are facing tough choices in a quest to slash the national debt, the report from the Institute for Policy Studies , a "left-leaning Washington think tank, quickly hit a nerve".
After reading it, Democratic Representative Elijah Cummings, ranking member of the Committee on Oversight and Government Reform, called for hearings on executive compensation.
In a letter to that committee's chairman, Republican Darrell Issa, Cummings asked "to examine the extent to which the problems in CEO compensation that led to the economic crisis continue to exist today". [36]
Leading with Love
Leading with Love was an event to celebrate 5 years of the Marxist led National Domestic Workers Alliance. It was held in Washington DC, DC, November 14, 2012.
Members of the Host Committee included Elijah Cummings.[37]
Progressive Maryland endorsement
In 2012 Progressive Maryland endorsed U.S. Senator Ben Cardin for re-election, and also urges members to support four out of eight Democratic candidates for Congress:
PDA contact
In 2013 Progressive Democrats of America assigned activists to deliver their material to almost every US Congressman and several Senators. Rolande Glicenstein, was assigned as contact for Rep. Cummings. In June it was David Obi.[39][40]
Hugo Chavez's oil
On Jan. 31, 2013, at the Night of Peace Family Shelter in Baltimore, CITGO Petroleum Corp. President and CEO Alejandro Granado and Citizens Energy Corp. Chairman Joseph P. Kennedy II launched the eighth annual CITGO-Venezuela Heating Oil Program with the first heating oil delivery of this winter's initiative.
The program, which began as a single donation in 2005 in response to the high prices of heating oil resulting from hurricanes Katrina and Rita, has grown well beyond its original scope. Today, it has become a humanitarian symbol of unity between the people of Venezuela and those in need in the United States.
"The CITGO-Venezuela Heating Oil Program has been one of the most important energy assistance efforts in the United States. This year, as families across the Eastern Seaboard struggle to recover from the losses caused by Hurricane Sandy, this donation becomes even more significant," said Granado. "This energy assistance program is an integral example of the humanitarian principles endorsed by the CITGO ultimate shareholder, Petróleos de Venezuela, S.A. (PDVSA), the national oil company of the Bolivarian Republic of Venezuela."
Congressman Elijah Cummings of Maryland, who also spoke during the event, reiterated the importance of helping those in need. "I commend CITGO and Citizens Energy Corp. for launching the Heating Oil Program this year. This program is literally life-saving for so many whose resources are already stretched thin in tough economic times. I stand with the many Baltimore and Washington recipients who thank both CITGO and Citizens for their commitment to helping our communities," he said.
Echoing those sentiments, Venezuela's Vice Minister of Foreign Affairs for North America Claudia Salerno Caldera addressed the plight of poor people and why humanitarian assistance is so vital. "The vision of social responsibility in the energy policy of the Bolivarian Republic of Venezuela has allowed us to assure that our profits benefit the neediest people in our country. Just as the government of President Hugo Chávez has made significant efforts in the fight against poverty and in the promotion of social justice in Venezuela, this program demonstrates that our commitment to the poor transcends all boundaries, ideological and geographical," Salerno said.[41]
No cuts rally
Scores of seniors came to the U.S. Capitol October 2013, joined hands with Members of Congress, and formed a human chain in opposition to the Chained CPI formula and all benefit cuts to Social Security, Medicare, and Medicaid. The Congressional Progressive Caucus hosted the demonstration, as Alliance for Retired Americans members joined with Social Security Works and other allies. The event was emceed by Congressional Progressive Caucus Co-Chair Keith Ellison (D-MN). Other Members of Congress at the event included Reps. Cheri Bustos (IL); David Cicilline (RI); Yvette Clarke (NY); John Conyers (MI); Elijah Cummings (MD); Rosa DeLauro (CT); Alan Grayson (FL); Mike Honda (CA); Steven Horsford (NV); Barbara Lee (CA); Sheila Jackson Lee (TX); Alan Lowenthal (CA); Dan Maffei (NY); Carolyn Maloney (NY); Jerrold Nadler (NY); Mark Pocan (WI); Jan Schakowsky (IL); Mark Takano (CA); and Paul Tonko (NY).[42]
ARA endorsement, 2014
The Alliance for Retired Americans Political Action Fund endorsed Elijah E. Cummings in 2014, also 2012.[43]
Nelson Mandela's funeral
In December 2013, the following Democratic legislators traveled to South Africa to attended Nelson Mandela's funeral Democrats Dels. Eleanor Holmes Norton (D.C.) and Donna Christensen (V.I.); and Democratic Reps. Marcia Fudge, John Conyers (Mich.), Charles Rangel (N.Y.), John Lewis, Jim McDermott (Wash.), Maxine Waters (Calif.), Bobby Scott (Va.), Mel Watt (N.C.), Sheila Jackson-Lee (Tex.), Elijah Cummings (Md.), Gregory Meeks (N.Y.), Barbara Lee (Calif.), G.K. Butterfield (N.C.), Gene Green (Tex.), Gwen Moore (Wis.), Yvette Clarke (N.Y.), Karen Bass (Calif.), Joyce Beatty (Ohio) and Terri Sewell (Ala.).[44]
CBC/Black Lives matter
September 2015, D.C.'s Convention Center was the site for the Congressional Black Caucus Foundation's 45th Annual Legislative Conference where the development of the #BlackLivesMatter movement was given intense attention from many different perspectives. More than 70 education, health, civic engagement and economic empowerment sessions under the theme, "With Liberty and Justice for All?" filled September 16-20 during the day as concerts, receptions and networking gatherings filled the evenings.
Thursday's first event was the National Town Hall: "Black Lives Matter-Ending Racial Profiling, Police Brutality and Mass Incarceration." Roland Martin, Managing Editor of TVOne NewsOne Now moderated a panel which included Congressional Representatives Elijah Cummings, Sheila Jackson Lee, Hakeem Jeffries, and G.K. Butterfield. Others on the panel included Alicia Garza, co-founder of the Black Lives Matter Network (#BLM); Alphonso Mayfield, president of the SEIU Florida Public Service Union; and Val Demings, former police chief of Orlando, Fla., the first woman to hold the position.
Roland Martin reminded the audience that while 24 criminal justice reform bills have been passed since the killing of Michael Brown in Ferguson, Mo., no action has yet been taken by the prosecutor in Cleveland one year after Tamir Rice was gunned down. Ms. Garza underscored that the criminal justice system as currently instituted "is not broken; it is designed to work just as it does work." And Rep. Hakeem Jeffries from Brooklyn, N.Y. declared, "Black men are viewed as economic commodities. Democrats and Republicans built a prison industrial complex and then filled it through mass incarceration."
The People's World was represented at the conference by participants from DC, Daytona Beach, St. Louis and Baltimore.
We learned that the Department of Justice (DOJ) has met with #BLM about strengthening accountability mechanisms within police departments, but that the DOJ has put on record that their mandates at a local level are "too high."
Elijah Cummings praised Marilyn Mosby, Baltimore's elected prosecutor for her bravery in pursuing legal remedies in the Freddie Gray police murder trials. "We want to be sure that the wheels of justice turn and are not stopped," he said.
Moderator Roland Martin encouraged voting as the answer to racism in the criminal 'injustice' system, since so many District Attorneys are elected. "Having a Black DA matters, but that doesn't happen if Black folks don't vote." Martin said that as a result of a new DA in one district, there have been more innocent African Americans freed in one year than in the 20 previous years.
Alicia Garza said that it is a requirement for activists to fight for "the right of Black people to live in our full dignity and our full humanity," at every level, including in federal, state and local government. In terms of police departments, she said that Black and progressive police are fighting police injustice from within, attempting to change a culture of racism and 'police loyalty' and replace it with police integrity.
What was clear from the panel discussion was that the Congressional Black Caucus strongly supports the Black Lives Matter Network in the work it is doing. Congresswoman Sheila Jackson Lee stated, "I'm proud that we the CBC have had the wisdom to follow Black Lives Matter. It engenders a diverse, generational movement. As we do the policy, I believe Black Lives Matter can be the catalyst-like the movement that brought about voting and civil rights legislation in the '60s."
During Q & A, the first question to the panel at the Town Hall was that Black on Black violence had not been addressed. Garza's answer was that people will reach for power, whether it be against their neighbor or against the real forces keeping them down. Other panelists answered that white on white crime is also greater than interracial violent crimes.
Collective bargaining, stated one member of the audience, can act as a bar to getting police accountability. Mayfield of the SEIU offered that contract negotiations are with City governments and thus can be influenced by citizens. He countered other panelists, declaring that police can be suspended without pay for misconduct under some contracts.
Other questions resulted in the panel talking about widening the struggle to include the right to a good education and creating the labor force to fill the 1.4 new technical jobs that will be needed in the next five years.[45]
2016 Platform Drafting Committee
Bernie Sanders supporters Dr. Cornel West and Rep. Keith Ellison (D-Minn.) will be among those on the Democratic Party's important Platform Drafting Committee after the Vermont senator won a key concession as he looks to leave his mark on the party's platform.
The roster of the drafting committee, released by the Democratic National Committee May 2016, reflects the party's agreement that Sanders would have five supporters on the committee, compared to six for Hillary Clinton.
Sanders previously panned DNC Chairwoman Debbie Wasserman Schultz, who appoints all of the committee members, for failing to include enough of his supporters on an initial list. But the latest statement notes that Wasserman Schultz allocated the campaign's seats "proportionally according to the current vote tally."
Sanders supporters on the committee are author Bill McKibben, Arab American Institute head James Zogby and Native American activist Deborah Parker.
Clinton loyalists on the committee are Ambassador Wendy Sherman, former Clinton staffer and current Center for American Progress head Neera Tanden, Ohio Rep. Alicia Reece, environmentalist Carol Browner, Illinois Rep. Luis Gutierrez and union head Paul Booth.
The remaining four members were chosen by Wasserman Schultz.
Maryland Rep. Elijah Cummings, who has endorsed Clinton, will lead the committee and called Sanders's outsized role on the platform "pretty unusual" for a candidate that likely will not be the party's nominee during a Monday interview on MSNBC. And California Rep. Barbara Lee, who has not endorsed either candidate.
Former Rep. Howard Berman and philanthropist and former CEO of Claire's Stores Bonnie Schaefer were also appointed.[46]
HR 109 endorser
By February 20 2019 endorsers of Alexandria Ocasio-Cortez's HR 109 (Green New Deal) included Elijah E. Cummings.
Medicare for All Act
In February 2019 Rep. Pramila Jayapal introduced H.R.1384 - Medicare for All Act of 2019. By May 29 she had 110 co-sponsors including Rep. Elijah E. Cummings.
Staff
The following are past and present staff:[47]
External links
References