Eli Pariser
From KeyWiki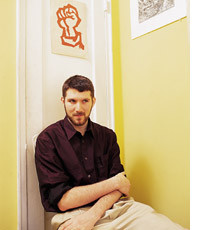 Eli Pariser is on the U.S. Board of the Open Society Foundations.[1]
Bio
"Eli Pariser is an author, online organizer, and the co-founder of Upworthy, a new startup focused on making content that matters go viral. During his time at MoveOn.org, from 2001 to 2008, the organization grew by 10 times and collected nearly $120,000,000 in small donations. His book, The Filter Bubble: What the Internet is Hiding from You, is a New York Times bestseller, and his TED talk on the same topic has been seen over 2 million times and was called one of the top talks of the year by TED curator Chris Anderson. Pariser also helped start Avaaz.org, a global online movement with over 24 million members and in every country on earth. He has served on the boards of Access, Avaaz, MoveOn.org, the New Organizing Institute, the Open Society U.S. Programs, and a number of other organizations. Pariser attended Bard College at Simon's Rock.
National Leading From the Inside Out Alum
Eli Pariser, Executive Director, MoveOn.org, was a 2004 Rockwood Leadership Institute National Leading From the Inside Out Alum.[2]
ProgressNow
From:michael@progressnowaction.org To: john.podesta@gmail.com Date: 2008-04-29 18:29
Subject: Do you want to discuss any of these states?
Dear Board, Investors and Progressive Partner Organizations,
Great news! We are proud to announce our newest advisors below. I've also included the most recent successes in each of our state partner organizations.
Please let me know if you'd like to discuss any ProgressNow partner states: California, Colorado, Florida, Michigan, Minnesota, New Mexico, Ohio, Washington or Wisconsin.
I'd also like your advice on any of these states: Arizona, Missouri, Nevada, New Hampshire, New York, Oregon or Pennsylvania.
Thank you. I look forward to hearing from you.
Mike (303) 931-4547 cell
P.S. Let me know if you wish to discuss our plans around the August convention in Denver (the Pepsi Center is four blocks from our office).
P.P.S. Below is an updated list of our advisors (if you would like to be added let me know)
National Board of Directors: Wes Boyd, Martin Collier, Rob McKay, Doug Phelps, Jared Polis, Deborah Rappaport, Bill Roberts, Jeff Rusnak, Anne Summers, Ted Trimpa (Chair) and Joe Zimlich (We recently lost one of our cherished board members-- Adam Solomon-- who went out of his way to help so many of us and so many progressive causes. Our deepest condolences to his entire family. Adam's passing is a true loss and we will miss him.)
Advisors Include: Alexandra Acker, Karen Ackerman, Jennifer Ancona, Adam Bink, Kafi Blumenfield, Bill Budinger, Marc Buell, Anne Bartley, Patricia Bauman, Jeff Blum, Heather Booth, Robert Borosage, David Brock, Anna Burger, Steve Cobble, Noey Congdon, David Donnelly, Cathy Duvall, Christian Ettinger, Patricia Evert, Kirstin Falk, Ricki Feller, David Friedman, Meg Gage, Beth Ganz, Chris Gates, James Golin, Ellen Golumbek, Ken Grossinger, Jill Hanauer, Honorable Gary Hart, Jerry Hauser, Bracken Hendricks, Norton Kalishman, Craig Kaplan, Paul Lhevine, Paul Loeb, Mark Lotwis, John Luongo, Mike Lux, Awilda Marquez, Matt MacWilliams, Tony Masarro, Peter Murray, Sandy Newman, Eli Pariser, Steve Phillips, Drummond Pike, John Podesta, Mike Podhorzer, Zach Pollet, Carl Pope, Rachel Pritzker, Andrew Rasiej, Cecile Richards, Will Robinson, Robin Rorapaugh, Donald Ross, Ron Rowell, Catalina Ruiz-Healy, Laura Quinn, Marsha Scott, Steve Silberstein, David Sirota, Frank Smith, Greg Speed, Steve Shapiro, Rob Stein, John Stocks, Valerie Tarico, Betsy Taylor, Roy Temple, Lisa Turner, Michael Vachon, Phil Villers, Antha Williams, Al Yates, Jon Youngdahl, David Zwick.
ProgressNow affiliate organizations have already launched in nine states and we hope to expand to twenty-five states by 2012.
JStreet advisory council
In 2009 listed members of the JStreet advisory council included Eli Pariser, Board President and Executive Director of MoveOn.org Political Action.[3]
References