Edolphus Towns
From KeyWiki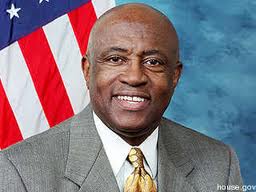 Edolphus Towns was a Democratic member of the United States House of Representatives, representing the 10th district of New York.
On November 2, 2010 voters in Brooklyn's 10th Congressional District elected Edolphus "Ed" Towns to his 15th term in the United States House of Representatives. Congressman Towns serves residents of the 10th Congressional District of New York, which includes the neighborhoods of East New York, Canarsie, Brownsville, Bedford-Stuyvesant, Cypress Hills, Clinton Hill, Mill Basin, Midwood, downtown Brooklyn, Boreum Hill, as well as parts of Fort Greene and Williamsburg. This area brings together Brooklyn's diverse populace, including Black, White, Hispanic, Asian, Caribbean, Native American, and Jewish residents.[1]
Background
Congressman Towns views his work in Congress through the lens of his commitment to improving the lives of others as a professional social worker and ordained minister. He received his Master in Social Work (MSW) degree from Adelphi University in Garden City, New York after earning a Bachelor of Science degree in Sociology from North Carolina Agricultural and Technical State University in Greensboro, North Carolina. He is the recipient of seven honorary doctoral degrees.
Rep. Towns is married to the former Gwen Forbes and they have been happily married for more than half a century. They have two children: a son Darryl Towns who was elected to 10 terms in the New York State Assembly before being appointed by Governor Andrew Cuomo as commissioner and chief executive of New York State Homes and Community Renewal, the state agency that oversees finance, development and preservation of housing; and a daughter Deidra.[2]
Politics
Congressman Towns began his political career when he left his position as an administrator at Beth Israel Hospital to become Brooklyn's first African American Deputy Borough President in 1978. He won the admiration of Congresswoman Shirley Chisholm and she began grooming him for an eventual run for Congress. He was elected to Congress in 1982 and began a long and distinguished career in the United States House of Representatives.[3]
Caucus affiliations
Congressman Towns has been a leader in Washington and actively engaged in several Congressional Caucuses including the Congressional Black Caucus which he chaired in 1991, the Congressional Caribbean Caucus, the Congressional Urban Caucus, the Congressional Mental Health Caucus, and the Congressional Labor and Working Families Caucus. Most recently he is serving as Chair of the Congressional Social Work Caucus, a Congressional Member Organization he founded in the 111th Congress to create a platform on the Hill for more than 600,000 social workers throughout the United States who positively impact the lives of the elderly, the disadvantaged, children, veterans, or other individuals in need of guidance and direction in their lives.
"Congressional Pink Caucus"
In October 1989 the Nicaraguan Sandinista Government announced that they would no longer comply with the 19 month-old cease-fire agreement with the Contras. This had been considered a prime step forward for the "peace process" that was progressing slowly as part of the Arias Peace Plan.
A resolution was introduced in Congress deploring the Sandinistas' action. The Senate voted unanimously in favor, but in the House the vote was 379-29. All the 29 Congressmen voting against the resolution were Democrats.
The Council for Inter-American Security dubbed these 29 people the "Congressional Pink Caucus":
Endorsed Nydia Velasquez
In her 1992 New York Democratic primary, Nydia Velasquez ran against two other Puerto Ricans Elizabeth Colon and Ruben Franco, president of the Puerto Rican Legal Defense and Education Fund. Velasquez won the primary, receiving endorsements from New York mayor and Democratic Socialists of America member David Dinkins, Rev. Jesse Jackson, Congressmen Jose Serrano and Edolphus Towns, Local 1199 leader Dennis Rivera and Teamsters leader Barry Feinstein and Puerto Rico governor Rafael Hernandez Colon.[4]
Hiroshima Day, 1993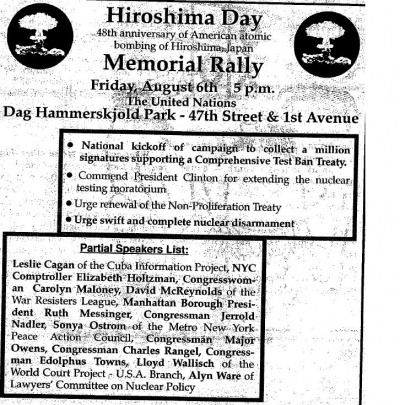 On August 6 1993, a rally to commemorate Hiroshima Day was held at the United Nations, Dag Hammarskjold Park, New York. The rally was designed "to kickoff a national campaign to collect a million signatures supporting a Comprehensive Test Ban Treaty, commend president Clinton for extending the nuclear testing moratorium, urge renewal of the Non Proliferation Treaty, urge swift and complete nuclear disarmament."
The event was sponsored by the Metro New York Peace Action Council and several other "peace' groups.[5]
Speakers included;
"Living Wage, Jobs for all Act"
In 1995, Nancy Pelosi, Bernie Sanders, David Bonior, Eleanor Holmes Norton, Cynthia McKinney, Maurice Hinchey, Major Owens, Nydia Velasquez, John Conyers, Bob Filner, Alcee Hastings, Lane Evans, Edolphus Towns, Jim McDermott, supported Democratic Socialists of America member rep. Ron Dellums' "Living Wage, Jobs for all Act"
Sponsored Communist Party "Jobs Bill"
H.R. 950, the Job Creation and Infrastructure Restoration Act of 1997 was introduced in the 105th Congress on March 5, 1997 by Congressman Matthew Martinez of California. It had 33 original co-sponsors, including Edolphus Towns. The primary purpose of this emergency federal jobs legislation was to provide much needed jobs at union wages to crisis ridden cities by putting the unemployed to work rebuilding our nation's infrastructure (schools, housing, hospitals, libraries, public transportation, highways, parks, environmental improvements, etc. $250 billion is authorized for emergency public works jobs over a five year period.
Congressman Martinez had previously introduced this bill in the last Congress (as HR 1591) at the the request of over 50 prominent Labor leaders who formed the Los Angeles Labor Coalition for Public Works Jobs, which is why it is often referred to as the "Martinez Public Works Jobs Bill."[6]
This is the most significant jobs legislation introduced in Congress since Franklin Delano Roosevelt's New Deal established the Works Progress Administration (WPA). This bill is the WPA-type program for today. It has strong provisions which will put hundreds of thousands of unemployed building trades workers to work as well as provide jobs for victims of plant closures, welfare recipients who are parents, youth, and the long term unemployed. The public works projects which will be established under this bill will be built in communities with the highest levels of unemployment and with the greatest needs.
The goal of the New York Coalition for Public Works Jobs is to build the movement to pass the Martinez Jobs bill as part of the National Labor Coalition for Public Works Jobs. You can help by asking your union, community organization, or local government body to to join those who have already passed resolutions to endorse the bill. Such a resolution has been introduced in the New York City Council. Calling on additional Congressional Representatives to co-sponsor the bill is very important. We will be organizing petition campaigns, visits to elected officials, and demonstrations and other actions for a public works jobs program.
The leaders of the Los Angeles Labor Coalition for Public Works Jobs and its only affiliate New York Coalition for Public Works Jobs, were all known supporters or members of the Communist Party USA.
Los Angeles , National Labor Coalition For Public Works Jobs
A New York affiliate, New York Coalition for Public Works Jobs, c/o Utility Workers Union of America Local 1-2.
Voted against cutting funding for ACORN
In September 2009, following the lead of their Senate colleagues, the House of Representatives voted overwhelmingly to cut off funds to ACORN. the vote was 345-75. All of the 75 were Democrats, and included Edolphus Towns. [7]
H. RES. 426/Hulbert James
Recognizing the impact of Mr. Hulbert James on politics, urban development, and New York City, and paying tribute to Mr. James for his lifetime of public service.
IN THE HOUSE OF REPRESENTATIVES OCTOBER 6, 2011.
Ms. Yvette Clarke of New York (for herself, Mr. Charles B. Rangel, Mr. Edolphus Towns, and Mrs. Donna Christensen) submitted the following resolution; which was referred to the Committee on Financial Services
RESOLUTION Recognizing the impact of Mr. Hulbert James on politics, urban development, and New York City, and paying tribute to Mr. James for his lifetime of public service.
Whereas Mr. Hulbert James has spent a lifetime working in politics and community development, recently becoming field director for the Unity Diaspora Coalition;
Whereas Mr. James, born in the United States Virgin Islands, received his undergraduate degree from Hampton University, and Masters degrees from Queens College and Union Theological Seminary;
Whereas Mr. James worked to end third world poverty as director of the Economic Justice Office for the [[National Council of Churches]], as President of the Pan African Skills Project, co-founder of the Center for Third World Organizing, founder of the Jamaica Project, and cofounder of the Diaspora Project;
Whereas Mr. James has spent years advancing his causes through the political realm as chief of staff to Representative Major Owens, a senior member of the Mayor David Dinkins Administration, New York director of the Presidential Campaign of Reverend Jesse Jackson, and advisor to the Clinton for President Campaign;
Whereas Mr. James has worked tirelessly to develop housing and business opportunities for distressed communities both as the Representative of the Secretary of Labor in region 11 and as a community builder for the [[Department of Housing and Urban Development]];
Whereas in his role at the Department of Housing and Urban Development, Mr. James provided strategic planning services to government and community leaders to develop projects to assist distressed communities and developed a program to help low-income persons save money for home ownership;
Whereas since retiring from the Department of Housing and Urban Development, Mr. James has worked with a number of organizations to promote Caribbean heritage and political inclusion; and
Whereas the life of Mr. Hulbert James demonstrates the best attributes of public service and dedication to helping fellow Americans:[8]
Leading with Love
Leading with Love was an event to celebrate 5 years of the Marxist led National Domestic Workers Alliance. It was held in Washington DC, DC, November 14, 2012.
Members of the Host Committee included Edolphus Towns.[9]
Posada letter
In 2005 several far left Congressmembers wrote to President Bush urging him to extradite alleged terrorist Luis Posada Carriles to Venezuela to face justice.
We are writing to urge you to oppose the application for asylum by Luis Posada Carriles, and to support the request for extradition to Venezuela, where he is a fugitive from justice.
Signatories were; Dennis Kucinich, Barbara Lee, Cynthia McKinney, John Olver, James McGovern, Donald Payne, Lane Evans, Carolyn Maloney, Tammy Baldwin, Lynn Woolsey, Jose Serrano, Raul Grijalva, Maurice Hinchey, Bobby Rush, Edolphus Towns, Sam Farr, Bennie Thompson, Ed Pastor, Sheila Jackson Lee, Maxine Waters.[10]
Staff
The following are past and present staff:[11]
External links
References