Eddie Rodriguez
From KeyWiki
For other uses, see Eddie Rodriguez (disambiguation)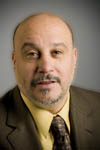 Eddie Rodriguez is an International Vice President for the American Federation of State, County and Municipal Employees from New York, New York.
Background
President Eddie Rodriguez was unanimously elected to his second term as president of DC 37 on Nov. 27, 2012, and sworn in on January 22, 2013. He has served as president of NYC Clerical-Administrative Employees Local 1549 since 2001. His road to leadership began at the Dyckman Welfare Center in Inwood, near the Washington Heights and Spanish Harlem neighborhoods where he grew up.
"Today is a new day," said Rodriguez. "Tomorrow we fight to defeat Mayor Bloomberg's attempt to slash services, lay off workers and squander billions of taxpayers' dollars on outside contracts for work that public employees can do far more effectively, efficiently and responsibly for less."
In 1972, Rodriquez started work as a Grade II Clerk for the Welfare Dept. and served as an alternate steward, DC 37 delegate, social services chapter chair, sergeant-at-arms and fifth vice president for Local 1549. He was also a founder and co-chair of the Local 1549 Latino Heritage Committee and is a former vice president of the Labor Council for Latin American Advancement.
He was in his fourth term on the DC 37 Executive Board at the time he was first elected DC 37 president in 2011. He was a member of the DC 37 Ethics Committee and has served as a vice president of DC 37's parent union, AFSCME, since 2003.[1]
External links
References