Ed Whitfield
From KeyWiki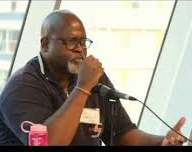 Edward L. Whitfield is a North Carolina activist. Father of Kazi Whitfield of Phoenix Arizona.
Dream Defenders Bio
As of November 11 2018, Ed Whitfield was listed as an advisor to the Florida-based Dream Defenders. This is his biography verbatim from the Dream Defenders website:[1]
Co-Managing Director, Fund for Democratic Communities
"Ed Whitfield is Co-Founder and Co-Managing director of the Fund for Democratic Communities. He is a long time social justice, anti - war and community activist. Ed attended Cornell University where he became the leader of the Black student organization. He left Cornell in 1970 to teach at Malcolm X Liberation University in Greensboro. Following the closing of the school he remained in North Carolina as a labor and community organizer. Ed lectures on issues of Community Economic Development, cooperatives, education and racism. He helped to create the Southern Grassroots Economies Project and is now working on developing the Southern Reparations Loan Fund to help finance sustainable, democratically owned and controlled businesses in communities that do not attract capital due to racist and extractive banking and investment practices. Ed currently serves on the Board of Directors for Highlander Research and Education Center, New Economy Coalition and The Working World.
Federation of Southern Cooperatives
Ed Whitfield August 18, 2016 ·
See, I can clean up once a year. With Nikki Marin Baena, Nikki loan officer for the Southern Reparations Loan Fund at the Federation of Southern Cooperatives Annual Banquet in Birmingham Alabama.
— with Nikki Marin Baena.
Neihborhood Funders Group
Ed Whitfield with three former Black Panther Party members Austin Allen, Ericka Huggins and Landon Williams.
Plenaries
Jackson Rising Conference was held in Jackson, Mississippi May 2-4, 2014.
Opening plenary: John Zippert, Jessica Gordon-Nembhard, Ed Whitfield, Kali Akuno.
When the hundreds of registered participants poured into the huge hall Friday evening and saw it filling up, one could sense the excitement and rising spirit of solidarity amidst diversity. The opening plenary keynote speakers included Jessica Gordon-Nembhard of the US Solidarity Economy Network (SEN), Wendell Paris of the Federation of Southern Coops (FSC) Land Assistance fund, Cornelius Blanding, Special Projects Director of the FSC, Ed Whitfield of the Southern Grassroots Economies Project based in North Carolina, and Kali Akuno of Jackson's MXGM.
Gordon-Nembhard started off. A professor at John Jay College in New York, she recently published Collective Courage: A History of African American Cooperative Economic Thought and Practice, a groundbreaking study on the topic.
FRSO connection
Edward L. Whitfield, a community activist living in Greensboro North Carolina where he moved in 1970 to teach at Malcolm X Liberation University after leaving Cornell University as a Black Student leader.
Ed works mainly in the area of Education, and Peace and Justice.
Whitfield wrote an article for the Freedom Road Socialist Organization website, July 5, 2002 "Lessons from the Fourth of July in Greensboro".[2]
Background
Ed Whitfield is a social critic, writer and community activist who has lived in Greensboro since 1970. He is co-Managing Director of the Fund for Democratic Communities.
Originally from Little Rock, Arkansas, Whitfield's political activism started with attending Little Rock Central High School and beginning to do anti-war work as a teenager. He retired after 30 years in industry before becoming involved with philanthropy. He now speaks and writes on issues of cooperatives and economic development while continuing to be interested in issues of war and peace, as well as education and social responses to racism. he d serves on the boards of Carolina Common Enterprise and Highlander Research and Education Center.[3]
When Whitfield was in high school he used to spend a lot of time in a coffee shop at a local college, a place called The Exit out at Little Rock University, and ended up coming across people from SSOC, Southern Student Organizing Committee, SNCC Student Nonviolent Coordinating Committee, reading magazines about people like Bob Moses.
And I had a first cousin who was in SNCC in Pine Bluff, Arkansas, one of the leaders of the Pine Bluff Student Movement, got put out of college fighting for, fighting for integration in that city from SNCC. So I was kinda steeped in that tradition. When I was in high school I was the head of the state–president of the NAACP youth chapters and was very disappointed to find out that the NAACP chapters of that time were more concerned with having the youth chapters raise money than engaging in any civil rights activity..
By 1969, the spring of '69, he was head of the Black Students Organization on Cornell's campus and this was one year after students had been shot and killed in Orangeburg, South Carolina, while protesting, trying to integrate a bowling alley. One of the young people who was there as an organizer for SNCC, Cleve Sellers, had a teaching position on Cornell's campus, one of the things that we had struggled for in the course of the Black Studies thing, so I knew Cleve and he brought a number of other people through Cornell's campus.
Also in that spring, those of "us who had been involved in some of the campus activity and the struggles for Black Studies from around the country converged on Greensboro, North Carolina, for a conference in May to form a national black student organization, which was a student organization for black unity so–boom–that was my first trip to Greensboro". There he met Nelson Johnson and Joyce Johnson and "we went over to Dudley and were part of that protest in support of those students and their rights there".[4]
Malcolm X Liberation University
Duke University students formed their own school. They called it Malcolm X Liberation University, so it wasn't long before Whitfield left Cornell to come to work in Malcolm X Liberation University. Before that, for a brief time, he had been the Northeast Regional Coordinator for SOBU, Student Organization for Black Unity, and before there was an African Liberation Support Committee and African Liberation Day, they organized at the United Nations in the spring of 1970 a commemoration of the Sharpeville massacre, which was the first kind of commemoration and support for African stuff organized by black folk. There were other groups doing it, the American Committee on Africa and others, but this was the first one that was initiated out of the black community in a long time.[5]
Anti-Klan
Whitfield and friends wanted to get involved in anti-Klan aactivity;
Later that night, trying to be involved, we went by Nelson Johnson's house where we were told that the only way we could be involved was if we joined the Communist Workers Party and we [declined we] said that was okay and we ended up forming a separate group called the Concerned Citizens Against the Klan that worked in–functioned in the community and helped to organize and lead some of the protest activities, community-based protest activity and educational activity both the February demonstration as well as the one after the first verdict that we struggled to get the NAACP, the ministers' groups and student groups, and others involved in. We were kind of a coordinating force around those demonstrations taking place.[6]
Fayetteville peace rally
The Fayetteville rally for peace was held on March 19th 2005.
Speakers included;
Lou Plummer, Military Families Speak Out, Fayetteville, NC
Rev. Nelson Johnson, Civil Rights Activist, Greensboro, NC
Kelly Dougherty, Co-Founder of Iraq Veterans Against the War, Colorado
Thomas Barton, Shop Steward with Local 768, Heath Care Workers, AFSCME
Cindy Sheehan, Co-Founder of Gold Star Families for Peace, California
Congresswoman Lynn Woolsey, California
Stan Goff, Retired Special Forces Master Sergeant, Raleigh, NC
Nancy Lessin and Charley Richardson, Co-Founders of Military Families Speak
Shawn Cunningham, North Carolina Central University, Durham, NC
Michael Hoffman, Co-Founder of Iraq Veterans Against the War, Pennsylvania
Coalition of Immokalee Workers, Florida
Ricanstruction, NYC
Ed Whitfield, Steering Committee
Michael McPhearson, Executive Director, Veterans for Peace
Michael Berg, Father of Nick Berg, West Chester, PA
Mendy Knott, NC Performance Poet, Asheville, NC
Ajamu Dillahunt, Black Solidarity Against War, Raleigh, NC
Kara Hollingsworth, Military Families Speak Out, Fayetteville, NC
David Couso, brother of Slain Spanish Journalist Josi Couso
Dante Zappala, brother of Army Sgt. Sherwood Baker, with family members.
Ruba Nuwayhid, Progressive Student Alliance, UT/Knoxville
Camilo Mejia, Iraq Vet, Conscientious Objector, Miami, Florida
Kevin Lucey and Joyce Lucey, Military Families Speak Out, Massachusetts
Dennis Kyne, Gulf War Vet, California
Rev. Ralph Baldwin, Vietnam Veteran, Greensboro, NC
Diedra Cobb, Conscientious Objector, Virginia
Catherine Lutz, Author and Academic, Brown University
Stephen Funk, Gulf War II war resister
Chuck Fager, Quaker House, Fayetteville, NC
Patricia Roberts, mother of Army Spc. Jamaal Rashard Addison, killed in Iraq
Jibril Hough, Islamic Political Party of America, Charlotte, NC
Cynthia Brown, Community Activist, Durham, NC
Wade Fulmer, Carolina Peace Resource Center, South Carolina
Manju Rajendran, Organizers' Gathering and Spring Conference Coordinator
Jimmy Massey, Iraq Veterans Against the War, Waynesville, NC
MCs were Bridgette Burge, Peace LEAP (NC; and Bryan Proffitt, North Carolina Peace and Justice Coalition.[7]
Black Liberation Theoreticians
Circa 2012, a Black Left Unity Directory;
Ashaki Binta/NC, William Darity /NC, Ajamu Dillahunt /NC, Joyce Johnson /NC, Nelson Johnson /NC, Joseph Jordan, Julianne Malveaux / NC, Shafeah M'Balia, Naeema Muhammad /NC, Saladin Muhammad /NC, Mark Anthony Neal /NC, Ed Whitfield /NC, Leah Wise / NC.[8]
Dream Defenders Advisory Board
As of 2016;
Movement for Black Lives webinar
Alicia Garza March 8, 2017:
really excited to join some really amazing folks like Dara Cooper, Lola Cuevas Smallwood, Ed Whitfield and Elandria Williams on tonight's Movement for Black Lives webinar on Economic Power and talk about the amazing work domestic workers are doing to transform the economy in the image of those who hold up half the sky. Join us tonight?
Cooperative Hall of Fame Banquet
Ed Whitfield May 3, 2017 ·
Clark Arrington, John Zippert, Ed Whitfield, Ralph Paige, Esteban Kelly, and Jessica Gordon-Nembhard at the National Press Club Cooperative Hall of Fame Banquet honoring John and Carol Zippert. An allstar photo, perhaps?
"American Youth and the Struggle for Social Change"
Sponsored by the Revolutionary Student Brigade October 3 1977, University of Connecticut.
Featuring Alan Canfora, Ed Whitfield leader of the 1969 Black student rebellion at Cornell and Cliff Cornfield national secretary of the Revolutionary Student Brigade.
References