Dulce Maria Pereira
Jump to navigation
Jump to search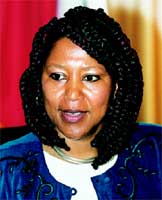 Template:TOCnestleft Dulce Maria Pereira was a senatorial candidate of the Workers Party of Brazil.
Committees of Correspondence connection
According to Chicago DSA's New Ground of September 1994[1];
"Over 500 delegates and observers (including 140 from Chicago) attended the founding convention of the Committees of Correspondence (CoC) held here in Chicago in July.
New Ground reported that speakers…included Charles Nqukula, General Secretary of the South African Communist Party, Dulce Maria Pereira, a senatorial candidate of the Workers Party of Brazil, Angela Davis of CoC, Andre Brie of the Party of Democratic Socialism of Germany (a revamp of the old East German Communist Party). Guests during the Convention included Cook County Commissioner Danny Davis, Chicago Aldermen Helen Shiller and Rick Munoz, a representative of the Green Left Weekly of Australia and a representative of the Cuban Interest Section."
In 1994 Ricardo Munoz, Alderman, was listed on a "Membership, Subscription and Mailing List" for the Chicago Committees of Correspondence, an offshoot of the Communist Party USA[2]
On Oct 18 2003, at Chicago's Lutheran School of Theology, Alderman Ricardo Munoz and two Committees of Correspondence members Ronelle Mustin & Ted Pearson spoke on Multi-Racial unity:Key to changing the Bush regime in 2004". The event was sponsored by the National Alliance Against Racist & Political Repression[3].
International Green Left Conference
Easter 1994, Jeanette Fitzsimons spoke at an International Green Left Conference in Sydney on women in New Zealand politics.
Three women shared her panel. Dulce Maria Pereira (PT, Brazil) Christabel Chamarette, (Greens Senator, Western Australia) and Luciana Castellina(Euro MP and directorate member, Party of Communist Refoundation, Italy).[4]
LINKS Contributing editor
As of 2010, contributing editors to Australian based "journal of international socialist renewal" LINKS, included;[5]
References