Doug Pagitt
Jump to navigation
Jump to search
Doug Pagitt
Background
Doug Pagitt is a national Initiator with Convergence a collective of faith-engaged organizations, individuals, institutions, and networks who seek to embody a generous and just Christian ethos leading to constructive collective action in the United States.
He is the author of several books,
including his most recent title, Flipped: The
Provocative Truth that Changes Everything
We Know About God, and a line of church
leadership books focusing on faith in the
Inventive Age. He is an initiator of
Convergence US and the director of the OPEN Network which seeks to organize progressive Evangelical and non-denominational churches, organizations, and people to 1) make visible what is often invisible: the progressive Evangelical expression of faith in the United States, 2) resource the groundswell of just and generous expressions of Christian faith, and 3) create pathways of connection and belonging among existing and emerging progressive Evangelicals.[1]
Doug is the founding pastor of Solomon's Porch, A Holistic Missional Christian Community in Minneapolis, Minnesota.
Doug is a speaker and consultant for churches, denominations, and businesses throughout the United States and around the world on issues of Inventive Age culture, social systems Christianity, and Leadership.
Doug has worked in churches, for a nonprofit foundation, and has owned three businesses in Minneapolis.
Doug is the author of books on spirituality, Christianity and leadership including:
Flipped (Random House 2015)
Evangelism in the Inventive Age (SparkHouse 2012)
Preaching in the Inventive Age (SparkHouse 2011)
Community in the Inventive Age (SparkHouse 2011)
Church in the Inventive Age (SparkHouse 2010)
A Christianity Worth Believing (Jossey-Bass 2008)
BodyPrayer (Waterbrook 2005)
Doug has a BA in Anthropology and a Masters of Theology from Bethel Seminary.[2]
Christians Against Christian Nationalism Statement
Doug Pagitt signed the Christians Against Christian Nationalism statement, which says in part:[3]
"Christian nationalism seeks to merge Christian and American identities, distorting both the Christian faith and America's constitutional democracy. Christian nationalism demands Christianity be privileged by the State and implies that to be a good American, one must be Christian. It often overlaps with and provides cover for white supremacy and racial subjugation. We reject this damaging political ideology and invite our Christian brothers and sisters to join us in opposing this threat to our faith and to our nation."
White House arrest
Shane Claiborne June 26, 2018 ·
BREAKING... Eleven faith leaders have been arrested at the White House. Here is our statement from today's witness.
Those arrested were: Rev. William Barber, Shane Claiborne, Don Golden, executive director of Red Letter Christians; Rev. Adam Taylor, Executive Director of Sojourners; Jim Wallis, president of Sojourners, Rev. Alex Dyer; Rev. Chaz Howard, UPenn Chaplain; Rev. Doug Pagitt, Vote Common Good; Noel Castellanos, executive director, Christian Community Development Association; Rev. William Gipson; and Jane Saari.
WE WILL NOT COOPERATE WITH POLICIES THAT SEPARATE FAMILIES
As members of the clergy, we have made vows to proclaim the truth of Scripture and lead people of faith in making sound moral choices in their private and public lives. Today we joined together in a prayer of defiance outside the White House to demonstrate that we will not cooperate with policies that separate families. We invite others to join us by taking direct action at places in our communities where the policy violence of this administration is being executed.
Abandon a "sin-centric" gospel
According to Russell Moore Doug Pagitt calls on contemporary Christianity to abandon a "sin-centric" gospel which has turned the faith into, in his words, "a pessimistic, evil-obsessed religion of sin management."[4]
Supporting Ammar Campa-Najjar
Circa October 26, Ammar Campa-Najjar, the Democrat challenging incumbent Duncan Hunter for California House District 50, attended a small rally in Escondido Friday evening at Grape Day Park where an evangelical Christian group threw it's support behind him.
The rally was hosted by Vote Common Good, a Christian organization urging religious voters across America to "vote with their conscience."
"I know it looks like we're partisan because we are supporting Democratic candidates all across the country, but that's because we are trying to change control of Congress. We believe that Congress' job is to be a check on the presidency and we think that needs to happen," explained Doug Pagitt, Executive Director for VCG.
The group is traveling to 31 districts across the county believed to be "flip-able," in an effort to give Democrats a majority in Congress.
On Saturday, VCG will be traveling to Carlsbad, House District 49, to support Democrat Mike Levin.[5]
Progressive Voice of Minnesota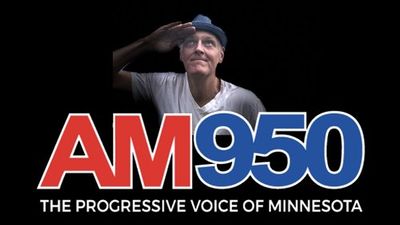 Doug Pagitt hosts AM950 RADIO DRIVETIME SHOW on AM95-THE PROGRESSIVE VOICE OF MINNESOTA.
References